Survivor at heart
A Cranford resident fights advanced heart disease with cardiac surgery at Saint Barnabas Medical Center.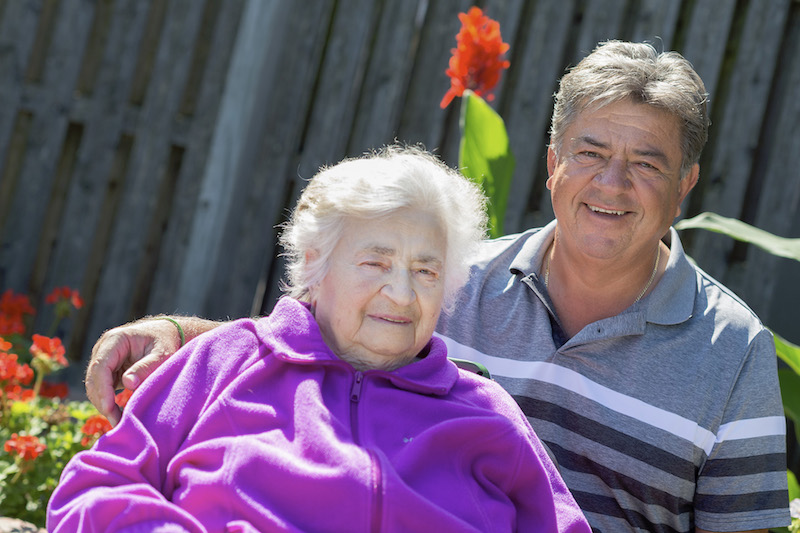 Joanna Piekarz is what you'd call a survivor. As a young girl, she endured forced labor during World War II. As a devoted mother of three, she emigrated from Poland in pursuit of liberty and the American dream. And most recently the tenacious Cranford resident took on one of her greatest challenges yet—advanced heart disease—by undergoing open-heart surgery at Saint Barnabas Medical Center, an RWJBarnabas Health facility. When other doctors deemed Joanna too weak and too "high-risk" for surgical intervention, doctors at the Medical Center agreed to operate—giving the beloved family matriarch a chance for a stronger heart and improved quality of life.
A LONG BATTLE
Joanna has been battling heart disease for the last 26 years. In 1991, she was diagnosed with a leaking mitral valve and congestive heart failure after suffering a heart attack. "She was always complaining that her heart hurt," recalls her son, John Piekarz. "She had been experiencing chest pressure and fatigue and was short of breath, so we were all concerned." Joanna's symptoms were initially triggered by the leaking valve. Because her mitral valve did not close properly, blood flowed through her heart in two directions instead of one, enabling blood to back up into her lungs and cause shortness of breath. The leaking valve deteriorated over time, damaging Joanna's heart and eventually leading to heart failure. Her symptoms were managed with medication until the last few years, when they became severe and debilitating. "Mom was mostly housebound," says John. "She wasn't able to walk or get out much, except in a wheelchair. She was always tired and had little interest in doing anything but going to church." Despite her worsening condition and frequent hospitalizations, treatment options were limited. Medication was no longer effective, yet she was not considered a candidate for most surgeries due to her age and fragile heart.
CUTTING-EDGE CARE
In late 2016, Joanna's cardiologist referred her to interventional cardiologist Sabino R. Torre, M.D., and cardiothoracic surgeon Frederic F. Sardari, M.D. As part of the cardiac team at Saint Barnabas Medical Center and members of Barnabas Health Medical Group, the physicians are skilled in cutting-edge techniques only available at the nation's leading heart programs. Dr. Torre reviewed her transesophageal echocardiography, a test that utilizes high-frequency sound waves to capture detailed pictures of the heart and arteries. The images revealed that Joanna's valve was damaged beyond repair. At this point, she and her son also consulted with Dr. Sardari, who concurred that the only remaining treatment option was a mitral valve replacement via open-heart surgery. Together, they discussed the high risks associated with this approach—and decided to proceed. "We had a ton of confidence in these doctors," said John. "And Mom didn't want to give up."
WORTH THE RISK
Prior to surgery, Dr. Torre administered a cardiac catheterization to further assess Joanna's arteries and found two blockages that could be fixed at the same time. So in addition to replacing the leaking valve, Dr. Sardari also would perform two coronary bypass procedures, using blood vessels from another part of Joanna's body to "bypass" her blocked arteries and restore blood flow to the heart. On June 21, 2017, Joanna was admitted to Saint Barnabas Medical Center for surgery. According to her doctors, all procedures were successful. She remained hospitalized for several days before being transferred to a rehabilitation center to continue her recuperation. "The hospital care was phenomenal," says John. "Everyone—from the nurses to the transportation staff to the doctors— was wonderful." Although Joanna faces an extended recovery, she and her son are approaching the future with hope. She plans on spending more time outdoors and enjoying her grandchildren while anticipating the arrival of her newest cousin this fall. "We're so grateful," says John. "Now Mom looks forward to living."
FOR MORE INFORMATION ABOUT CARDIAC SERVICES AT SAINT BARNABAS MEDICAL CENTER, GO TO RWJBH.ORG/HEART.