Swing On By
From doctors to friends, the support system at the Jacqueline M. Wilentz Breast Center helps patients live life to the fullest.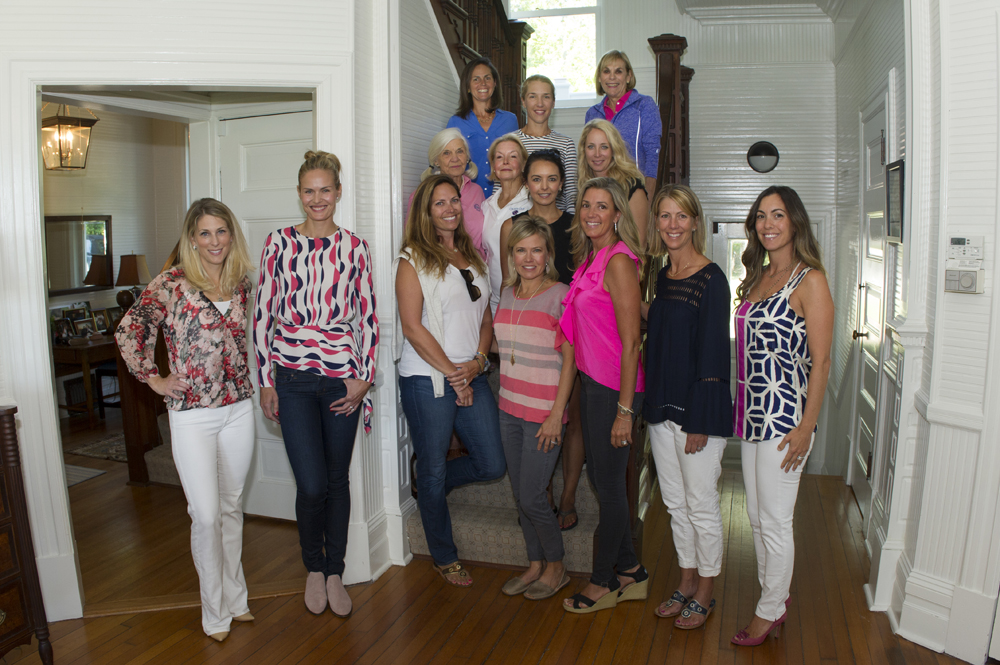 Almost 200 people—many of whom donned pink attire— joined together at the Navesink Country Club in Middletown for the third annual Swing Pink event on Sept. 25 to benefit the Jacqueline M. Wilentz Comprehensive Breast Center at Monmouth Medical Center.
The program, which sold out each of its activities, raised more than $60,000 to help purchase a highly advanced mammography unit, which provides patients with a low-dose digital exposure and excellent quality images.
Swing Pink, led by co-chairs Debbie Memmott and Kara Short and supported by the Women of Wilentz, was a day filled with activity, lunch and celebration. The morning started with participation in tennis, paddle, golf or pickle ball, followed by a celebratory luncheon, underwritten by Sickles Market.
Co-chairs Kara Short and Debbie Memmott
Bill Arnold, president and CEO of Monmouth Medical Center, opened the luncheon with welcoming remarks. "Because of the generosity of our community and the dedication of supporters like the Women of Wilentz, our Breast Center is able to offer the highest level of care to our patients," Arnold says. "We are truly leading the way in quality breast care for our community."
Guest speaker Lisa Becker, who was diagnosed at age 15 with the autoimmune disease Crohn's, shared her health story with the attendees, detailing the fears and concerns many people deal with in living with chronic illness. She noted that after going through many years of challenges and surgeries, she ultimately was left with an overwhelming sense of gratitude for life as well as for the support of family, friends and a great medical team of doctors and nurses.
"Having these special relationships with your medical team will enhance your outcome, so always speak out, ask questions and listen," she said, urging the audience to take charge and be the "CEO" of their health. "You can't control everything but you can control your actions and attitude. Everyone in this room will either experience a major medical event or have to deal with a loved one who is going through one, and we all need to be prepared."
That gratitude fueled her with a desire to want to give back, a sense of wanting to help others. Becker not only started a company that did just that, she continues to provide hope for others who are going through difficult medical challenges. Becker, who continues to speak and share her story of survival and path to gratitude, is happily married with two children.
The Jacqueline M. Wilentz Breast Center meets the needs of all women. Since opening in 1994, the breast center has offered the most comprehensive array of breast health services in the region. Because of the generosity of community supporters, the breast center offers state-of-the-art breast imaging equipment for the early detection of breast cancer.
MMC Names New Regional Medical Director
Board-certified radiologist Cynthia A. Barone, D.O., has been named regional medical director of Breast Imaging for Monmouth Medical Center (MMC), Monmouth Medical Center, Southern Campus (MMCSC) and Community Medical Center (CMC). In her new role, Dr. Barone is responsible for the overall clinical quality provided at all affiliated breast imaging locations, which in addition to MMC, MMCSC and CMC, include satellite locations in Colts Neck and Holmdel. In addition, she will collaborate with physician and administrative leadership to develop new programs that improve access to breast imaging services for the communities MMC serves.
Cynthia A. Barone, D.O.
Dr. Barone joined the breast imaging team at the Jacqueline M. Wilentz Comprehensive Breast Center in 2010. She previously served as the center's lead mammographer. The center recently achieved status as a certified quality breast center of excellence— which is the highest certification level offered by the National Quality Measures for Breast Centers (NQMBC). An optimal level of care is offered through the latest technology and services, including: a Breast Cancer High Risk Assessment Program with access to genetic testing, whole-breast screening ultrasound and 3D mammography.
After earning her medical degree from the University of Medicine and Dentistry of New Jersey, School of Osteopathic Medicine, Dr. Barone completed her residency in diagnostic radiology at the Pennsylvania Hospital. She then went on to complete her fellowship in body imaging at the Hospital of the University of Pennsylvania. "Dr. Barone's education, work experience and clinical expertise make her highly qualified for this critical role within the Jacqueline M. Wilentz Comprehensive Breast Center," says Monmouth Medical Center President and CEO Bill Arnold.
To learn more about the Jacqueline M. Wilentz Comprehensive Breast Center at Monmouth Medical Center, call 732.923.7700 or visit monmouthwilentzbreastcenter.com.
For more information about the Jacqueline M. Wilentz Breast Center at Monmouth Medical Center, call 732.923.7700 or visit barnabashealth.org/monmouth. To share this article on your Facebook page, visit monmouthhealthandlife.com.