Take 10!
Nicole's Ten, a hip restaurant and bar on Route 10 in Randolph, specialized in creative New American and eclectic fare.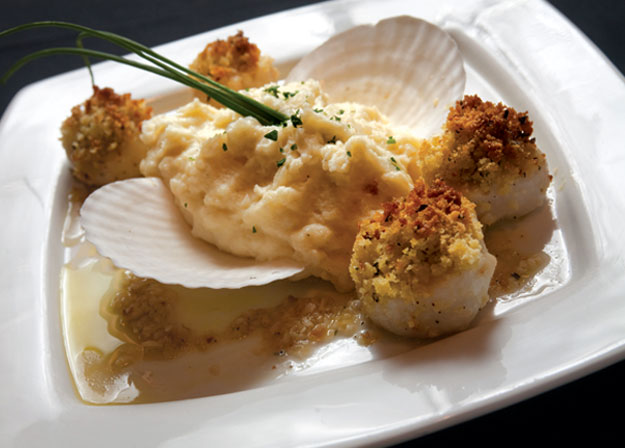 If you're an indecisive diner, brace yourself before perusing the sweeping menu at Nicole's Ten, a hip restaurant and bar on Route 10 in Randolph specializing in creative New American/eclectic fare. Chef-owner Nicole Ann Dabal offers a whopping 43 imaginative entrees, which draw inspiration from around the globe and feature innovative twists on classic dishes.
With its sleek wood furniture, black-draped tables, votive candles and New Age music, Nicole's gives off a cool, modern vibe that complements its inventive dishes. But on a recent visit the staff was exceedingly warm and attentive, making friendly conversation and allowing us plenty of time to navigate the hefty menu.
After much debate, we settled on Nicole's Famous Crab Cake as our first starter. Large and baked to perfection, it blended a good portion of lump crabmeat with tasty bread crumbs, herbs and spices. We adored the tangy lemon-basil coulis and sweet balsamic glaze drizzled on top, and only wished there were more to enjoy.
Next up, Nicole's signature bruschetta-four slices of warm, soft crostini topped with a savory blend of roasted garlic, roasted tomato, caramelized onion, cannellini beans and fresh mozzarella-was a clever take on a classic Italian favorite. The Nicole's Ten salad, a large plate of field greens tossed with raspberry vinaigrette, crumbled gorgonzola, poached pears and candied walnuts, had all the makings of a knockout, but the portions of dressing and cheese were a bit meager.
Eager to try one of Nicole's creative pasta dishes, we chose the Buffalo Stracchino, a heaping bowl of penne tossed with grilled chicken and cooked veggies (artichokes, cherry tomatoes and asparagus) and topped with a specially blended buffalo sauce and a dab of creamy Gorgonzola sauce. Mouthwatering to the last spoonful, the zesty buffalo sauce had a slight kick to it, and the Gorgonzola quenched the spiciness just right. Our only complaint? The chicken was a smidge chewy and overcooked.
Nicole's Scallops, meanwhile, arrived as six large broiled mollusks topped with bread crumbs and artfully arranged around a mound of hearty long-grain rice with sliced almonds and pieces of toasted capellini. The scallops were tender and juicy, but so flavorful on their own we wondered if the bread crumbs were needed. We did, however, thoroughly enjoy the savory pool of garlic and extra-virgin olive oil on the plate below, which was perfect for dipping.
For dessert, the brownie a la mode was good, but lacked a "wow" factor. But the caramel apple strudel cheesecake hit all the right notes: Baked with pieces of apple inside, the decadent confection was topped with a thick coating of cinnamon-y crumbs drizzled with caramel. While not every dish was a perfect 10, it's clear that an abundance of talent and creativity goes into the plates served up at Nicole's Ten. We look forward to discovering what other charms its inventivemenu has to offer.
Nicole's Ten
2246 Route 10 West Randolph
973-442-9311
www.nicolesten.com
Hours
LUNCH: Tuesday through Friday, 11:30 a.m.-3 p.m.
DINNER: Tuesday through Thursday, 5-10 p.m.; Friday and Saturday, 5-10:30 p.m.; Sunday, 4-9 p.m.
What you should know
Entrees average $20
Full bar
Private parties accommodated
Reservations suggested
Handicapped-accessible
Major credit cards accepted