Taking Care of the Future
Monmouth Medical Center supports the arts through student scholarships.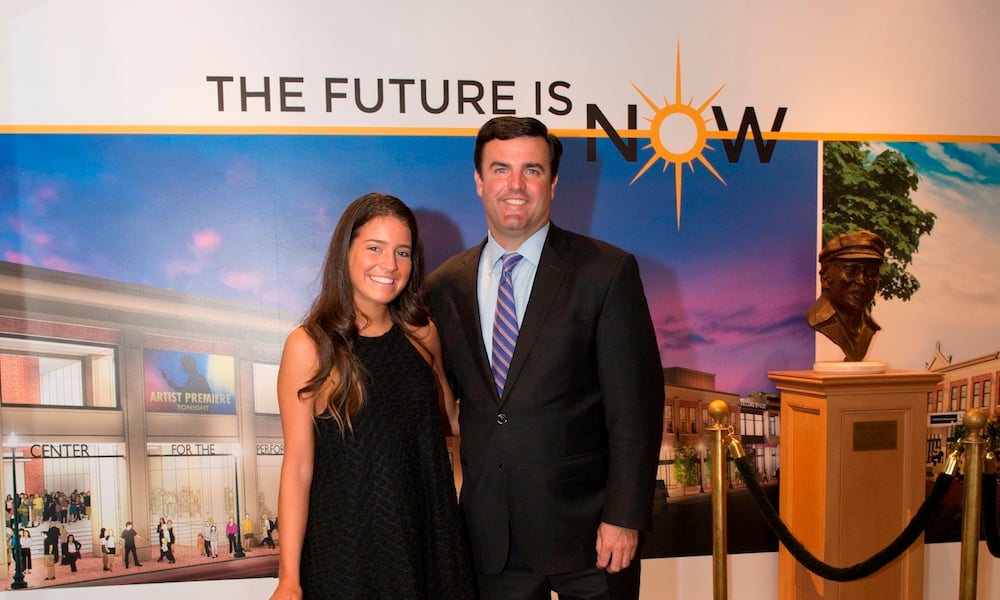 The arts are alive and well, and Monmouth Medical Center is doing its part to ensure that the dancers, painters, vocalists and musicians of tomorrow are in good hands today. Each year, the hospital helps pave the way for a future artist by awarding its Monmouth M edical Center–RWJBarnabas Health Arts Impact Scholarship. Singer and songwriter Shannon Corci, who graduated from Rumson-Fair Haven Regional High School in June, is this year's honoree.
"Shannon is a young woman who already has an impressive resume for her talents as a singer/songwriter," says Bill Arnold, president and chief executive officer of Monmouth Medical Center. "But she impressed us the most through letters of recommendation praising her for always being mindful to give back to her community."
Shannon was the driving force behind fundraising concerts in support of Superstorm Sandy relief efforts, arts education and youth services. She will enroll in the Popular Music Program at the University of Southern California's Thornton School of Music this fall.
The hospital's scholarship is one of four offered as part of the Count Basie Theatre's Basie Awards, which recognizes outstanding high school drama performances as well as the impact the arts can have on a student moving on to higher education. Monmouth Medical Center has been the theatre's partner in recognizing high school students throughout the county since 2013, and it is the exclusive sponsor of the Basie Awards ceremony, which is conducted each May.
"Even though our missions are different, our goals are the same: a vision for our community, based on a culture of high expectations and a stellar quality of life," says Arnold. "The hospital supports the growth of the Basie and its vision for the future, which includes the creation of a regional center for the performing arts that will encompass an entire city block. Monmouth Medical Center is proud of its longstanding support of the growth and expansion of the historic nonprofit Count Basie Theatre."
Hospital Feted for Festival Partnership
Margaret Fisher, M.D., medical director of The Unterberg Children's Hospital at Monmouth Medical Center, recently accepted a certificate of appreciation from the Hope Academy Charter School, which saluted RW JBarnabas Health and Monmouth Medical Center for their role as sponsors of the Asbury Park Music in Film Festival. As an exclusive founding partner of the springtime event, RW JBarnabas Health announced a multi-year deal that has expanded to arts and culture within the Asbury Park community all year round.
The festival, which took place in April this year, raises funds for the Asbury Park Music Foundation and benefits music education for children throughout the city, including students at Hope Academy.
"As Monmouth Medical Center is an intricate part of the fabric of the local community and is dedicated to serving the people of the city of Asbury Park, we strongly support the Asbury Park Music in Film Festival and its music programs for children," says Dr. Fisher. "We are particularly proud in 2016, which marks the 10th anniversary of The Unterberg Children's Hospital at Monmouth Medical Center, to support the Asbury Park Music Foundation. Along with the festival organizers, we understand the impact the arts can have on a student moving towards higher education, and we are proud to help these underserved children receive music education, lessons, instruments, programs and social connection opportunities through crucial programs such as Music Saved My Life."
Prior to the certificate presentation, Dr. Fisher provided parents at Hope Academy with general health and wellness guidance for their children, including vaccine and nutrition information. This program was made possible through a community health education outreach initiative by The Unterberg Children's Hospital Leadership Council.
To learn more about services available for you or your family at Monmouth Medical Center, please call 888.724.7123.