Taking Care Of The Joint
An MMC orthopedic surgeon uses cutting-edge tech to perform a 'life-changing' shoulder replacement.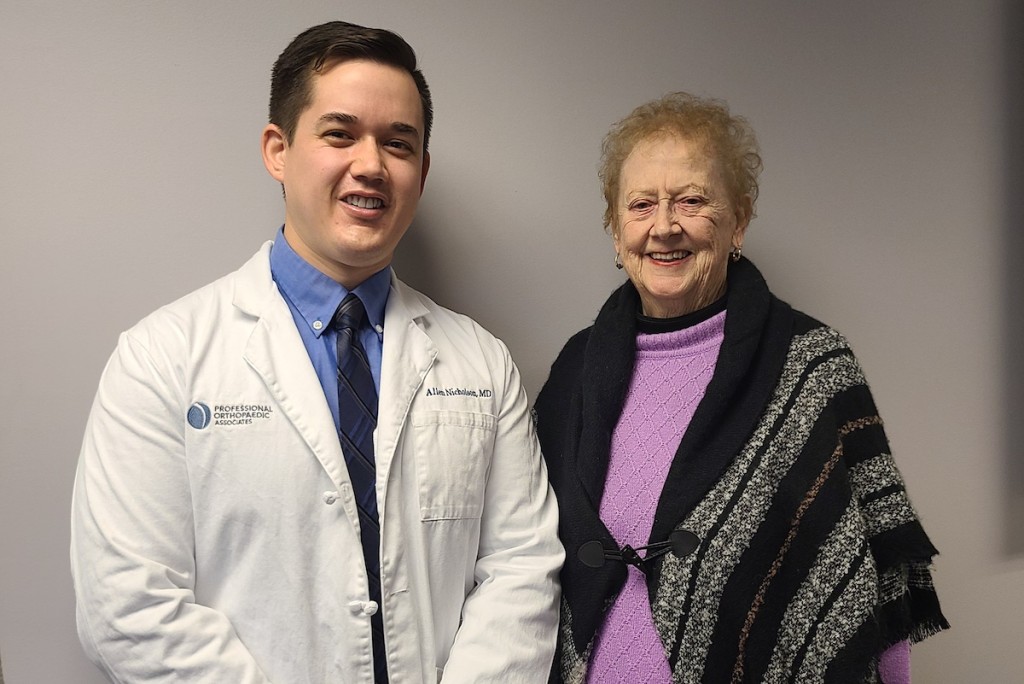 An octogenarian, Barbara Quackenbush thought she'd have to live the rest of her life in excruciating pain after doctors said her shoulder had deteriorated beyond repair. But that's before she received cutting-edge surgery at Monmouth Medical Center (MMC).
After a long career as a government employee and as an avid bowler, the 84-year-old Toms River resident developed arthritis that, over the years, all but disintegrated the bone and rotator cuff in her right shoulder. This left Quackenbush in constant agony, and seemingly easy tasks—retrieving food from a microwave or moving a car gear shifter, for instance—became impossible, she says.
"It was getting worse and worse," says Quackenbush. "I could no longer lift my right arm and was doing everything with my left [arm]. Shifting a car from park into drive with your left arm isn't ideal."
But fortunes changed last fall when Quackenbush's physical therapists gave her a business card belonging to Allen Nicholson, M.D., an orthopedic surgeon at MMC and Professional Orthopaedic Associates in Tinton Falls, urging her to contact him. Considering other doctors had told her nothing could improve her condition and cortisone shots weren't helping, Quackenbush didn't think much of the therapists' suggestion—until Dr. Nicholson reached out to her.
"He told me that he could do a replacement and asked me to come in," she recalls. "At first I thought, 'I'm 84, I can't go through surgery.' I was so skeptical, but I just couldn't live with the pain anymore. What did I have to lose?"
Dr. Nicholson examined her, inspected her X-rays and decided that she was eligible for a reverse shoulder replacement. A reverse shoulder replacement reverses the normal ball and socket structure and is typically used for patients with irreparable rotator cuffs or bad wear of the bone socket. However, a standard reverse shoulder replacement was not a viable option because so much of the bone in Quackenbush's shoulder had deteriorated—meaning he would use technology never before used at MMC.
"The arthritis wore down the shoulder for so long that there was barely any socket left," Dr. Nicholson says. "There just wasn't enough bone for standard implant fixation."
The key was to affix the shoulder implant in exactly the right spot for "good bony contact," the doctor notes. "If I didn't get exactly the right spot and depth, I would not get enough fixation and the shoulder replacement would fail." To find the perfect spot, Dr. Nicholson performed a CT scan on Quackenbush's shoulders and uploaded the images to 3D computer planning software.
"This showed us the bony wear in great detail and allowed us to move the scapula around to look at the socket wear from different angles," he says. "The software also lets us place components for the reverse shoulder replacement and see how they fit into the bone. We were able to use augmented implants, implants that have extra metal wedges on the back of them to replace the bone that was missing."
The final step was to create a model of the shoulder using a 3D printer and a custom guide to place the components during the surgery.
"Everything went according to plan," Dr. Nicholson says. "These high-tech tools have only become available in the last few years. I received extensive training with them during my shoulder fellowship at Hospital for Special Surgery."
Quackenbush underwent surgery on Nov. 26 and barely had any pain when she woke up after the procedure. "I thought, 'OK, it's just the pain medication that's blocking the pain'," she says, "but the pain blockers ended a day later and I still didn't feel any pain in my shoulder." She went home shortly after the surgery and began physical therapy, going twice a week for three to four weeks—without pain and with improving motion.
Dr. Nicholson notes that Quackenbush is now raising her arm over her head, about 150 degrees. "This is probably more movement than she's had in 20 years," he says.
The range of motion has surprised Quackenbush and her therapists.
"After a month and a half of therapy, they could not believe what I was doing with my arm," she says. "I can drive again, I can go to the store and my appointments."
"I'm still building the muscle in my arm, so I can't push a vacuum yet," she continues. "But by fall, I'll be bowling again."
---
To learn more about programs and services at Monmouth Medical Center, visit rwjbh.org/monmouth.