Taking the Lead
Monmouth Medical Center's New CEO is a Familiar Figure Who Knows it Well.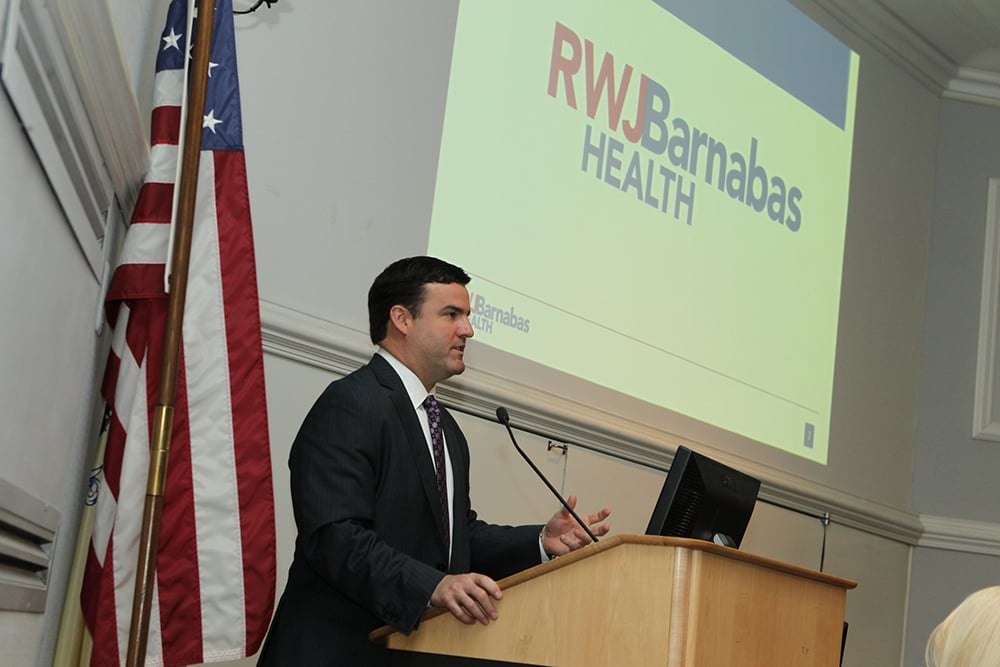 If anyone was ever well groomed to take on a demanding job, it's Bill Arnold. Named president and chief executive officer of Monmouth Medical Center effective April 1, he has been a member of the hospital's management team for more than 20 years.
"Since joining our system in 1994 as an operations manager, Bill has earned a series of impressive promotions," says outgoing CEO Frank J. Vozos, M.D., FACS. "He then moved to Monmouth Medical Center in 1998. In 1999 I promoted Bill to vice president of operations, and in 2006 I elevated him to chief operating officer, making him the youngest chief of operations in the system and, to my knowledge, the youngest hospital chief operating officer in New Jersey."
The new change in leadership coincides with the recent completion of the merger of Barnabas Health and Robert Wood Johnson Health System. Now known as RWJBarnabas Health, the resulting organization reaches approximately 5 million people—more than half of the state's population—and is primed to achieve synergies in the fast-changing, data-rich world of health care.
After 17 years as Monmouth's leader, Dr. Vozos has assumed the positions of executive vice president of RWJBarnabas Health and chief executive of Monmouth Medical Center, Southern Campus.
"We are fortunate that Bill Arnold will assume leadership of Monmouth Medical Center," RWJBarnabas Health President and Chief Executive Officer Barry Ostrowsky says. "His extensive experience and knowledge of hospital operations and his understanding of the new model of health care will serve the medical center and the system well as he builds on the fine record of Dr. Vozos."
In two decades at Monmouth Medical Center, Arnold has overseen the growth and development of many clinical services, including the expansion of the hospital's Emergency Department and the renovation of its Neonatal Intensive Care Unit, Pediatric Intensive Care Unit and operating rooms. He also was directly responsible for the addition of the David S. Zocchi Brain Tumor Center, one of only three brain tumor centers in New Jersey. And he played a key role in the joint venture with HealthSouth that created a 60-bed freestanding rehabilitation hospital in Tinton Falls, resulting in an expansion of rehabilitation services.
"Bill's qualifications are outstanding; he is a leader in the development of strategic partnerships and a champion in the growth and development of outpatient and emergency services," Dr. Vozos says. "His devotion to Monmouth Medical Center and the communities we serve is unparalleled."
TO LEARN MORE ABOUT SERVICES AVAILABLE FOR YOUR FAMILY AT MONMOUTH MEDICAL CENTER, PLEASE CALL 888.724.7123.
TO SHARE THIS ARTICLE WITH A FRIEND OR TO RECOMMEND IT ON YOUR FACEBOOK PAGE, VISIT MONMOUTHHEALTHANDLIFE.COM