TEACH THEM WELL
MONMOUTH MEDICAL CENTER PROGRAMS PROMOTE WELL-BEING FOR STUDENTS.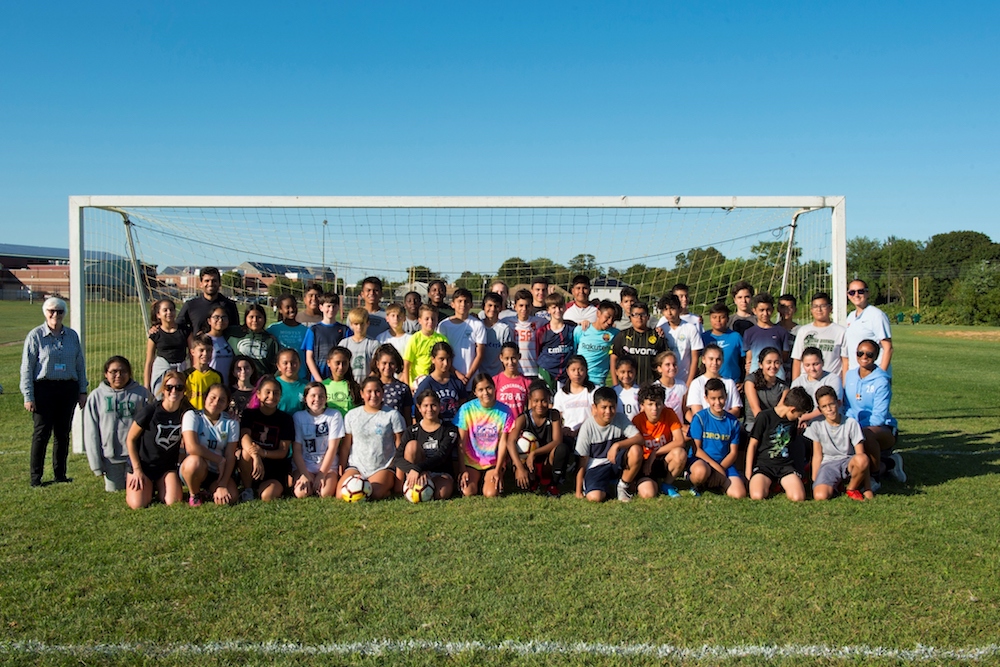 AS ITS WIDE SCOPE OF PEDIATRIC services clearly reflects, The Unterberg Children's Hospital at Monmouth Medical Center (MMC) offers care for children and families with a breadth and depth unrivaled throughout the region. Additionally, MMC is committed to improving the well-being of Monmouth County children beyond the hospital walls, aiming to not only serve patients who need medical treatment but also to help area students thrive in their communities by investing in initiatives that promote a healthy lifestyle.
Most recently, The Unterberg Children's Hospital demonstrated this commitment by sponsoring a free, 90-minute soccer clinic for more than 60 members of Long Branch Middle School girls' and boys' teams through the RWJBarnabas Health sponsorship of the SkyBlue women's professional soccer team. The women's professional soccer team Sky Blue FC, which plays in Piscataway, ran the clinic, which featured scrimmages and interactions with players. Afterward, there was a 15-minute question-and-answer and autograph session with Sky Blue players.
"Monmouth Medical Center has a long history of meeting the needs of its neighbors both through high-quality health services and community outreach such as this," says Eric Carney, MMC president and chief executive officer. "We see ourselves as a partner in the care of our community."

Jason Krystofi ak, M.D.
WINTER TRAINING
Jason Krystofi ak, M.D., a sports medicine physician at MMC, is the team physician and medical director for Sky Blue. He shares the following strategies for exercising safely when there's a chill in the air.
Wear wool or fleece mittens and a hat. This will help protect your extremities from frostbite, in which the skin and other tissues freeze.
Watch for signs of frostbite, such as numbness, tingling and a lack of color, on your nose, ears, hands and toes. If you have any of these symptoms, head inside and slowly warm your skin. Frostbite can occur in just 30 minutes when the temperature is 0 degrees Fahrenheit and the wind speed is 15 mph (wind chill of -19 degrees F).
Wear sunscreen (with an SPF of at least 30) and sunglasses. Ice and snow can cause a reflection of the sun's harmful ultraviolet rays.
Drink plenty of water because it's possible to become dehydrated in the winter.
Dress in layers. The first layer should be a synthetic fabric, which wicks away sweat. The next should be a warm fleece or wool layer. The top layer, which can be removed, should be waterproof and breathable.