The Art of Crafts
From pubs to restaurants to the dinner table at home, local brewers are raising the bar with their artisanal beers.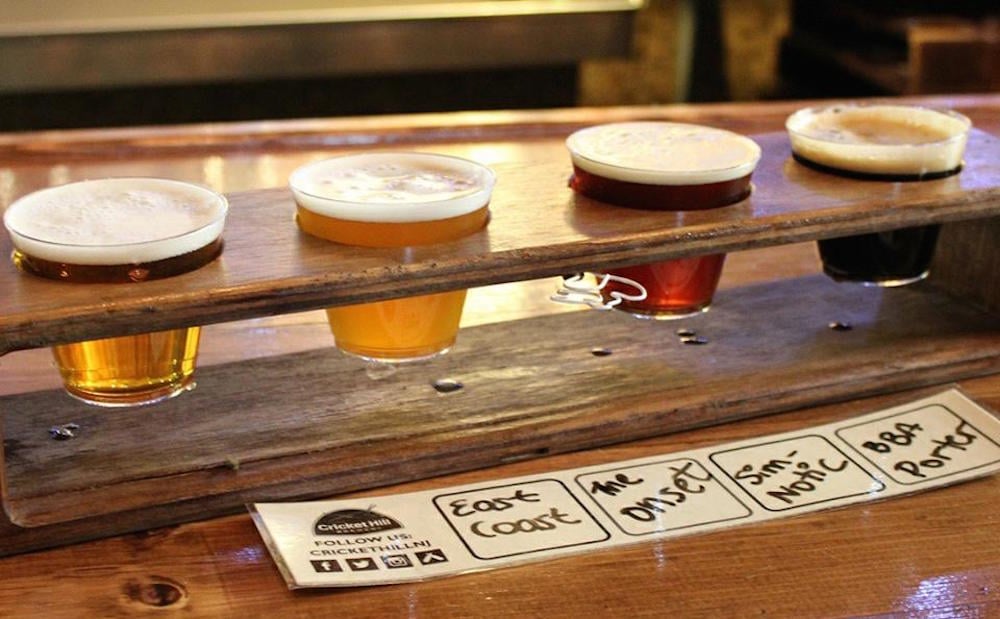 Magnify Brewing Company, Fairfield
IT'S TIME TO GET HOPPING, BEER FANS, BECAUSE YOU don't want to miss what's brewing in Morris and Essex counties. Where wine once ruled, craft beers are quickly taking over—you can find them served in fine dining establishments as well as on tap in your favorite neighborhood bar. Better yet, you can actually visit the sites where these local brews are conceived and produced.
That's what thousands have learned at joints like Magnify Brewing in Fairfield, which opened in Morris County two years ago and has been growing in popularity and size (owner Eric Ruta recently leased a Pequannock building for storage) ever since. There, customers can imbibe imaginative brews—the names of the full-bodied stouts, India pale ales and Belgianinspired pilsners are scribbled on a chalkboard adjacent to the bar. Once customers make their selections, bartenders pour the frothy libations into a variety of containers, including Mason jars, tulips and growlers. Some are instant hits (Break the Bank imperial IPA), while others are an acquired taste (Point of Divergence stout with wine yeast).
Environment is just as important as the beer. Magnify promotes personal interaction. There are no televisions; instead a large selection of board games like Connect 4 and Trivial Pursuit are available to pass the time.
Fill up a growler at Cricket Hill
"We created a place with a unique and inviting atmosphere," notes Ruta. "We believe our tasting room completes our vision of becoming not only a place that brews great beer, but a great place to enjoy a fresh pint as well."
Pints, flights and growlers are also filled in nearby Cricket Hill Brewery, also in Fairfield. Locals love the brewery's East Coast Lager and seasonal ales (Try the Jersey Summer Breakfast Ale!), conceived and created by a team led by founder and co-owner Rick Reed.
You'll find a similar atmosphere and operation at the High Point Brewery in Butler, home of the Ramstein brand. Ramstein, which is in its 20th year, is found in New Jersey bars and local stores, but grabbing a brew in the taproom is an experience. A trip to the campus of multiple red-brick buildings is a must for beer connoisseurs, as the conversation is always as good as the drink.
Ramstein beer flows at High Point Brewery
"Coming here after work is a fairly new tradition of mine," notes Bryan McManus, a 36-year-old from nearby Wayne. "There is always something new to try on the menu, which I like, and the Ramstein name always ensures quality. Right now, the Spin IPA is my choice."
High Point, like many other craft breweries, offers tours of the facility and allows events and private parties. Chatham's Twin Elephant Brewing Company currently doesn't rent its space for private events, but groups are welcome in the taproom and on brewery tours.
"I've been to Twin Elephant a few times," says McManus, "and the menu always has something I like. They have very limited tasting room hours (Friday and Saturdays only), but it's definitely worth checking out."
Eight beers on tap at Cricket Hill Brewery, Fairfield
Want something to nosh on while you drink? You won't find any appetizers or large menu items at these bars—though you might spy a small bowl of pretzels—but customers are welcome to bring their own treats or even call for delivery while they're at the brewery. If you want to eat while chugging a fine brew, several establishments like Cloverleaf Tavern in Caldwell or the Morris Tap & Grill in Randolph boast craft-beer-dominated drink menus.
So just why is the craft beer industry booming? Thank legislators, who about five years ago passed a law permitting beer makers to sell their beverages by the glass without a conventional liquor license. It was a big step for small-scale operations. It also allowed local brewers to deliver their products to liquor stores, bars and restaurants themselves and bypass expensive truckers.