The Art of Healing
Eight local artists exhibit works that express their relationship to cancer.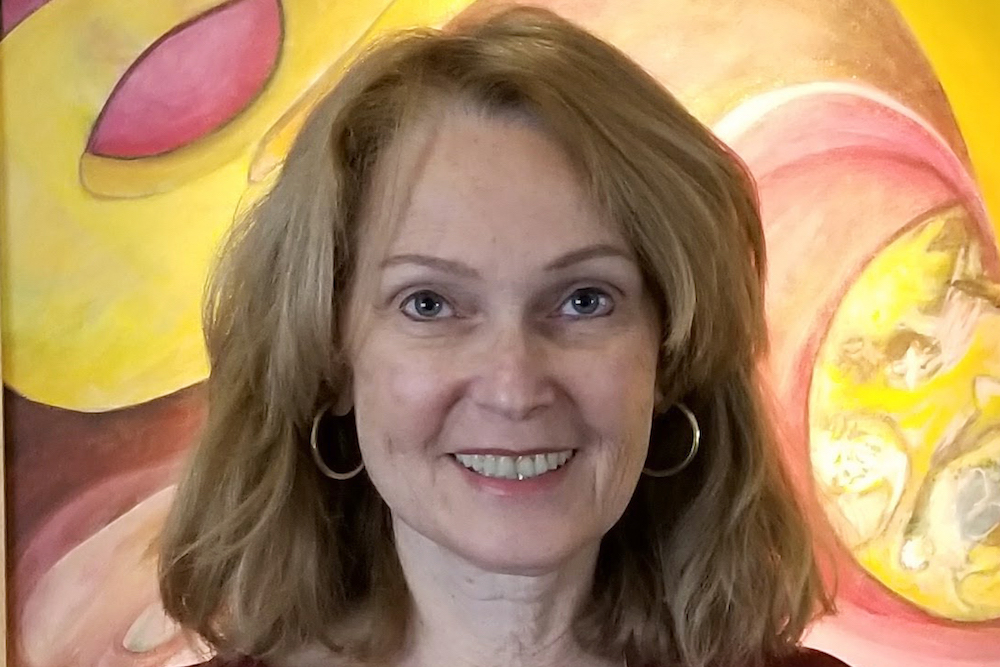 MEDICAL CARE IS CRITICAL IN treating and, one hopes, curing disease, but true healing takes more than doctors and medicine. There is a spiritual component to recovery as well, and perhaps no one knows this better than artist Karen Starrett. She is the curator as well as one of the eight artists whose work is featured in "Art & Healing: Expressions of Trauma and Gratitude," an exhibition at the Monmouth Museum in Lincroft. The exhibit runs through May 19.
Art & Healing highlights the role of how the creation of art can be part of the healing and recovery process after a cancer diagnosis. For Starrett, of Ocean Township, that diagnosis came in 2003. When she learned she had Stage 3 ovarian cancer, "everything changed," she says. "I thought I was going to die. I was 50-years-old. I know 28 women who died from ovarian cancer. It was very frightening."
After surgery and a year of chemotherapy at Monmouth Medical Center, her cancer was gone. Physically she was healthy; emotionally, however, she fell into depression, and was unable to practice her favored art form, collage. She attended a week-long art workshop, but she "floundered" until the facilitator gave her a large sheet of paper and paints. "She said, 'Just move your hand,' so I did," Starrett says. She finished one painting, then another. "It was very powerful. I believe painting was part of my healing," she says. "I've been painting ever since."
Over the ensuing years, she studied the relationship of art and healing, and she was trained as a hospital artist-in-residence. She then studied "creative aging," became a certified dementia practitioner, achieved Advanced Certification in Gerontology from Rutgers University and developed an arts curriculum for older adults, including those with limited cognitive and physical abilities.
Last year, she approached Donna Kessinger, executive director of the Monmouth Museum, about curating an exhibit of artists who had been treated for cancer. The artists—including Theresa DeSalvio, Shari Epstein, Arlene Mollow, Nisha Sondhe, Carol Radsprecher, Bob Rivera, June Wilson—"all express their cancer experience, whether overtly or obliquely," Starrett says.
"The art ranges from darkly surreal to humorous," adds Kessinger, who has had her own cancer experience as well. She lost her sister-in-law to brain cancer in 2018. "I hope to honor her memory with this show," she says.
Starrett says she is grateful to the museum for mounting the exhibit. "I want people to know that self-expression has a value. Whether it's writing, painting or performing, the body needs to express itself."
CANCER SUPPORT COMMUNITY ENHANCES CANCER SUPPORT COMMUNITY ENHANCES WELL-BEING OF PATIENTS AND LOVED ONESWELL-BEING OF PATIENTS AND LOVED ONES
THE CANCER SUPPORT COMMUNITY (CSC) at Monmouth Medical Center is part of an international non-profit organization whose mission is to help individuals impacted by cancer enhance their health and well-being through participation in free, professionally led programs of emotional, physical and psychological support. Delivery of CSC programs by licensed professionals ensures that all members who are impacted by a cancer diagnosis are empowered by knowledge, strengthened by action and sustained by community. All programs are free of charge to anyone affected by a cancer diagnosis: patients, caregivers, and adult and child family members, no matter where treatment has been received. CSC offers a full calendar of monthly activities and support groups, including music, art and play therapy, intended to help patients and their loved ones to navigate through their feelings and emotions. Call 732.923.6090 to learn more about CSC.