The Art of Healing
Creative outlets help patients cope with cancer treatment.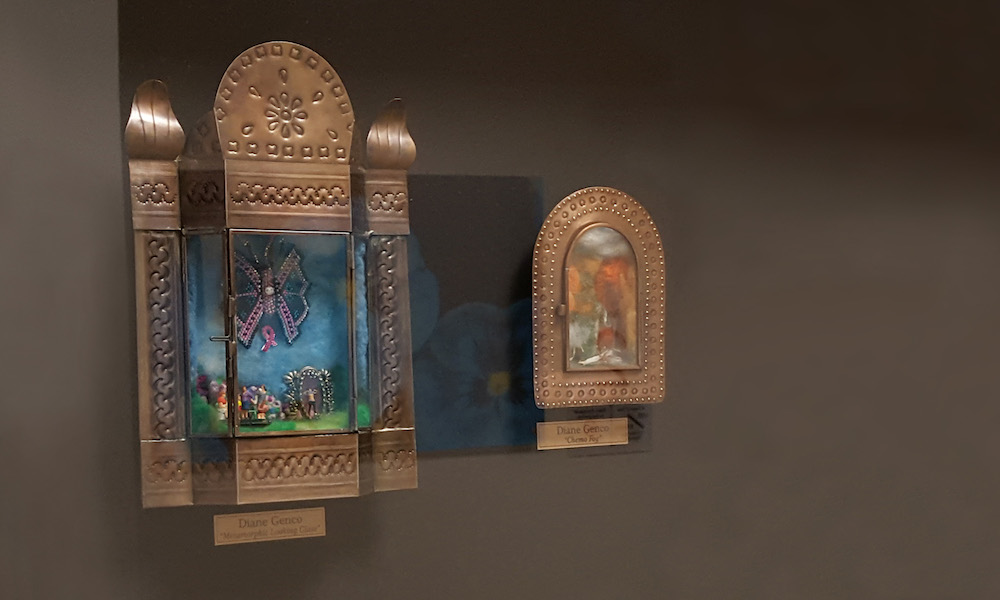 Diane Genco calls her second bout with breast cancer "earth shattering." Genco, 64, of Westfield, suffered a recurrence in October 2014 after a mastectomy in 2010. She hadn't needed chemotherapy the first time, but required four rounds of chemotherapy at Saint Barnabas Medical Center to fight the relapse. Her husband, Gene Schaefer, coincidentally, is an oncology researcher, "so I knew how damaging it can be," Genco says. "I was a basket case."
She had dealt with her mastectomy by writing a blog about her care, but now she was in what is known as "chemo fog." "I couldn't write an email, let alone a blog," she says. Prior to her treatment, she had learned about Saint Barnabas' holistic nursing program, which includes using art therapy to help patients cope with the stresses of cancer treatment. "I wasn't going to do it, but after the first round of chemo my brain was a sieve," Genco says. "So I went to a holistic nurse, who was wonderful, and she suggested the art therapy program."
Art therapy is used in a variety of settings, including hospitals, nursing homes and schools, with a broad group of people, says Donna Dandrilli, M.A., ATR , the art therapist at Saint Barnabas. "Art accesses the right hemisphere of the brain, where different types of information are stored," she says. "Research shows art can help with healing, and with perceptions that might be stuck—it can 'un-stick' them, so to speak, and transform negative emotions into healing emotions." That research, Dandrilli says, includes a 2013 United Kingdom study that found 92 percent of adults with cancer who used art therapy found it helpful. A 2006 study in the Journal of Pain and Symptom Management reported that art therapy reduced a broad spectrum of symptoms, including fatigue, pain and anxiety, she says.
"Making art takes your mind off the fact that you feel sick," she says. "It lets you create something when you feel very much out of control. With art you do have control— of the materials, of how you want to work with them, of making decisions that have a positive end result."
Genco was skeptical at first. "I come from a family of photographers and artists, but I am the one in human services. I don't do art," she says with a laugh. That's a common misconception among those presented with art therapy. "It's not about talent or past experience at all," Dandrilli says. "Art therapy is about the process much more than the product. We are not there to teach you how to draw, though we will help. It's really about eliciting your own resources and creativity. In the medical setting, art therapy helps patients use the mind and body in a positive way, and that mind-body connection is important in healing."
Indeed, there is more to art therapy than making art. "When I met Donna, I had no idea what to expect," Genco says. "We just talked about my family, my anxiety, it was really amazing. I started seeing things clearer just talking to her. I realized it was not just about the cancer, it was about me being a mother, a grandmother, a woman, the number of friends I have, and I decided to put a positive twist on it all. If I can't write about it, I will try to use art to capture what I feel."
Sister Carol Jaruszewski, R.S.M., has been doing the same since she was diagnosed with ovarian cancer in 2008. Sister Carol, 71, of the Sisters of Mercy, lives in Little Falls. Her cancer has recurred several times since then, but as a lifelong artist and former art teacher, she already knew the importance of art in her life. "When I realized art therapy was an option at Saint Barnabas, I took advantage of it," she says. "It has been a real source of strength and hope—it has become almost like prayer. There are prayers that are memorized or rote; then there are prayers that come from the heart, a spontaneous expression to your god or higher power. In expressing yourself, whether it is joy, praise and gratitude, despair or depression, you are in a connection with something beyond you. That is what I experience with art. I am able to tap into a deeper place that gives me greater clarity."
Dandrilli is available Tuesday, Wednesday and Thursday from 8 a.m.–4 p.m. to work with cancer patients in an out-patient setting. The art they produce is generally optimistic, she says.
"I think there are times when they feel angry, which is normal, or sad, and those feelings definitely come out at times. But as we do art, we also talk and explore feelings, and it becomes more of an insight for them. Even with a life-threatening illness, people tend to hold on to hope."
To find out more about the Cancer Center at Saint Barnabas Medical Center, please call 973.322.5200 visit barnabashealth.org/sbmc.