The Best in Burn Care
Today, more victims of these terrifying injuries can be saved.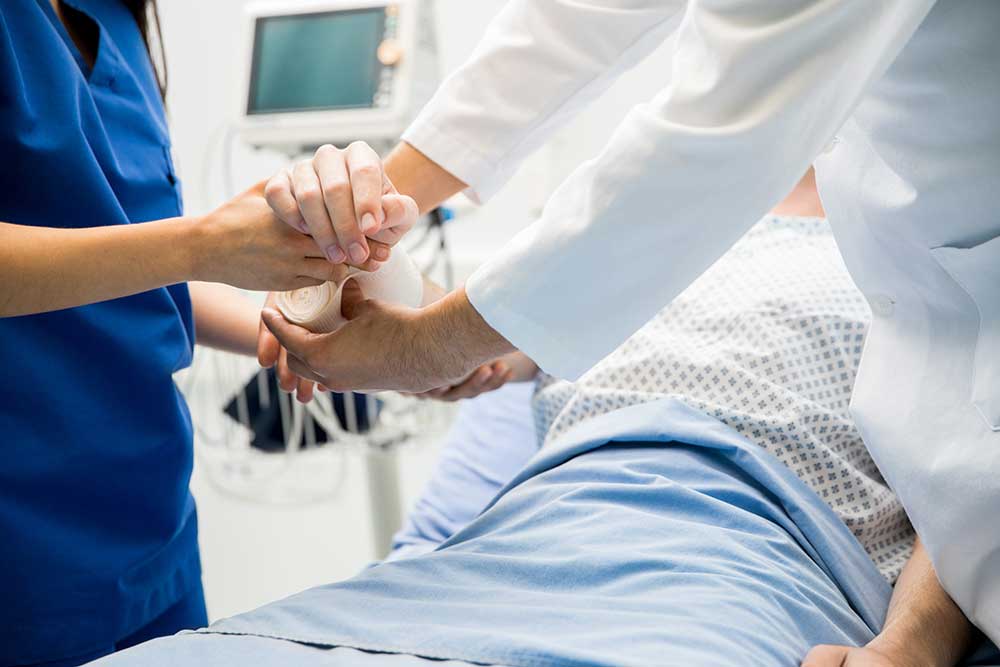 When you suffer a burn, prompt treatment is critical. It also matters where you go for that treatment. Studies show that a certified burn center is most effective. Millions of Americans don't live near such a center, but New Jersey residents are more fortunate.
Established in 1977—it has marked its 40th anniversary this year—The Burn Center at Saint Barnabas Medical Center is the only state-certified burn facility in New Jersey. It's one of just 65 burn centers in the U.S. that meet the verification criteria set by the American College of Surgeons American Burn Association, which assure quality of care in this specialized field.
"With 30 patient beds, our burn center is one of the nation's largest, and it's also one of the busiest," says Michael Marano, M.D., medical director of the center and a specialist in critical care and burn surgery. Only five other centers nationally have as many beds. Staff at the center care for 400 inpatients a year, and up to 16 outpatients every day. "With our extensive experience, we have become national leaders in specialty burn care," says the doctor. (See "Serving as a Model for the Nation," on next page.)
Because of advances in care available at facilities like this, patients with even the most serious burns are dramatically more likely to survive today than they would have been just a few decades ago. "In the mid-1970s, people with burns over just 20 percent of their body were not likely to survive," Dr. Marano says. "Today, those with burns over 90 percent of their body can survive."
The number of deaths from burns nationally has declined accordingly. In the mid-'70s it was about 9,000 people annually; now it has been cut to less than 4,000.
The specialists at The Burn Center understand all the factors that can affect the health and healing of people with the most serious burn injuries. They also keep abreast of the latest improvements in treatments and technology that lead to greater chance of survival.
"Fire, chemicals and smoke can affect the body in many different ways, so we work with a variety of specialists at Saint Barnabas to address each issue in turn," the doctor says. The team often includes cardiologists, plastic and reconstructive surgeons, pulmonologists, trauma surgeons and orthopedic specialists. Today, their reach is far.
"Our burn center covers an area of eight million people," Dr. Marano says. "And because treatment for burns often takes weeks or even months, having that level of care here locally is important. Patients are able to receive the most advanced care and still remain close to family and friends."
The field is always changing, and he notes that staff are dedicated to keeping up with the latest innovations. "Devices such as ventilators and synthetic skin, advanced medicines for smoke inhalation, therapies for organ damage and new surgical techniques all combine to make a big difference for our patients," he says. "We use every tool and treatment available."
And though the work can be difficult, the team at The Burn Center shows great dedication. "One employee recently retired after working over 40 years with patients here—since before The Burn Center was established," Dr. Marano says. "And more than one staff member has come in at a moment's notice or even left a vacation when we had a crisis. It's people like these, who have such dedication, that make our team so special."
Serving As a Model for the Nation
"During the 9/11 disaster, the health care industry was suddenly and for the first time called on to prepare for thousands of survivors of both trauma and burns," says Kathe Conlon, R.N., director of the Eastern Regional Burn Disaster Consortium, which is based at Saint Barnabas Medical Center. "Our center and others across the county had typically trained for scenarios that included dozens—not thousands— of patients. But 9/11 was a wake-up call. Today we're ready."
More than a decade ago, staff at The Burn Center formalized a partnership with 27 other burn centers from Maine through to Washington, D.C. Led by the team in Livingston, they formed the Eastern Regional Burn Disaster Consortium. It's the first organization of its kind in the nation to develop specific, successful methods to share resources quickly across such a large geographical area.
That speed is especially important when a large number of people need burn care. And their preparation works. Anticipating that people in the Boston Marathon bombing might need these services, for example, staff set out to contact two dozen burn centers across 10 states, to collect data about available beds and staff. "We were able to complete the data collection in 18 minutes," Conlon says.
Because of the proactive nature of the consortium and its ability to "organize chaos" across a large area of the Eastern Seaboard, burn centers across the country may now share information in a way similar to the network initiated at Saint Barnabas. Thus the medical center has become a model for the nation in sharing best practices in burn care.
"We've been recognized by our professional counterparts across the country for taking the lead in this area of emergency management and disaster preparedness," says Conlon. "And if something happens, we all now know we've taken the steps to react quickly to get patients the care they need."
4 Facts About Burns
The most common cause of burns is hot liquid, including hot food and the water in bathtubs and sinks.
To prevent scalding injuries, hot-water temperatures should be set below 125 degrees Fahrenheit.
Older adults and children are at greater-than-average risk when they have a burn, and for them healing takes longer.
When people require hospital care for burns, on average, the number of days of treatment is roughly equal to the percentage of the body that is burned. So a burn over 30 percent of the body usually means a 30-day stay.
To learn more about The Burn Center At Saint Barnabas, visit rwjbh.org/sbmc.