The Best Option for Breast Care
The Jacqueline M. Wilentz Breast Center provides comprehensive treatment under one roof.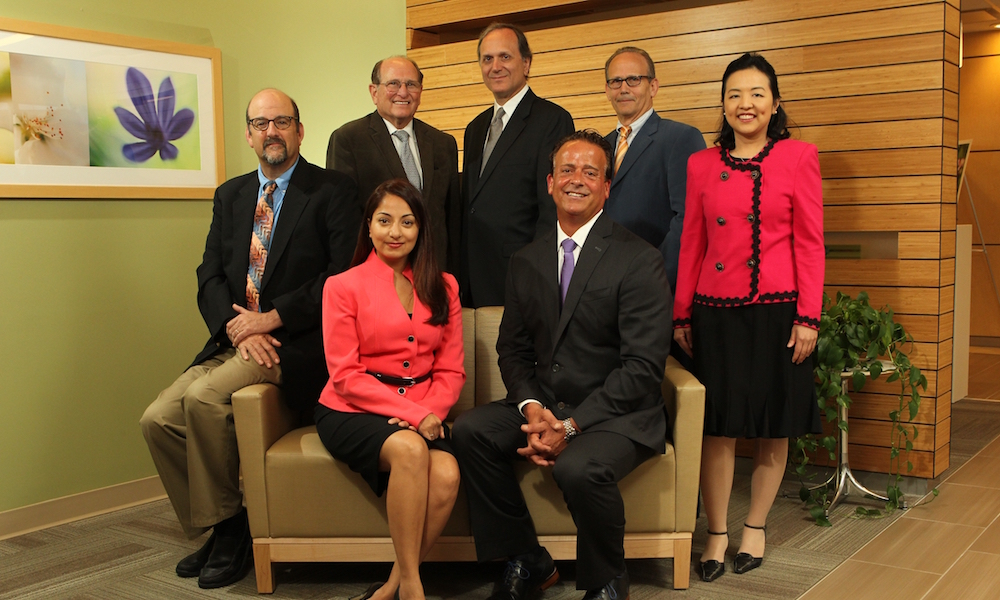 When detected in its earliest stages, breast cancer is highly treatable and beatable—the National Breast Cancer Foundation says the survival rate in those cases is 100 percent. A comprehensive breast care center is the best option to protect yourself—the medical professionals care for you from your initial meeting and screening mammography, and they're with you, step-by-step, through every treatment and eventually the recovery process.
That's exactly what happens at the Jacqueline M. Wilentz Comprehensive Breast Center at Monmouth Medical Center, which has been honored three years in a row with the Women's Choice Award as one of the nation's finest breast care facilities. It houses all breast care modalities under one umbrella, giving patients the best clinical management and treatment options, says David Sharon, M.D., medical director of the Leon Hess Cancer Center at Monmouth Medical Center. "By carrying the Women's Choice Award seal, the Jacqueline M. Wilentz Comprehensive Breast Center has signified its commitment to a global mission to elevate the patient experience for women and all patients as one of America's best breast centers," he says.
If you're looking for the best breast specialists and surgeons in the region, those affiliated with Monmouth Medical Center are among the elite and they have been recognized for their groundbreaking procedures. For instance, they were the first in the area to offer protocol-tested sentinel lymph node biopsies—an alternative to major surgery that determines whether a woman's breast cancer has spread to the lymph nodes.
"We provide our patients with compassionate and efficient service using state-of-the-art technology," Dr. Sharon says. "We are dedicated to providing top quality service, education and awareness to our patients."
The center's multidisciplinary panel of breast and reconstructive surgeons, medical and radiation oncologists, radiologists and pathologists meet each week to consider all elements of a patient's care. With the litany of specialists on hand, each patient has an opportunity to receive multiple second opinions for treatment options. The comprehensive breast cancer treatment program has met or exceeded all national standards for quality and safety for breast-cancer specific care, earning the center the prestigious Joint Commission Gold Seal of Approval.
In addition to its first-rate personnel, the Wilentz Center is equipped with the most up-to-date screening and diagnostic imaging technologies, including tomosynthesis (which produces a 3-D image of the breast using low dose X-rays at various angles), breast specific gamma imaging (a technique for identifying cancerous lesions in the breast) and fine-needle and stereotactic biopsies (minimally invasive, highly accurate and painless alternatives to surgical biopsies). With its advanced technology, the center is designated a Breast Imaging Center of Excellence by the American College of Radiology's Commission on Quality and Safety and the Commission on Breast Imaging. It is the first facility in the state and the 20th in the country to earn Gold Seal Accreditation for breast MRI ; it is also accredited for mammography, breast ultrasound and stereotactic breast biopsy.
The Jacqueline M. Wilentz Comprehensive Breast Center is located on the Monmouth Medical Center campus in Long Branch and with satellite locations in Colts Neck, Howell and Lakewood for the convenience of its patients. All imaging exams conducted at the satellite locations are performed by experienced mammography technologists and interpreted by dedicated breast imagers.
To schedule an appointment, call 732.923.7700, or visit monmouthwilentzbreastcenter.com.
Top-Notch Breast Cancer Surgeons
Monmouth Medical Center offers advanced breast surgery led by a team of the region's finest board-certified surgeons who specialize in breast surgery. Monmouth's breast surgeons are a part of a team of highly qualified physicians who treat a large volume of breast cancer patients and stress attention to detail, consideration of all treatment options, and a full panel discussion at each point in treatment through weekly multidisciplinary team meetings. These dedicated surgeons are able to counsel women sensitively regarding their options, whether it be breast conservation or mastectomy, as well as offer the latest techniques including nipple sparing and oncoplasty at the time of surgery. The goal is to provide women with not only the best odds of survival, but the confidence to know that once they have beat cancer that they are able to look and feel like themselves with no loss of femininity. This is an important component that allows women to move on to becoming survivors, rather than living with the "battle scars" that cancer left behind.
To learn more about services available at the Jacqueline M. Wilentz Comprehensive Breast Center, please call 732.923.7700.