The Best Team for Breast Care
Despite a "completely shocking" stage 2 breast cancer diagnosis, this survivor credits The Breast Center at Saint Barnabas Medical Center for putting her at ease from start to finish—and saving her life.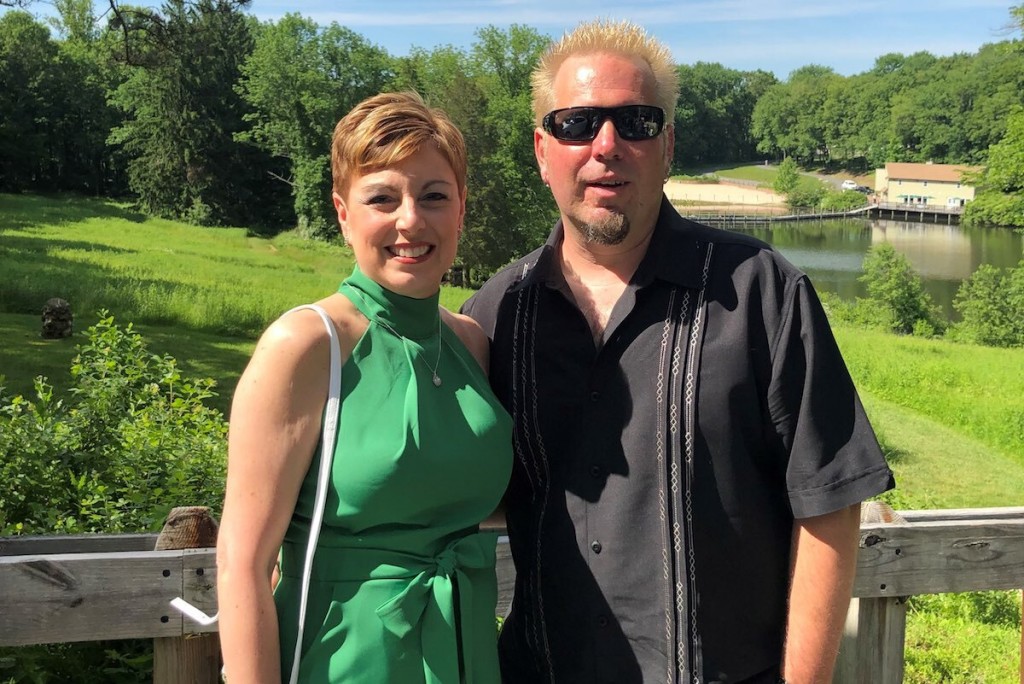 When Deann Muzikar found a lump in her left breast in 2017, she wasted no time and went to see her gynecologist that very same day. The doctor wasn't concerned, saying it was likely dense breast tissue, and they would check again in six months during her mammogram. The lump was still there when she returned that December, at the age of 50, so the physician opted for a biopsy. "Then I got diagnosed with stage 2 breast cancer," Muzikar says. "He wanted me to call a general surgeon [rather than a specialist]."
Muzikar essentially had to do her own research because she didn't have a referral, and at the recommendation of her aunt and a close family friend who are both breast cancer survivors, she scheduled an appointment at The Breast Center at Barnabas Health Ambulatory Care Center. "We consider ourselves the Emergency Room for the breast with all the tools and expertise to treat patients holistically and appropriately," says M. Michele Blackwood, M.D., FACS, chief of breast surgery at Saint Barnabas Medical Center. "We were one of the first comprehensive breast programs in New Jersey to be certified multiple times with the National Accreditation Program for Breast Centers (NAPBC)." Muzikar was going in "cold," having done her initial screenings elsewhere, but she got an appointment right away, just after Christmas, because the doctors sensed the urgency—and the anxiety. "The Breast Center and our office The Center for Breast Health and Disease Management never accept the statement that a lump is nothing to worry about," says Muzikar's doctor Sarah S. Schaefer, M.D., breast surgeon with The Center for Breast Health and Disease Management and a member of Barnabas Health Medical Group. "Any mass that is seen, if it is new and even if it has benign characteristics, needs a biopsy."
Dr. Schaefer ordered Muzikar an MRI, and the patient was relaxed upon getting her results. "She told me, 'I have no doubt you'll live a long and happy life after this,' which was a huge deal to me," Muzikar says. "I thought, what's going to happen? Am I going to die? Am I going to lose my breast, lose my hair, can I work? She put me at ease."
The answers to those questions were no, no, no and yes. "Deann really sought to understand the science so that she could maximize her cure while selecting a plan that minimized potential side effects," says Dr. Schaefer. "Her care was really a team effort." Indeed. In January, Dr. Schaefer and Ross Cooperman, M.D., plastic and general surgeon at SBMC, did a single surgery to both remove the tumor and reconstruct her left breast. The next month she had a follow-up procedure to ensure a clean margin and finish the reconstruction, and by March, she was ready to begin treatment: five days of radiation a week for five weeks. Muzikar did not require chemotherapy since she had an estrogen-positive tumor, and so she continued to work her job in corporate communications at PSE&G—even on radiation days—with no side effects other than fatigue.
Though the now 53-year-old was happy to wrap up her treatment that April, she was "sad" when it ended because it meant she would no longer be seeing her oncology team every day—her group of radiation oncologists, nurses and a radiologist who, coincidentally, lives down the street from her in Lake Hopatcong and whom she now calls a friend. "Everybody is just so compassionate and positive and pleasant," Muzikar says of The Breast Center staff. "They want you to be well and have success and live a happy life. I never got that doom and gloom sense even though I had cancer."
These days, Muzikar returns to SBMC every three months for Lupron injections to stop her ovaries from producing estrogen, as well as every six months for follow-up MRIs and ultrasounds. Dr. Schaefer reports Muzikar is doing "fantastic" and looks forward to her visits. "Deann is an amazing patient," she says. "Her courage and optimistic attitude are an inspiration for me."
---
To make an appointment with the multidisciplinary specialists at The Cancer Center at Saint Barnabas Medical Center, call 1.844.CancerNJ or visit rwjbh.org/beatcancer.