The Best Team for Breast Health
The Jacqueline M. Wilentz Center achieves three-year reaccreditation—again.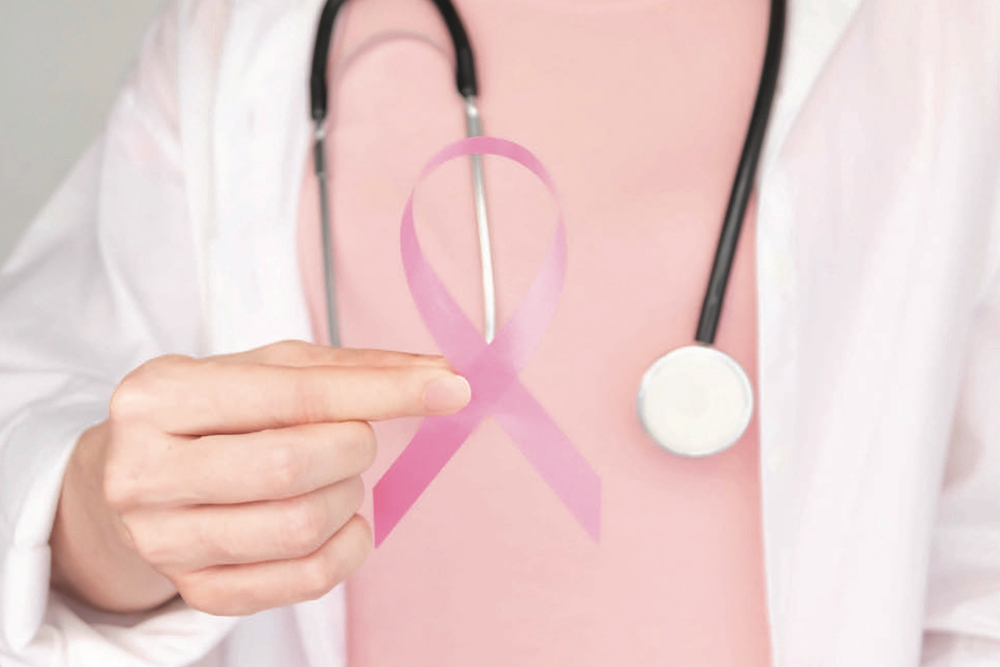 This past fall, Monmouth Medical Center's Jacqueline M. Wilentz Comprehensive Breast Center successfully achieved another three-year reaccreditation from the National Accreditation Programs for Breast Centers (NAPBC). The Wilentz Center is the first NAPBC-accredited program in Monmouth and Ocean counties.
Accreditation by the NAPBC is granted only to those centers that are committed to providing the best possible care to patients with diseases of the breast. Each breast center must undergo a rigorous evaluation and review of its performance and compliance with NAPBC standards. To maintain accreditation, centers must monitor compliance with NAPBC standards to ensure quality care and undergo an onsite review every three years.
The Wilentz Center, like other NAPBC-accredited breast care facilities, provides patients with comprehensive care, including a complete range of state-of-the-art services and equipment. The staff employs a team approach to breast cancer in order to provide the best available treatment. It also offers patients information about ongoing cancer clinical trials and treatment options and gives access to prevention and early detection programs, cancer education and support services.
Reaccreditation is one of many accolades bestowed upon and milestones achieved by The Wilentz Center, which has locations at MMC's Long Branch campus as well as satellite offices in Colts Neck, Howell and Lakewood. The center is one of the first two New Jersey facilities and among only five in the nation to receive the highest certification as a quality breast center of excellence by the National Quality Measures for Breast Centers (NQMBC). It is among only a few breast imaging centers across the nation designated a Breast Imaging Center of Excellence by the American College of Radiology's (ACR) Commission on Quality and Safety and the Commission on Breast Imaging. The facility also is the first in New Jersey to earn ACR's Gold Seal Accreditation for Breast MRI, and holds ACR accreditation for mammography, breast ultrasound and stereotactic breast biopsy.
In addition to The Wilentz Center's achievement, MMC has also recently completed a rigorous on-site survey for its comprehensive cancer program. In September, the Leon Hess Cancer Center achieved another three-year accreditation from the American College of Surgeons Commission on Cancer (ACS CoC) with commendations on several of the standards, including oncology nursing care, accuracy of data and cancer registry education.
These accreditations provide an assurance to patients that they will receive comprehensive care, including a full range of state-of-the art services and a multidisciplinary approach to providing the best treatment options, says Manpreet Kohli, M.D., FACS, medical director of breast surgery at Monmouth Medical Center and cancer liaison physician for the Commission on Cancer – American College of Surgeons.
WHEN SHOULD YOU HAVE A MAMMOGRAM?
Mammography is the primary imaging tool used to detect breast cancer that cannot be felt during regular breast examinations, especially cancers too small for even the most experienced physicians to identify. A mammogram may detect breast cancer many years before it is physically detected.
According to MMC dedicated breast imager Alexander King, M.D., the American College of Radiology (ACR), Society of Breast Imaging (SBI), National Comprehensive Cancer Center Network (NCCN), National Consortium of Breast Centers (NCBC) and American Society of Breast Surgeons (ASBrS) all recommend average risk women begin screening at age 40, continuing annually as long as the woman is healthy and desires to be screened.
Also remember:
— Regular mammograms should continue for as long as a woman is in good health.
— Women at high risk—because of family history, a breast condition or another reason—need to begin screening earlier and/or more often. Talk to your medical provider to be sure.
To schedule an appointment at The Jacqueline M. Wilentz Breast Center at Monmouth Medical Center, call 732.923.7700.
To learn more about the services available at The Jacqueline M. Wilentz Comprehensive Breast Center, visit monmouthwilentzbreastcenter.com.