The Best Team for Cancer Treatment
Leon Hess Cancer Center fêted for cutting-edge patient care, services and treatment options.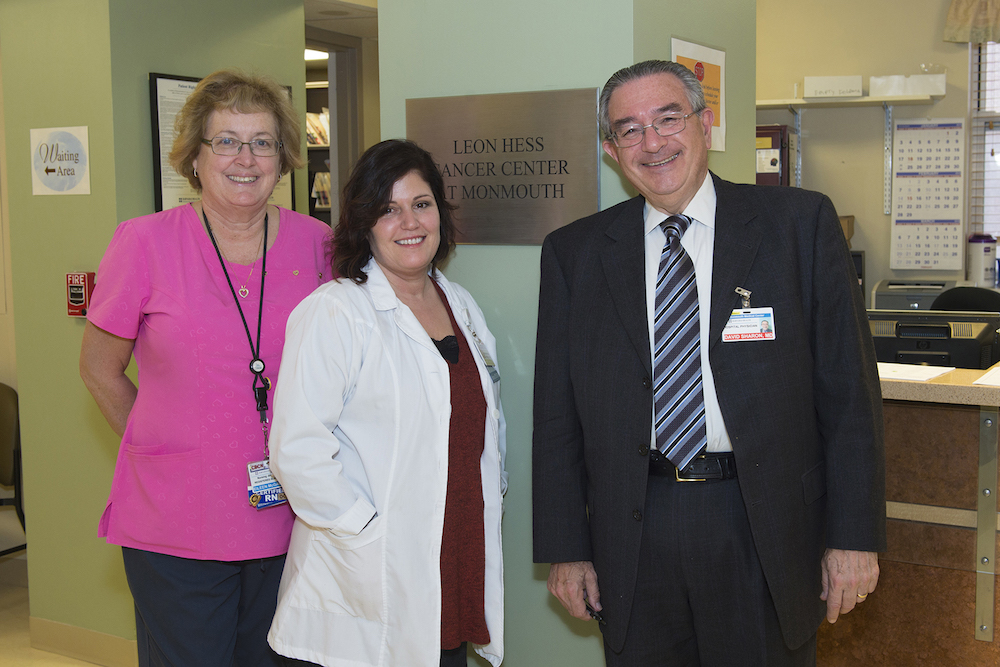 Monmouth Medical Center (MMC) has once again successfully completed a rigorous on-site survey for its comprehensive cancer program.
In September, the hospital's Leon Hess Cancer Center achieved another threeyear accreditation from the American College of Surgeons Commission on Cancer (ACoS CoC) with commendations on several of the survey standards. The Leon Hess Cancer Center is the only facility in Monmouth County to be designated by the ACoS CoC as an Academic Comprehensive Cancer Program.
This accreditation provides an assurance to patients that they will receive comprehensive care, including a full range of state-of-the art services and a multidisciplinary approach to providing the best treatment options, says David Sharon, M.D., medical director of the Leon Hess Cancer Center.
"We received four commendations in the areas of cancer registry education, oncology nursing care, and accuracy of data, and our participation," said Dr. Sharon, who notes that the surveyor provided great praise of the center's leadership.
"Additionally, we were commended for our participation in the Rapid Quality Reporting System, a reporting and quality improvement tool created by the American College of Surgeons to provide real clinical time assessment of hospital level adherence to quality of cancer care measures." The Leon Hess Cancer Center stands at the forefront of providing the most extensive array of highly advanced cancer services, delivered by a multidisiplinary team of specialists in a caring and supportive environment. For decades, the hospital's leadership role in oncology services has been broadened through the ongoing expansion of state-of-the-art programs and technologies offered in all areas of cancer prevention, detection and treatment. The center at MMC brings together a host of specialists in a convenient setting to offer comprehensive cancer services.
And through the hospital's partnership with the Rutgers Cancer Institute of New Jersey—the state's only National Cancer Institute-designated Comprehensive Cancer Center, a competitive designation awarded to only 48 centers nationwide— Leon Hess Cancer Center patients have access to the most advanced clinical trials and cancer treatment options close to home, adds Dr. Sharon.
To learn more, about the Leon Hess Cancer Center at Monmouth Medical Center, call 888.CANCERNJ.