The Betsy
Dixie charm meets Caribbean style in this landmark hotel on a famous strip in Miami Beach.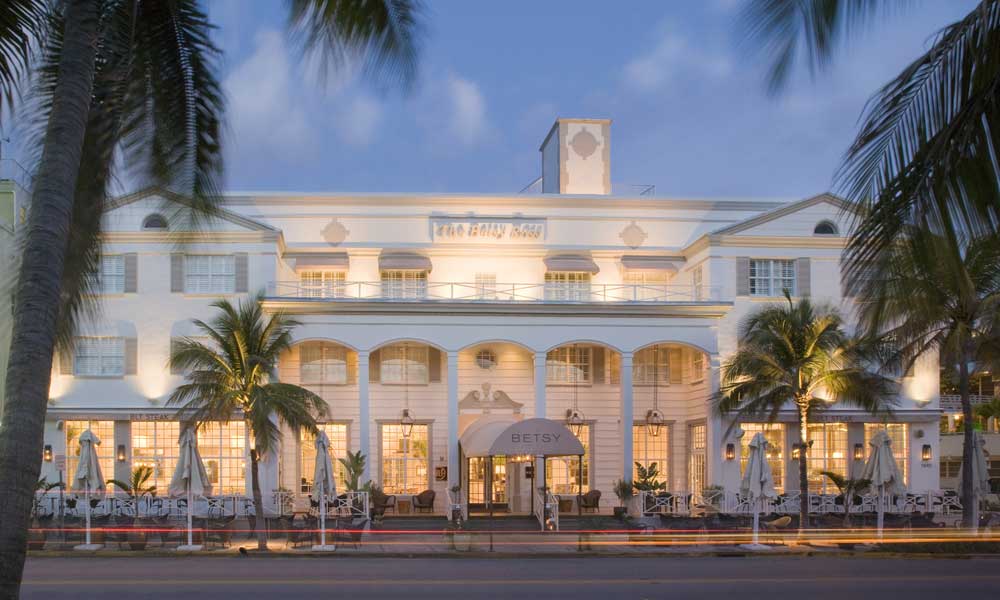 On Ocean Drive in South Beach, a strip known worldwide for its concentration of art deco hotels, The Betsy stands out as a different kind of grande dame. it's the lone surviving example of Florida Georgian architecture, a revival style that grew from the nostalgic taste for all things "colonial" during the Depression.
Created by L. Murray Dixon, the designer behind most of the art deco hotels in Miami Beach, The Betsy Ross Hotel debuted in 1942. In 2006 it was reborn in the luxury boutique mode as The Betsy Hotel South Beach, and three years later it reopened after a total renovation. So thoroughly was The Betsy redone that it made Condé Nast Traveler's 2010 Hot List of the world's best new hotels.
The updated décor is not self-consciously retro. Call it a cross between the creamy Southern charm of Dorothy Draper's Greenbrier in West Virginia and the plantation-shuttered, sun-drenched style of one of the better Caribbean resorts, accented by Zen touches. Each of the 61 guest rooms and suites has the brand-name luxury amenities you would expect from a current top-tier hotel. Sferra linens? Check. Kallista rain-forest showerheads? Check. Bath mirrors with built-in LCD TVs and Bose sound? Of course.
The hotel restaurant is BLT Steak, the Miami outpost of chef Laurent Tourondel's proven portable concept of the modern American steakhouse. Here you can get your Wagyu on (or your Kobe or angus, as you prefer), or opt for lighter SoBe fare such as salad and fresh fish.
Taking full advantage of its beachside location, The Betsy has a great rooftop scene. Up there you'll find the Wellness Garden, a spa where you can get an aromatherapy massage and other restorative treatments, as well as The Deck, an outdoor lounge topped with sail shades, which create the illusion of being aboard a very fine sailing yacht. in a neighborhood famous for international glitz, The Betsy represents South Beach refined.