The Changing Face of Stroke
No age group has a monopoly on "brain attack"—we all need to protect ourselves by knowing the signs.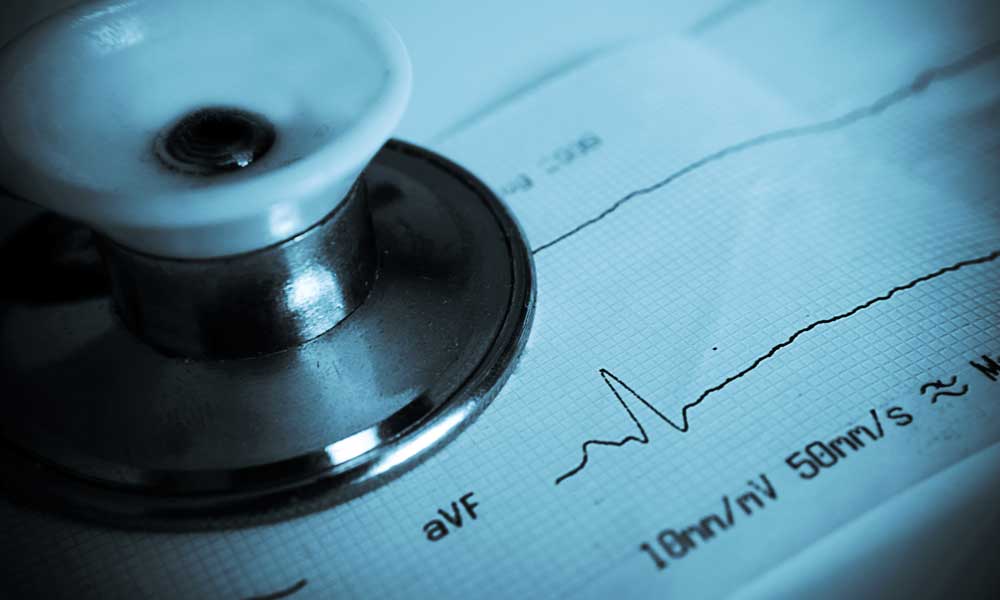 Doctors still aren't sure why Susan Montuoro suffered a stroke. But they do know one thing: Her relatively young age—52—was no protection. Stroke can strike at any age.
When Short Hills resident Montuoro, a special-education aide at an elementary school, woke up at 3:45 a.m. last December 27 to go to the bathroom, she suddenly began to feel "off" and confused. "I went back to bed and lay on my right side, but something didn't feel right," she recalls. "I tried to get out of bed again, but fell on the floor. My entire right side was paralyzed."
Her husband—Mark, 56, who works in sales—and her children—son Steven, 20; and daughter Kimberly, 18—helped her back to bed and Steven called for an ambulance.
"I was still confused," Montuoro recalls, "but I was taking in what my son was saying. He told them, 'I think she had a stroke.'" The ambulance took her to Saint Barnabas Medical Center's Comprehensive Stroke Center.
"I was pretty scared," she says.
Once there, she recalls hearing a doctor say, "We need to start tPA now." This strong anticoagulant is administered to stroke patients to open blood clots in the brain that are causing the stroke. When given within three to four-and-a-half hours of the onset of symptoms, tPA (tissue plaminogen activator) can be very effective in stopping and even reversing the effects of the stroke. "I knew I'd been fine till 3:45, and I was at the hospital 20 minutes later, so that helped," she says. After tPA was given, she was almost immediately able to move her right fingers and could feel pain in her right ankle, which she had bruised and scraped in her fall.
After a night in the Intensive Care Unit, Montuoro moved to the Stroke Unit for three days. Fortunately, she had minimal lasting effects from the stroke. "But it was pretty emotional," she says. "You don't expect something like that at my age."
Perhaps, but people her age—and younger—should be aware of the danger, says Doreen Monks, a nurse practitioner who is program director at the Saint Barnabas Comprehensive Stroke Center. In fact, says Monks, the number of stroke patients under 60 is increasing faster than the stroke-patient total.
"It's not just 80- and 90-year-old grandmothers," she says. "We've had patients in their 20s and 30s, and more 40-year-olds than I care to count."
In many younger patients, strokes are linked with controllable factors. Says Saint Barnabas Medical Center neurologist and stroke specialist Danielle Haskins, M.D., "Most strokes in younger patients can be attributed to common risk factors such as hypertension, high cholesterol, diabetes, tobacco use, heavy alcohol use, atrial fibrillation, obesity and physical inactivity."
Montuoro may be the exception. "My blood pressure and cholesterol are fine," she says. "I'm not a drinker or a smoker. I'm not overweight. There's nothing to point a finger at. I am one of those mystery patients, I guess." This March she was being checked to see if she had a clotting abnormality that could have caused her stroke, or if the culprit was hormone treatments for menopause symptoms, or atrial fibrillation.
"I am seeing cardiologists, neurologists, hematologists, rheumatologists—a lot of 'ologists,'" she says with a laugh.
At 68, Maplewood resident Tracy R. Cate is a bit closer to the age group we think of as stroke-prone. Last November 2, he recalls, "I was in the kitchen with my hand to my side, when it went up like a helicopter all by itself," says Cate, a semiretired property manager and tree farmer. "It came down, then went up again. My knees went weak, and I sat down. I realized I had a headache. I called our doctor and said I am having some interesting sensations. He said to go to the nearest ER."
But his symptoms went away. That day he took his wife, Barbara, 92, a retired Seton Hall University art history professor, to her cardiologist and mentioned to that physician the symptoms he'd had. "He said I should have them checked out," Cate says. As Barbara's appointment concluded, his left eye "went blank." They drove to the Saint Barnabas Medical Center Emergency Department, he says, "and that's when the real fun started. Within three minutes of getting in the door, I had a swarm of people over me. A doctor was asking me questions but apparently I wasn't making any sense. While in the ER, I had the major part of my stroke." His right side was paralyzed.
Tests revealed that the inner wall of his carotid artery had collapsed, blocking blood flow to his brain. Surgeons threaded a balloon catheter and stent from his groin and up into the artery. "That was a Monday," he says. "By Friday I was restless. I had no pain or problems, and my speech was reasonably good. Doctors visited me on their rounds. They asked me questions and were suitably impressed. I said, 'The only thing I did right was that I happened to have a stroke in the ER of a good stroke hospital.'"
Most people won't be so fortuitously placed. But we all need to be aware of the symptoms of stroke and prepared to get to a hospital fast if we think we're having one, says Monks. "Let the acronym FAST remind you—Face drooping, Arm weakness, Speech difficulty, and T for time, which is critical in your response. Once symptoms start, the clock starts to tick. The period of time to intervene varies by treatment—it's three to four-and-a-half hours for tPA and eight for endovascular interventions."
"We impress upon people that stroke is treatable," Monks says. "In many cases we can reduce or reverse the damage caused by a stroke if we're able to act early enough."
"The most important message I can give," she says, "is if you think you are having a stroke, call 911 immediately."
Free stroke-risk screenings
The Saint Barnabas Comprehensive Stroke Center holds many community outreach events to conduct stroke-risk screenings and teach about stroke prevention and recognition. It also offers free blood pressure screenings at the Jewish Community Center at 760 Northfield Ave. in West Orange every third Thursday of the month.
For a schedule, click on the Events and Classes link on the center's web site, barnabashealth.org/sbmcevents. Or call 973.322.6500.
To find out more about the treatment of stroke at Saint Barnabas Medical Center, please call 973.322.6500 or visit barnabashealth.org/sbmc.