The Color Purple
Move over orange. The ube, a nutty-tasting root vegetable from the Philippines, has hit the big time.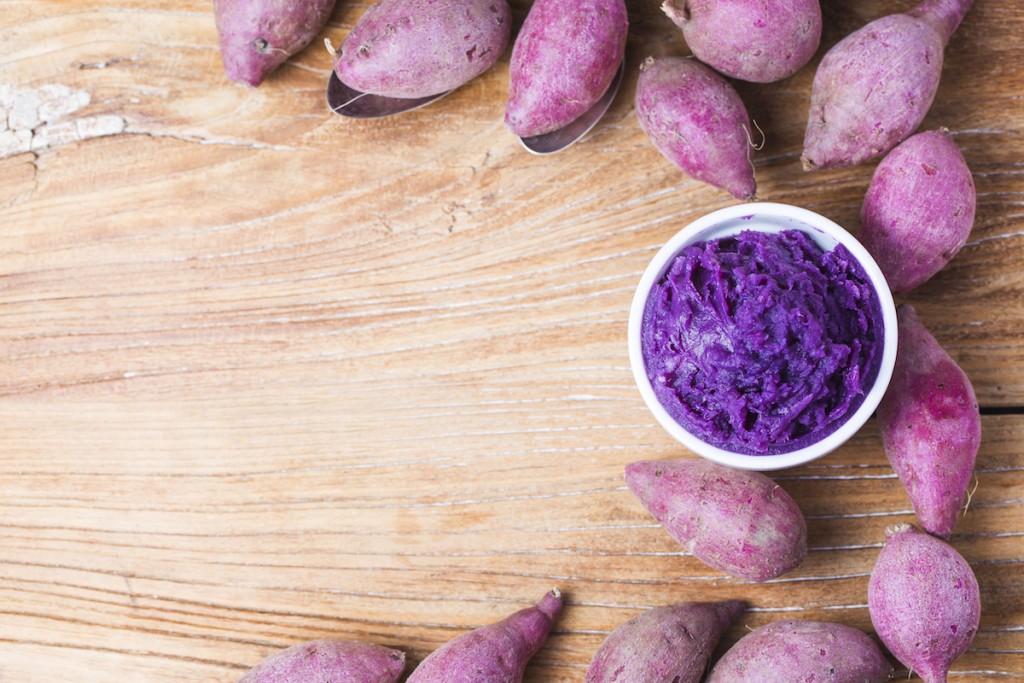 Wondering why you're seeing so many purple desserts popping up all over Instagram? That would be thanks to the ube, a tuberous vegetable similar to a purple yam. The root veggie has been a staple in Filipino cuisine for decades, often boiled, mashed and then baked into desserts or bread. But the brightly-hued potato is now making its way stateside, where it's prized both for its sweet, nutty, vanilla-like flavor and for its undeniable social media appeal.
Pronounced "oo-beh" (though "oo-bae" is acceptable too), this distinctive tuber most closely resembles the standard sweet potato and, like its orange cousin, has a soft texture when cooked. But you may also confuse ube with taro, another lavender-skinned potato, despite the vast differences in the two spuds' tastes and uses. The ube's nuttiness makes it a godsend for adding flavor to desserts, and it grows from the ground, whereas taro has a more neutral flavor and grows on trees. (By the way, the taro is poisonous when eaten raw.) Besides being photogenic, the ube is nutritional and multi-purpose too, so it's no wonder it's become a majorly hot food commodity here in the United States.
POWER UP
Like its sweet-potato pal, the richly textured ube is considered the good kind of carbohydrate. One cup is just 140 calories and provides nearly 40 percent of the recommended daily value of vitamin C. But while the orange hue of sweet potatoes signals a rich carotenoid content, the ube's amethyst color indicates the presence of anthocyanins, which help fight inflammation. The ube is also considered a prebiotic fiber, which means it aids in digestion and helps maintain a healthy immune system, and it has been found to contain more antioxidants than any other sweet potato. (Antioxidants protect our cells from damage and help keep blood pressure at bay, for starters.) The ube is also a good choice for a post-workout snack, as it helps replenish the body with key minerals after exercise. Hmm—we'd say the Filipinos are onto something.
BUY/STORE/SERVE
Fresh ubes are certainly harder to come by in your average store than other types of taters, but check your local farmers' market, Whole Foods and Asian specialty markets like H Mart to see if they have it in stock. If you're lucky enough to get your hands on the whole veggies, you can steam or purée them or prepare them as you would any other potatoes—mash them, bake them, roast them or fry them.
Ube also comes in powder form and in that way is added to cakes, cheesecakes and even pancake or waffle batter. Most commonly, though, it's sold as a jam—referred to as ube halaya—and transformed into ice cream or spread onto donuts, flan, tarts, bread and other delicacies. Its largest claim to fame in the Philippines is in a yummy dessert called halo-halo, which contains shaved ice, evaporated milk, various fruits and other toppings over a scoop of ube ice cream.
Happily, we New Jerseyans needn't travel to the Pacific to enjoy this trendy and healthful violet varietal—and photograph it for the 'gram, of course—right here in the comfort of home.
—Haley Longman