The Community at Heart
The new Eatontown facility provides convenient access to Monmouth Medical Center's expert cardiologists.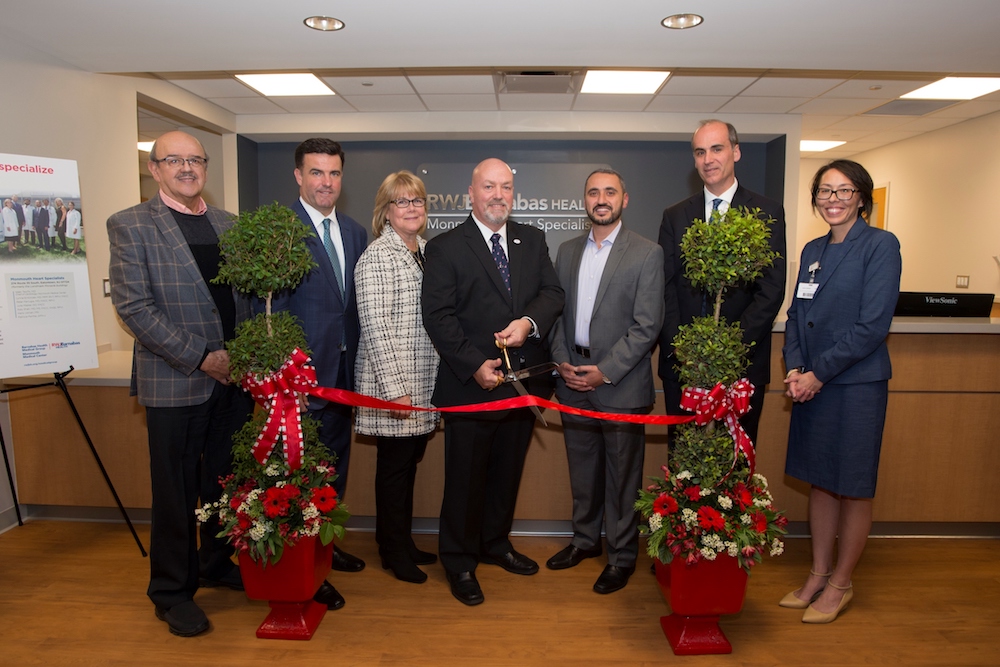 IF YOUR HEART DOESN'T WORK WELL, the rest of your body can't either. Whether a person has a life-changing heart attack, a congenital defect or a progressive condition such as congestive heart failure, the best care can make a dramatic difference in survival and quality of life.
That's why Monmouth Medical Center (MMC) created a new cardiac care facility in the landmark Pinnacle Building in Eatontown. The new location for Barnabas Health Medical Group's (BHMG) cardiology practice, Monmouth Heart Specialists, opened in October and offers the community convenient access to personalized, high-quality care in a state-of-the-art, dedicated outpatient center.
The new facility is easily accessible from three major highways—the Garden State Parkway, Route 35 and Route 18—making it highly convenient for patients from all over Monmouth County.
"It's a cardiology hub," says BHMG interventional cardiologist Isaac Tawfik, M.D., chief of cardiology at Monmouth Medical Center. "We have all outpatient cardiology services available—including sonography, echocardiography, nuclear medicine and arrhythmia monitoring by telemetry."
The cardiology center is furnished with new equipment, including the most recent Philips 3-D scanning technology and the "fastest nuclear scanner on the market," according to Dr. Tawfik, who adds that the facility is spacious with an easy-to-navigate layout and comfortable examination rooms.
"The waiting room is fresh and attractive," says Dr. Tawfik, "but we want patients to go back to the exam room within minutes of arriving. Our goal is to respect their time and focus on their needs."
During an October 24 dedication ceremony for the new center, Monmouth Medical Center President and CEO Bill Arnold said the hospital took into consideration that it wanted to be a center of excellence in cardiology and built this site from the ground up to ensure that the group can provide the best, all-inclusive heart care.
"We deliberately chose a building large enough to offer 'one-stop shopping,'" he said of the 12,500-square-foot facility. "We know patients don't want to go all over town for testing and care. Here, we can do everything in-house."
The group that has come together as Monmouth Heart Specialists is led by Dr. Tawfik and offers board certification in cardiology, interventional cardiology, echocardiography, nuclear medicine, cardiac CT and vascular medicine. Each member is a dedicated specialist in his or her field. Collaboratively, they are able to provide patients with the best prevention and treatment for cardiovascular disease.
"Patients of this center have another important advantage—they're connected to Monmouth Medical Center and to the state's largest health system," Dr. Tawfik says. "Patients that need advanced cardiac surgery have access through RWJBarnabas Health-affiliated hospitals, including Newark Beth Israel Medical Center, Saint Barnabas Medical Center, Jersey City Medical Center and Robert Wood Johnson University Hospital New Brunswick."
"This dedication was an affirmation of our dedication to excellence in healing, teaching and caring," Arnold said. "We are continuously looking forward to better serving our community by making medical advancements through cutting-edge technology and expanding our primary and specialty care programs out into the community."
CARE FROM A CARDIOLOGY LEADER Monmouth Medical Center is already a leader in heart care for the region. Its national recognition for safely providing the best heart care includes Joint Commission Disease Specific Certification for Stroke, and the American Heart Association's Get With the Guidelines—Heart Failure Gold Quality Plus Achievement Award. TO LEARN MORE ABOUT THE ADVANCED CARDIAC SERVICES AT MONMOUTH MEDICAL CENTER, CALL 732.923.6546.