The Easiest Dishes That Impress Dinner Guests
Gourmet recipes that are easy enough for inexperienced cooks but impressive enough for dinner parties.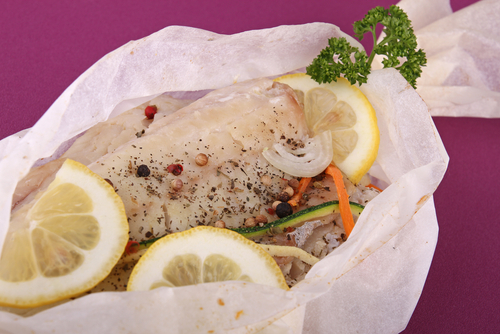 If you are inexperienced in the kitchen, the idea of having dinner guests strikes fear in your heart. But don't pick up the phone for the caterer yet, as these two recipes are easy enough for even the novice cook. The flounder en papillote, fresh and vibrant, plates beautifully in separate "packets", and the chicken in champagne is so delicious that you'll never have leftovers. If you are already comfortable in the kitchen, use these recipes for easy entertaining when you don't have a lot of time or you want to serve a beautiful meal with little fuss and mess.
Sole en Papillote
Ingredients:
3 tsp olive oil
4 fillets of flounder, 4-6 oz each
1/2 cup good champagne
1 lemon, sliced thinly into rounds
8 sprigs fresh thyme
8 sprigs fresh parsley
Salt and freshly ground pepper
Directions:
1. Preheat oven to 350 degrees.
2. Prepare 8 pieces of parchment paper or aluminum foil into large squares (large enough to cover each piece of fish with a generous amount of room on all sides. Brush 4 pieces of the parchment with olive oil.
3. Place each sole fillet onto the center of an oiled square of paper. Coat each fillet with champagne.
4. Place 2 sprigs of thyme, 2 parsley sprigs and 2-3 lemon slices onto top of each fish.
5. Season each fillet with salt and pepper.
6. Place unoiled parchment paper squares onto top of each fish piece and fold the edges together to form individual packets.
7. Put packets onto a baking sheet and bake for 10-12 minutes.
8. Serve closed packets to each guest on individual plates so that everyone can open their own fish.
* You can use flounder, cod or halibut in this recipe. You can also substitute dry white wine for the champagne.
---
Chicken in Champagne
This chicken in champagne recipe has been adapted for the slow cooker (or crockpot), so it's especially convenient if you don't want to be rushed in the hour or so before your guests arrive.
INGREDIENTS:
4 shallots
1 medium yellow onion, sliced into rounds
1 small sweet onion, sliced into rounds
2 lbs white mushrooms, sliced
3 lbs boneless, skinless chicken thighs, trimmed neatly of fat
1/2 cup dry good champagne or sparkling wine
1 cup creme fraiche
Salt and freshly ground pepper
DIRECTIONS:
1. Put shallots, onions, mushrooms and chicken in the slow cooker. Cover with champagne.
2. Cook on HIGH, covered, about 2.5 hours.
3. Transfer chicken to a warm oven or a warm covered dish.
4. With the cooker still on high, add the creme fraiche to the sauce and vegetables still in the pot. Whisk together until smooth.
5. Season the sauce with salt and pepper.
6. Pour the sauce over the chicken and serve immediately or place the chicken into the slow cooker until ready to serve.
* Serve over rice, orzo or pasta.
---
Related Article: Five Fantastic Spring Cocktails