The Fox and Falcon
Flavors come to life at this new American eatery in South Orange.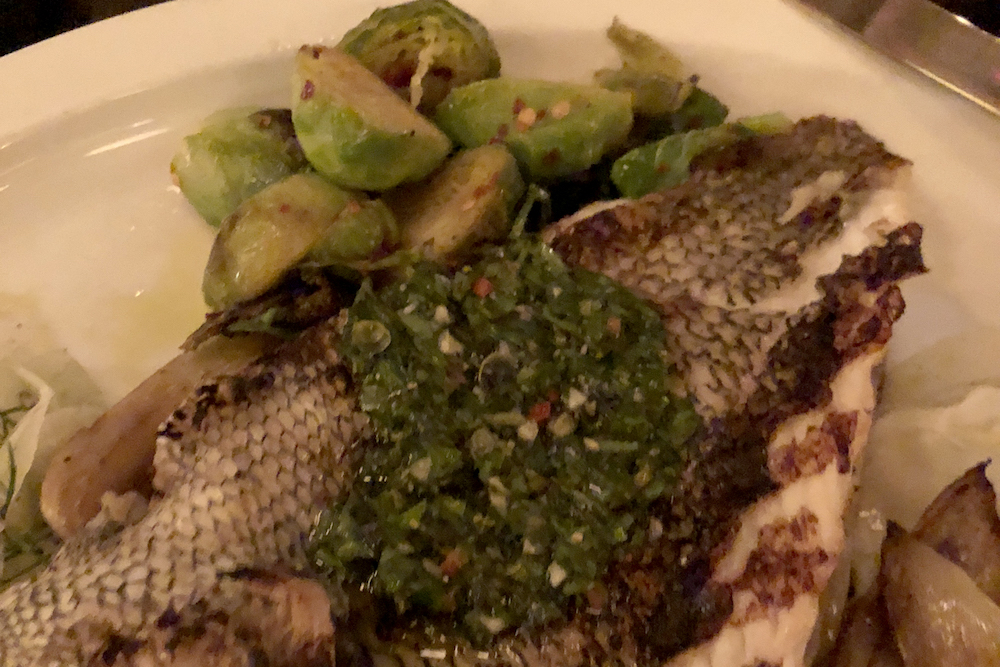 It was a cold and stormy night and a friend and I were on the hunt for somewhere new. We headed to The Fox and Falcon, a sophisticated casual South Orange restaurant. The Fox and Falcon was opened in late November 2018 by local resident and co-founder of a bevy of hipster-approved New York restaurants, David Massoni. Already a fan of one of Massoni's former eateries, Talde in Jersey City, I was excited to try this elevated American restaurant closer to home in Essex County.
Massoni's intention with this venture was to blend the hospitality of an Irish pub with the culinary tradition of Italy, and chef Matt Ruzga, most recently a sous chef at Del Posto in New York City, executes this perfectly.
The space is rambling and has very distinctive spaces to suit different occasions and moods—a cozy traditional Irish pub, a modern and airy main dining room and a modern bar with large windows looking out onto the charming heart of downtown South Orange. As one would expect from a Massoni spot, the décor was warm and contemporary with wood floors, metallic accents, rich brown leather seating and, of course, Edison bulb chandeliers.
The wine list had a nice array of options though not overwhelming. There is a fine selection of craft beers on tap and imaginative cocktail concoctions.
Deciding what to order is no easy task for dinner. While I was incredibly temped to order the Wagyu beef tartare appetizer because of the irresistible novelty of eating Wagyu beef on a Tuesday night, I decided to go with the less indulgent beet salad with hazelnuts, pecorino and mint with pomegranate vinaigrette. Every bite was fresh and seasonally satisfying. The fried fennel with dijon tarragon aiolo was so crisp and flavorful, I know I will have reoccurring cravings for this dish. In addition, my friend and I shared had a three-cheese progression of Marcelli Percorino served with abruzzese honey. The percorino was delightful and we had fun trying to distinguish the different flavors and textures in the wedges that were aged three months, six months and one year.
For the main course, I had the grilled black bass filet with salsa verde and caramelized fennel. The salsa verde was very well balanced and I could have eaten it by the spoonful. The fennel was very tasty, however, the bass was a bit soggy and not my favorite part of the meal. As a side dish, I ordered the roasted Brussels sprouts with chili and lemon. While the vegetable dish had just the right amount of spice, I wished that I ordered the fried cauliflower with lemon and capers as well. My friend ordered "The Burger" with aged cheddar and was so happy she did.­ The burger was perfectly cooked to her medium rare request and was full of flavor. The accompanying salt and pepper fries were cooked well done—almost burnt, which is my personal preference.
Before we even paid the check, I decided what to order on my next visit. Just thinking about the pasta dishes, including a tubetti rigati with pancetta, onion and tomato and a linguine with mussels and jalapeno, made my mouth water. And maybe I will go for that Wagyu beef tartare next time.
The Fox & Falcon, 19 Valley St., South Orange, 973.419.6773, thefoxandfalconnj.com