The Gift of Healing
Donation allows ICU to purchase state-of-the-art medical recliners to aid critically ill patients.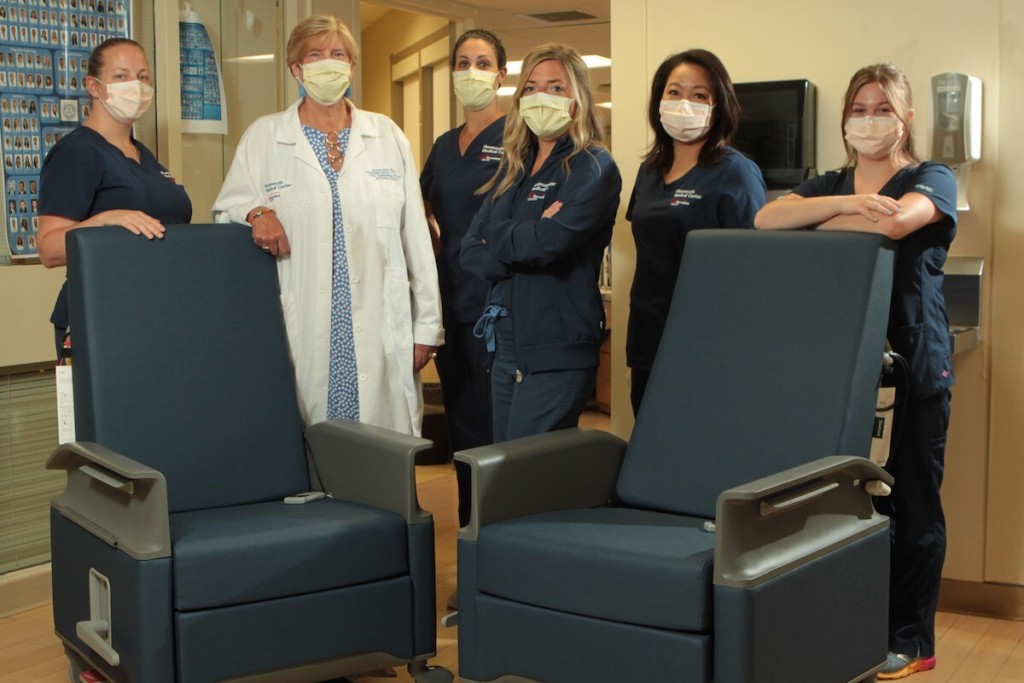 Patients who need critical care in an intensive care unit (ICU) don't necessarily spend all their time in bed. Indeed, healing includes being able to get up, move if possible and sit comfortably for periods of time. That may not be easy, of course. Special chairs can make all the difference.
The Monmouth Medical Center (MMC) ICU was recently able to purchase eight state-of-the-art clinical care recliner chairs, thanks to the generous donation from the J.L. Reiss Foundation. The heat and massage of the chairs assist with a holistic approach to healing critically ill patients.
The chairs can be set in several different positions, from nearly flat to reclining to upright—and almost every position in-between. There is a built-in ottoman footrest that can raise and lower as the seatback changes position. The chair is also able to lift straight up to help a patient stand and get out of the chair, which not only benefits the individual but also helps the care team get critically ill patients moving as easily as possible. Movement is an important part of healing, and the earlier a patient can move about, the better for his or her recovery.
Not only are the chairs easy to get into and out of, they also provide the comfort of heat and massage as further therapy to aid healing.
Robin Embrey, Director of Donor Relations for the Monmouth Medical Center Foundation, notes that Rumson resident Carl Reiss, who represents his family's foundation, donates to the hospital every year. The donations are made in honor of his niece, ICU nurse Gretchen Nicolosi, a resident of the Navesink section of Middletown.
"This year, in speaking with Gretchen, [Reiss] learned that clinical care recliner chairs were needed for the ICU, and provided funding for the purchase of eight recliners," Embrey says.
To recognize this special gift, the hospital installed plaques on the back of each chair that read, "This chair generously donated to Monmouth Medical Center's ICU by J.L. Reiss Foundation."
"The recliners provide comfort and support to our patients as well as their visiting loved ones," Nicolosi says. "They also provide support for progressive movement. It's important to have early mobility for optimum outcomes." She adds that the ICU patient rooms are equipped with lifts in the ceilings that can raise patients right from the bed into the chair to get them started on their journey to mobilization.
---
To learn about giving opportunities at Monmouth Medical Center, visit monmouthgiving.org.