The Health Benefits of Pets
Our furry friends do more than fetch and purr, research shows. They help us fight disease.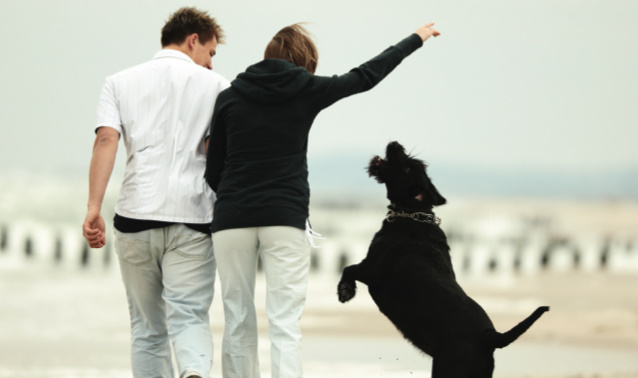 Trying to take the best possible care of yourself? You've got an ally you might not suspect. That cold, wet nose nuzzling up next to you while you watch TV may actually be helping you stay well. There's mounting evidence that pets are good for you.
In his 2003 book The Healing Power of Pets, veterinarian Marty Becker cited findings showing that people with pet companions had fewer doctor visits and recovered more quickly from severe illnesses than those without. Since then, research has rolled in:
A study of coronary care patients post-discharge showed that pet-owning patients had higher survival rates than those who did not own animals.
Several studies have shown that adult pet owners have slightly lower systolic blood-pressure, cholesterol and triglycerides levels than petless folk, and one indicated that pet owners' blood pressure rises less than that of non-pet owners in response to mental stress.
In a study of elderly people, those with pets took fewer antidepressants, and those who owned dogs tended to get more exercise—naturally enough— because those dogs required daily walks.
Research reported in the Journal of Pediatric Nursing showed that children had reduced stress levels during a routine physical examination when accompanied by a dog.
In a Purdue University study, people suffering from Alzheimer's disease showed improvement in their behavior and eating habits after a four-week exposure to aquariums filled with brightly colored fish.
"Studies like these have contributed to our developing understanding of the influence of human-animal interaction on health and development," says Layla Esposito, Ph.D., health scientist administrator at the National Institutes of Health, adding that the NIH is funding seven studies on the impact of companion animals on their owners.
---
Therapy animals on the job
Several hospitals in Morris and Essex counties offer pet therapy. Morristown Memorial Hospital (971.571.7000, atlantichealth.org/morristown) has such programs for both pediatric and adult patients, with its Goryeb Children's Hospital getting an extra bonus: a pet bunny that occasionally accompanies the canine visitors. Using volunteers from St. Hubert's Animal Welfare Center's Paws for People, the program "really helps to cheer patients, and sometimes to calm them," says Kristin Holtzman, a child life specialist at Goryeb.
In the Transition Care Rehabilitation Unit at Montclair's Mountainside Hospital (973.429.6000, mountainsidehosp.com) the pet therapy program is staffed with dogs from Bright and Beautiful Therapy Inc. of Morris Plains, explains recreation therapist Nancy Wright. Four certified handlers and their dogs regularly visit patients—sometimes in group settings and sometimes at their bedside. Says Wright: "One patient who had been feeling tired and achy reported to me that after a visit with a therapy dog named Haley, her whole body felt better."
Besides using pets certified by St. Hubert's and Bright and Beautiful Therapy, the more than decade-old program at Saint Barnabas Medical Center in Livingston (973.322.5000, saintbarn abas.com/hospitals/saintbarnabas) also allows patients to have visits with their own dogs (with proof that the dogs have all their shots) in a dedicated area, arranged through the patient representative, says holistic nurse coordinator Lorraine Ernst.
Pet therapy programs are also frequently offered by assisted-living facilities, retirement homes and nursing homes.
Could your dog help?
To find out if your canine pet might be right for pet therapy, contact one of the hospitals in the article above or one of these training organizations:
Bright & Beautiful Therapy Dogs Inc.
973.292.3316, golden-dogs.org
The Delta Society
425.679.5500, deltasociety.org

St. Hubert's Animal Welfare Center
973.377.8801, sthuberts.org
Therapy Dog International
973.252.9800, tdi-dog.org
---
Related Read: 6 Stress-Fighting Superfoods