The Power of Pink
The strength of the community supports Monmouth Medical Center's oncology services and the hospital's cancer patients.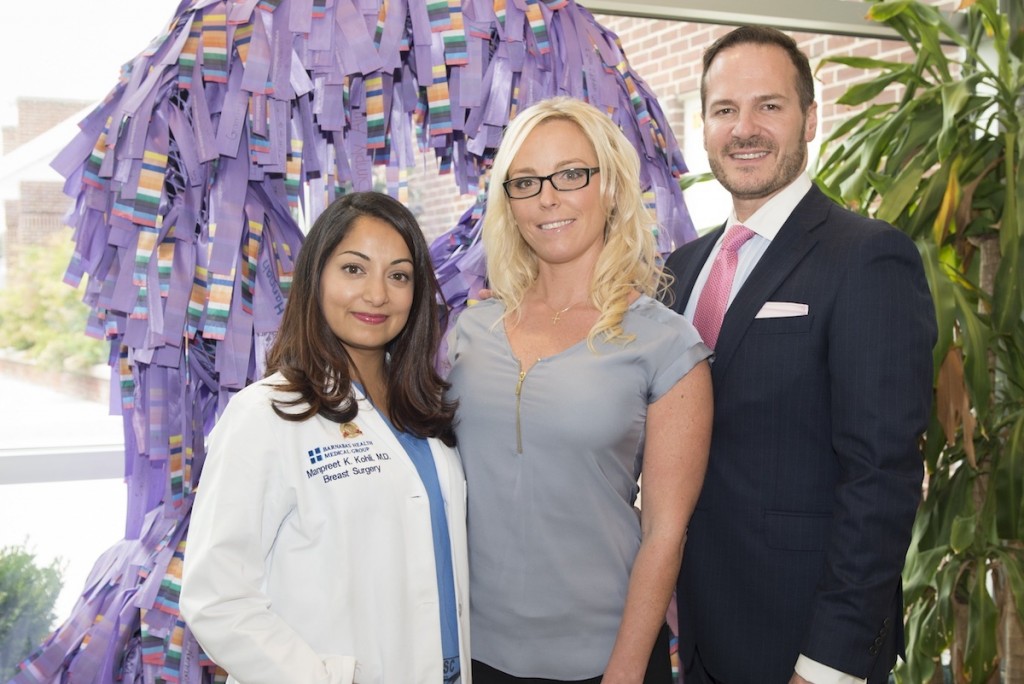 The coronavirus put a hold on many events and social gatherings over the past year, but the power of pink has proven stronger than the pandemic. Monmouth Medical Center's Leon Hess Cancer Center Council (LHCCC) in particular has shown its mettle, continuing its popular Pink fundraising events in both virtual and socially distant, in-person formats.
"One of the many things we've learned over the last year as a community is that we are flexible and resilient, just like our incredible patients," says Terry Ingram, who serves as Pink co-chair, LHCC council member and Monmouth Medical Center Foundation (MMCF) advisory board member. She is also the founder of the Swing Pink golf and tennis event.
Pink returns on Sept. 20 with a full-day program featuring Swing Pink in the morning and the Power of Pink luncheon in the afternoon. All proceeds will benefit the cancer center and the Jacqueline M. Wilentz Comprehensive Breast Center at MMC.
Over the past 20 years, the council has raised more than $6 million to advance the hospital's oncology services. The financial support funded the purchase of state-of-the-art equipment and helps run programming for thousands of patients and families who face a cancer diagnosis.
"These patients deserve the very best quality care as they fight for their lives and their futures," says Claire Knopf, Pink co-chair, LHCC council member and chair of the MMCF board of trustees.
Here, you'll briefly meet three cancer patients, each of whom was successfully treated at MMC and has been profoundly impacted by Pink.
Shawna Dempsey, breast cancer survivor
"I was diagnosed in 2017 at the age of 31 years old with high-grade ductal carcinoma. The cancer journey doesn't just stop when you have the mastectomy or when you stop your treatments, whether it's radiation or chemo. It's with you for the rest of your life. But to be able to rise above it and move on and your doctors and their team help you to do that is the most important part of the journey. Because of the cancer treatment that I received at The Leon Hess Cancer Center, I was still able to have children, and I have a baby girl who's 20 months old today.
"Pink is important to me because I think it represents unity and strength in numbers, and I think it's a force to be reckoned with. It's not going anywhere."
Crystal Morgan, pancreatic and duodenal cancer survivor
"When I received my initial diagnosis of pancreatic cancer, I felt like someone punched me in the stomach. Everything seemed muffled and almost surreal. I was grateful for the support I received from not only the doctors, but the nurses, specifically Tanya Hubbard, who wrapped her arms around my daughter when I couldn't. I was so frozen in disbelief, and this nurse who came out of nowhere comforted my child—and that made all the difference in the world. From that moment on, I knew that I could fight.
"Pink is important to me because it's everything to patients like us—those who don't know what tomorrow brings. Those donors help bring a level of comfort and peace and hope."
Brad Smith, brain cancer survivor
"I had recently turned 52 and had some memory loss problems where I couldn't tell you my address or where my kids were going to school. It was very scary. I went to get an MRI, and this is where they talked to me about needing surgery. You've got a brain tumor, they said. And Dr. Jonathan Lustgarten (chief of MMC's neurosurgery department) had a team ready to go to work on my brain, and it made me feel very confident. I went through surgery and came out in good condition. I've come back and have gone to work. I can go for walks, I can paddleboard on the river. My life is back on track.
"Because of the care and support shown for the Leon Hess Cancer Center, the care I've received changed my life. I look forward to seeing everyone this year at Pink."
Join Us for Pink:
The fundraiser features tennis, golf, luncheon and boutique. Proceeds from the 2021 Pink Luncheon will help provide evidence-based mind, body and spiritual programs and services to cancer patients and their families through RWJBarnabas Health Family Care & Wellness in Eatontown.
Monday, Sept. 20 at the Navesink Country Club, Red Bank; call 732.923.6886 for details.
---
For more information about the Leon Hess Cancer Center Council events, call the Monmouth Medical Center Foundation office at 732.923.6886 or visit mmcevents.org.