The Wisdom of Oz
Health-minded like her doctor dad, author and TV personality Daphne Oz adds her own dollop of culinary adventure.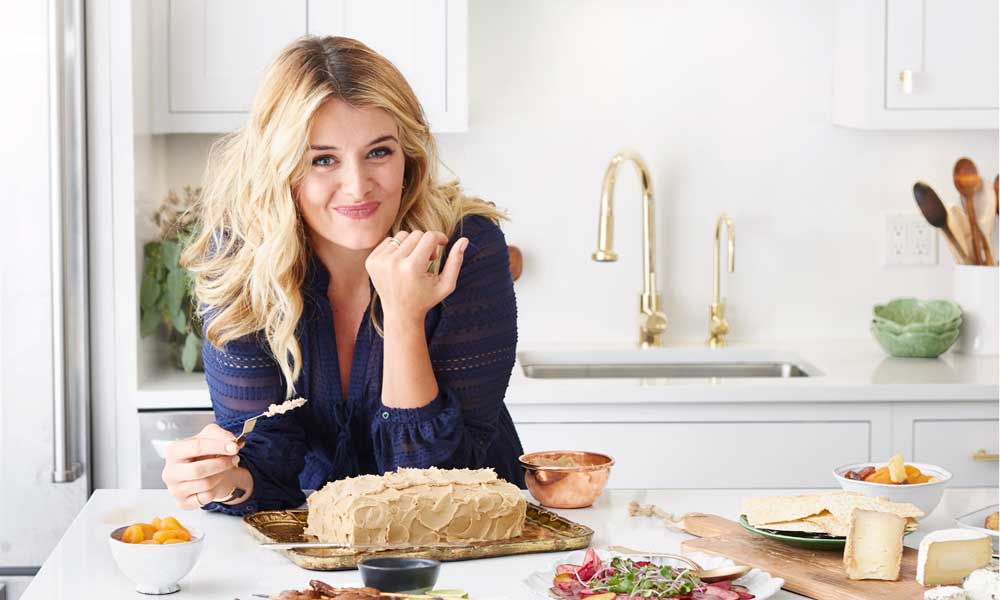 "The apple doesn't fall far from the tree." It's a phrase that comes to mind after meeting Cliffside Park's Daphne Oz, 30, a prolific food author and co-host of TV's The Chew. And that's fine with her—it means she's already got you thinking about a food that's both healthy and fun.
Daphne is the daughter of renowned cardiologist Mehmet ("Dr. Oz"), and like her father she spreads the gospel of good health. Eating right is key, of course, but to her that means foods that aren't just beneficial, but enjoyable too.
"I refuse to eat food that is only fuel," says Daphne.
The child of two published authors—mom Lisa is also a producer/actress—Daphne broke into print herself as a student at Princeton University in 2006 with The Dorm Room Diet, a book designed to help students avoid putting on the "freshman 15." She scored another best seller in 2013 with Relish: An Adventure in Food, Style and Everyday Fun, which combined recipes with career counsel, relationship tips and personal experiences. This fall she's out with a new volume, The Happy Cook: 125 Recipes for Eating Every Day Like It's the Weekend, which features everything from kale-and-plum salad to coconut-mango pancakes.
Daphne has made guest appearances on her dad's The Dr. Oz Show—naturally—but also pops up on Good Morning America, The View, Fox & Friends, Good Day New York and The Rachael Ray Show. A frequent health lecturer and motivational speaker, she's active with HealthCorps, a nonprofit organization she helped to establish that advises teens on nutrition, exercise, body image and stress. But her two favorite topics these days are Philomena (almost 3) and Jovan (age 2)—her kids. They kept popping up when BERGEN caught up with her recently for a wide-ranging chat—read on for more.
Daphne shares a sweet moment with Philomena; on the set of The Chew with her co-hosts (from left) Carla Hall, Mario Batali, Michael Symon and Clinton Kelly; with her mother (and fellow author), Lisa; showing off a tray of miniature pies.
When you visit your parents in Cliffside Park, do you stay at their home?
Yes! It's the best. My kids are in paradise when they get to see their grandparents. I'm there almost every weekend.
Is there anything you've learned from your parents that you hope to pass on to your children?
"Work hard and have fun!"
What do you remember from your days at Dwight-Englewood School in Englewood?
Amazing teachers—and lots of work. We took great field trips to study the Hudson River and cared for a "baby egg," which is very different from having actual babies, as it turns out. I remember spending a couple of months researching a history project in which we had to act as a historical figure for a day. I was Cleopatra!
What are your favorite places to go to when you're back in Bergen County?
Some of our standbys are Pier 115, Baumgart's Café, Beyoglu, Istanbul Borek bakery and Three Star Bagels in Fort Lee. My old favorite—Bergen's Best Bagels— shut down about 20 years ago, and I'm still pining for it.
What was Cliffside Park like as a place to grow up?
The best of both worlds. My parents chose it because of its proximity to my dad's work at Columbia Presbyterian in New York. They wanted to be near the city but also give their kids space and a more laid-back growing-up experience.
Which three words best describe you?
Wife, mother, talker.
What do you love most about motherhood?
Morning cuddles and chatterbugs. My kids wake up extra talkative and loving in the mornings. I also love bedtime stories and hearing the crazy things that come out of our daughter Philomena's mouth— she's hysterical.
Given your hectic schedule, how do you achieve a work-family balance?
My sense of balance is always being recalibrated. Some weeks I feel like I'm working nonstop and missing time with my kids and husband. Other weeks I get to spend all day with them and take a break from the grind. The trick is to enjoy what you're doing in that moment. I try to get into my home kitchen most days, even if it's just for 15 to 30 minutes. Cooking relaxes me, and it lets me come back to center in a rewarding way.
As a writer and speaker on health, what's your own big health concern?
Just trying to lose baby weight, slowly but surely. Food and cooking always feel like a celebration to me, and my goal is to find the balance where I can enjoy my food and get back to feeling strong in my body too. It's a process. I follow my twobite rule on The Chew: the first bite is just to check out all the flavors going on. The second is to really indulge.
What are your nutritional staples—and your guilty pleasures?
My kids and I have smoothies in the mornings as an insurance policy for the rest of the day. Theirs has yogurt, banana, avocado and spinach—sometimes I'll add foods with essential fatty acids and vitamins C and D. Mine is a protein shake I blend up with all my vitamins and supplements. I keep fresh flavor boosters on hand to dress up simple meals—homemade pesto or chopped fresh herbs with lemon zest, olive oil and some nuts or grated garlic. I make big batches of lentils or quinoa on the weekends that I can throw into recipes all week long, and we have a lot of lean protein. My guilty pleasures are homemade cookie dough, brownies à la mode, French fries and pizza.
Any foods you've banished from your life?
No. I don't rule things out because they become taboo and have control over you.
What's your exercise routine?
These days, most of my working out is chasing my children around. But when I get to a workout class, I love DanceBody and Ballet Beautiful. I also love to find old Steve Ross yoga routines on YouTube.
In a few words, what's your new book's mission?
To give people confidence in the kitchen with recipes guaranteed to make them look good.
What do you hope people remember about you and your TV show?
I hope seeing how much fun we have helps people get comfortable in the kitchen. We always talk about how lucky we are—we get paid to eat delicious food and hang out with great friends!
Try Daphne's Treats for the Holidays
Daphne Oz's emphasis on healthy eating doesn't rule out the occasional indulgence—especially during the holiday season. She shares two recipes her family favors.
CORN PUDDING
"This one was given to us by one of my grandmother's friends, and it's pure decadence. Plan to make twice the recipe."
Ingredients
1 (8.5-oz. box) Jiffy corn muffin mix (or vegetarian equivalent) 1 can cream-style corn
1 can corn niblets, drained
½ cup butter, melted
2 eggs, beaten
1 cup sour cream
Directions
Mix all ingredients together in a large bowl. Grease an 8-inch-by-10-inch pan with butter and pour in mixture. Bake at 350°F for 55–60 minutes. Serves 6.
CHRISTMAS BUTTER COOKIES
"Our traditional Christmas cookies. Perfect in every way!"
Ingredients
1 cup butter 1
cup, plus 1 Tb. sugar
1 large egg
1 tsp. baking powder
2 Tbs. orange juice
1 tsp. vanilla extract
2½ cups sifted flour
Directions
Mix first six ingredients with electric mixer until fluffy. Gradually stir in flour by hand until combined. If you use a cookie press, don't chill dough. Otherwise, wrap disks of dough in plastic wrap and chill in refrigerator at least two hours. Roll out dough to ¼-inch thick and cut shapes with your favorite cookie cutters. Bake at 350°F for 8–10 minutes. Watch cookies—when they are golden around the edges, they're done! Makes 50 small cookies.