This spud's for you
Cheap, versatile and nutritious, the plentiful potato is a wonder food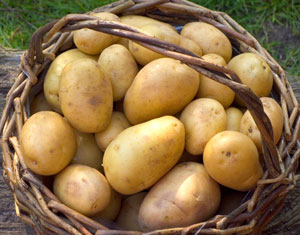 They're the culinary equivalent of great jeans, a "humble" pleasure that offers instant comfort, goes with almost everything and on occasion can be dressed up to dazzlingly chic effect. But, like stalwart denim, potatoes get little adulation-despite an impressive history.
First known to have grown 12,500 years ago in Chile, the hearty crop became a dependable food for many a culture, from the Incas to Renaissance Italy to 18th-century France. (Marie Antoinette made potatoes couture by wearing their blossoms in her hair.)
Today it's the world's fourth most prevalent staple crop (behind wheat, corn and rice). And it's surprisingly nutritious: fat-free, low in calories (about 160 for a medium potato) and a good source of vitamins C and B6. Its skin, too, contains bountiful nutrients such as fiber and iron, so think twice about peeling.
Whether mashed into a fluffy heap, baked and garnished with the fixin's, fried into … well, fries, or transformed into a luxe creation (see recipe), the spud is a source of near unanimous enjoyment, beckoning us to indulge.
Gnocchi With Butter Thyme Sauce
Serves 4-6
Ingredients
1⁄2 cup unsalted butter
1 tablespoon fresh thyme leaves
1 (1-pound) russet potato
1⁄2 teaspoon salt
1⁄4 teaspoon freshly ground black pepper
1 large egg, beaten to blend
1⁄4 cup all-purpose flour
1⁄4 cup shaved Pecorino
Romano cheese
Directions
Cook the butter in a heavy medium skillet over medium heat until it begins to brown, about 2 minutes. Remove from the heat. Add the thyme leaves. Set aside.
Pierce the potato all over with a fork. Microwave the potato until tender, turning once, about 12 minutes. Cut the potato in half and scoop the flesh into a large bowl; discard the skin. Using a fork, mash the potato well. Mash in the salt and pepper. Mix in 3 tablespoons of the egg; discard the remaining egg. Sift the flour over the potato mixture and knead just until blended.
Divide the dough into four equal pieces. Roll each piece between your palms and the work surface into a 1⁄2-inch-diameter rope (about 20 inches long). Cut the dough into 1-inch pieces. Roll each piece of dough over a wooden paddle with ridges or over the tines of a fork to form grooves in the dough.
Cook the gnocchi in a large pot of boiling salted water until they rise to the surface, about 1 minute. Continue cooking until the gnocchi are tender, about 4 minutes longer. Using a slotted spoon, transfer the gnocchi to the hot thyme-butter in the skillet. Toss to coat.
Spoon the gnocchi and butter sauce into shallow bowls. Top with the shaved cheese and serve.