Three Surgical Advances
These innovations improve patients' treatment and speed their recovery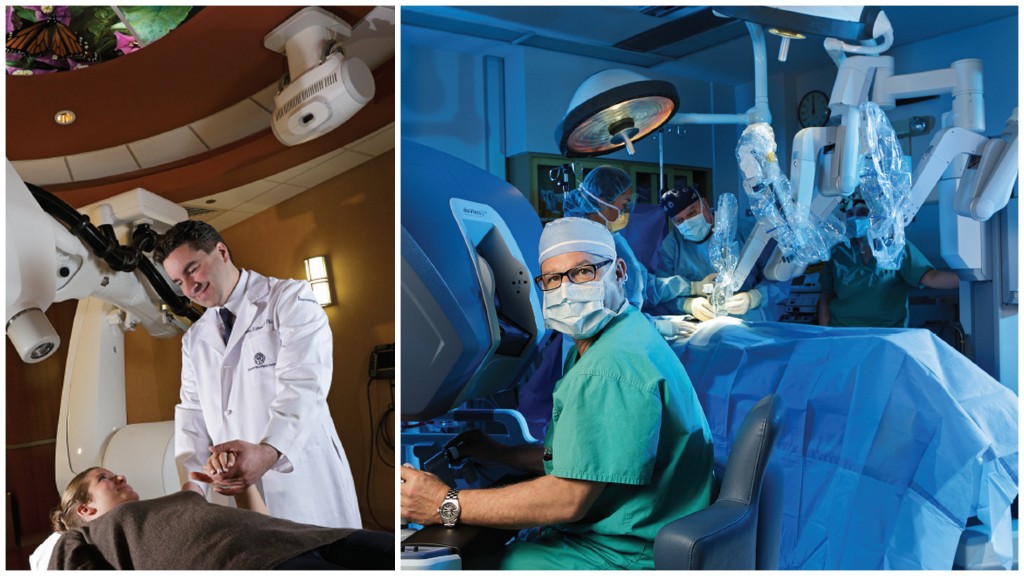 The Da Vinci Surgical System
Robotic surgery has been around for some time now, and the da Vinci surgical system is the brand of choice for most hospitals. Last year, the manufacturer released its newest, most advanced version yet, and Saint Peter's University Hospital had one up and running in December of 2011. "It's the Cadillac of robotic surgery, and this is the brand's top-of-the-line product," says James E. Gervasoni Jr., Chairman of the Department of Surgery.
With the da Vinci robot, the surgeon sits at a console in the operating room instead of standing at the operating table. He or she looks into a special eyepiece that receives magnified, threedimensional images of the surgical site. The surgical instruments are manipulated through fingertip controls and are computer-assisted to allow for the most careful and precise maneuvering by the surgeon. The result, in many cases, is less scarring, a reduced risk of complications and a faster recovery.
"The main improvement is in the visualization of the anatomic structures during surgery," Dr. Gervasoni says. "you can see very small vessels and dissect them with much more ease than you can with either traditional laparoscopic surgery or open surgery." This new da Vinci model also has a second console for surgeons to assist in certain procedures. And it comes with a simulator for doctors new to the system to train on. Dr. Gervasoni says he spent about 50 hours on the simulator before his first procedure. "It was pretty easy to learn," he says.
Surgeons are now using the da Vinci for gynecological, urological and general surgical procedures. And it has already won over some doubters—including Dr. Gervasoni himself. "I was a complete skeptic at first—for me, going to a robot was a big leap of faith," he says. "But once I started doing it, I saw its advantages. It makes my job easier, and it's a satisfying tool for a surgeon to use. It's really phenomenal, and if I were a patient, I would want a robotic-assisted surgeon performing my operation."
Single-Port Surgery
Traditional surgery requires doctors to cut a large opening to gain access to the appropriate area of the body. For the past decade or so, more and more operations have been performed with a minimally invasive approach, in which surgeons have used several much smaller openings to insert thin surgical tools, called laparoscopes, to perform the procedure.
The next step is operating through just one small opening, called a single port, cut in or around the belly button. And that step has been taken. Saint peter's is just the third hospital in New Jersey and first in the central portion of the state to use a single-port operative procedure to perform gallbladder surgery. It's done with the da Vinci robot, and is made possible by newer, more flexible tools. For gallbladder procedures, the new method requires just one incision less than an inch long instead of the four to six incisions used in most minimally invasive surgery. The incisions were previously required because tools needed to be introduced at the surgical site from different angles.
But today's improved devices can enter the body through one opening and still allow the doctor to position them for precise and accurate surgery. "The maneuverability and precision of these instruments is better than the human hand," says Dr. Gervasoni, who performed the hospital's first such operation in May. And gallbladder surgery is just the beginning. Within the coming year, he says, new instruments will allow surgeons to perform colon and gynecological procedures as well, with more operations to be added to the single-port roster in the coming years.
The advantages are the same as those of other laparoscopic techniques, only more so—less bleeding and fluid loss, lower risk of infection and, by going through or near the belly button, little or no visible scarring. and it's quick —in some cases, patients can have a gallbladder removed in about an hour in the morning and be home in time for dinner, with little or no pain or discomfort. "Single-port surgery will supersede everything else over the next 25 years," Dr. Gervasoni says. "Most operations will be done robotically through one port. All surgeons will have to get on board and learn how to do this, because this is the future."
CyberKnife
It sounds like a weapon in a science-fiction movie. Instead, the CyberKnife is a weapon in the war against brain and spine cancers. And Saint Peter's recently became affiliated with John D. Lipani, M.D., Ph.D., one of a select few neurosurgeons in the world to have received extensive training in CyberKnife radiosurgery under Stanford University School of Medicine neurosurgery professor John R. Adler, M.D., CyberKnife's inventor.
Dr. Lipani joins an already select group of CyberKnife-trained physicians who work at Saint Peter's, including Arno Fried, M.D., chief of Adult and Pediatric Neurosurgery. Dr. Lipani, founding director of Princeton Neurological Surgery P.C. and the Brain and Spine Radiosurgery Institute, explains that CyberKnife radiosurgery has changed the way doctors manage brain and spine tumors. "Traditional open brain and spine surgery can be quite traumatic for the patient and often requires a prolonged recovery period," he says. "This new knifeless technology allows patients to get better faster."
The CyberKnife delivers about 100 beams of relatively low-level radiation from all different angles, computed to converge right at the tumor site. The rays pass through healthy tissue without damage and then combine to reach cancer- killing levels of radiation. "Each beam is innocuous on its own, but together they are very potent," says the doctor. "The technology allows surgeons to destroy deep-seated tumors without creating a destructive pathway through precious neural tissue, as is often the case with traditional open brain and spine surgery."
A distinct advantage of CyberKnife is that, while other radiosurgical devices require a rigid head frame fixed to the skull for targeting purposes, its advanced imaging system is able to precisely locate the tumor without a head frame. In addition, a process called hypofractionation can be used in which smaller amounts of radiation are delivered over two to five days to further protect critically important neural tissue from radiation damage. Frameless technology also greatly improves patient comfort and allows for easy outpatient treatments—some patients have their radiation delivered on their lunch hour and then head back to work.
Dr. Lipani currently uses the Cyber- Knife to destroy tumors in critical locations of the brain and spine, but he says the beauty of the machine is that it can be used anywhere in the body. And now, after about a dozen years of clinical research, "its effectiveness cannot be denied," he says, "and this technology will undoubtedly continue to become increasingly more common." For now, it's enough to know that brain and spine cancers are up against this formidable foe. "I have a 99 percent success rate for treating brain and spine cancers while preserving cognitive ability, mental function and spinal stability with this tool," Dr. Lipani says. "We are revolutionizing the way we manage cancer in the brain and spine."
Related Read: Saved by Creative Surgery