Time to Look Younger?
Cosmetic procedures may help. Here, a host of surgical and less-invasive options.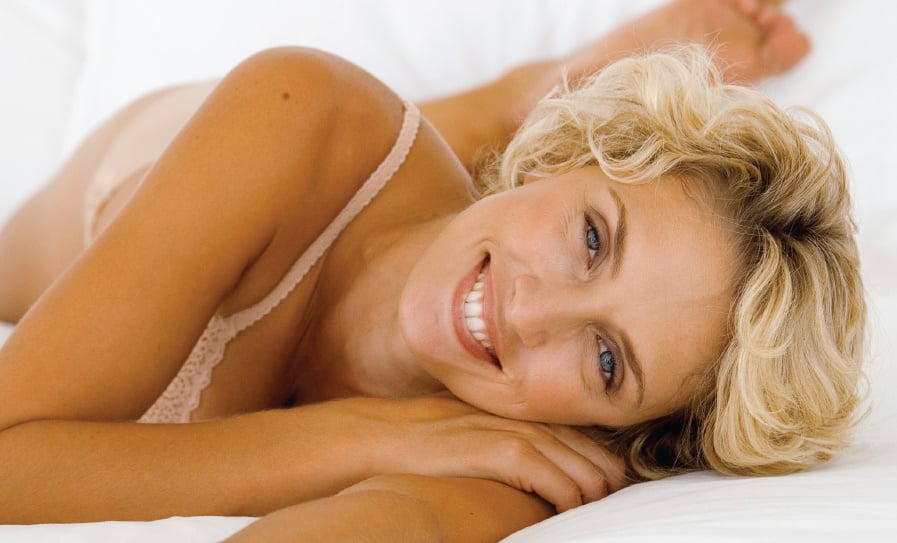 Think you'd never consider plastic surgery? You may change your mind, whatever your age. "While most of our rejuvenation procedures are done on patients in their 40s and 50s, we are seeing more and more patients in their 30s come in for procedures to maintain or restore a youthful appearance," says Said A. Samra, M.D., founder and senior plastic surgeon of The Samra Group, a plastic surgery practice in Holmdel, and past president of the New Jersey Society of Plastic Surgeons.
What's more, cosmetic procedures are more accepted today than they have ever been. "Plastic surgery has become mainstream," says Gregory Greco, M.D., chairman of the division of plastic surgery at Monmouth Medical Center in Long Branch. Plus, due to technological improvements, these procedures are more effective than they were in years past. "Advances in anesthesia, along with progress in minimally invasive and noninvasive techniques, have resulted in more effective, more predictable and much safer cosmetic and reconstructive procedures with less postoperative pain and down time," says Dr. Samra.
So if you're starting to consider what you might do to look and feel younger, here's what 10 common procedures promise—and what they require.
Laser Treatments
Lasers can be used to treat skin pigmentation (sun damage, acne scars and age spots), spider veins or fine wrinkles, or to remove hair. "There are several different laser systems we can use, depending on the issue we're treating," says Dr. Greco. In general, laser beams work by lightly burning the surface layer of your skin (the epidermis), and heating the deeper layer of your skin (the dermis). As the skin heals, it generates new collagen and skin that is smoother and younger-looking. Depending on the laser's strength, it could take a few days to two weeks before you're ready to show your face again. Surgeon's fee for full facial resurfacing: $3,000 to $6,000. Surgeon's fee for spot treatment: $1,000 to $3,000. Surgeon's fee for hair removal per area: $1,000 to $3,000
Botox
The injection of botulinum toxin type A (aka Botox) is one of the most popular noninvasive procedures used to reduce wrinkles on the forehead and around the eyes. Botox (and a newer brand called Dysport, known as Reloxin in Europe) paralyzes or "relaxes" wrinkle-causing muscles so that skin appears smoother, refreshed and more youthful. "Botox can really get the job done by softening wrinkles from the eyes up," says Dr. Greco. The results last about four months. Surgeon's fee: $500 to $550 per area. Each additional area is usually discounted to about $250.
Fillers
There are a number of different injectable fillers used to even out facial wrinkles and plump up hollow areas of the face (or make lips bigger). A popular type of filler called hyaluronic acid (aka HA fillers) is a natural substance found in our bodies. Brand names include Juvéderm, Restylane and Perlane. Each of these HA fillers may be used at the corners of the mouth, in the lips, between the eyebrows, under the lower eyelids and around the nasolabial folds (the area from the nose to the corner of the mouth). "The fillers soften lines and replace lost volume to create a younger look," says Dr. Greco. Results are quick and usually last between six and nine months, or in some cases, up to a year. Surgeons may also inject calcium-based fillers (one popular brand is Radiesse) or human fat to smooth out wrinkles. Less often, surgeons will use collagen (which doesn't last as long as the other, newer fillers) or a poly-L-lactic acid called Sculptra, which is used to add volume to large areas of the face. Sculptra requires two to three sessions, but it stimulates collagen production in your face, and the effects can last two years. Surgeon's fee: $500 to $800 per syringe. (The number of syringes varies, but expect at least one to two syringes. Often one syringe is sufficient for the nasolabial fold.)
Chemical Peel and Microdermabrasion
During a chemical peel of the face (which can be done by a doctor or an esthetician), an acidic, exfoliating solution is applied to remove the outer layers of skin. The procedure takes about 20 minutes, but it's about a week before you see the results. When the skin heals, it has a tighter, fresher look. Peels can also soften wrinkles, treat acne and eliminate pigmentation such as age spots. Recovery time depends on the type of peel. A common peel called the trichloroacetic acid (TCA) peel will cause major redness for a week. (It looks as if you have a sunburn on your face.) This procedure is best performed by a physician. The alphahydroxy peels, which are the mildest peels, don't penetrate the skin as deeply, which means that the effects aren't as dramatic as they are with the TCA peel, but you can expect to return to work in about a day. (Some people call these "lunchtime peels.") Milder peels may be repeated every two months, while stronger peels such as the TCA peel may be repeated every six to 12 months.
Peels may also be used in conjunction with microdermabrasion, a treatment that also exfoliates the skin, stimulates circulation and cell turnover, eliminates pigmentation and minimizes wrinkles. "If chemical peels and microdermabrasion are done together, it should be under controlled circumstances and under the direct monitoring of a physician to prevent skin damage," says Dr. Samra. When microdermabrasion is done on its own, it may be performed by a doctor or an esthetician. During the procedure, the practitioner may use a device that sprays fine crystals onto the skin to remove the outermost layer of dead skin cells, or the practitioner may use a diamond-tipped wand to remove the outer layer of skin cells. You will likely need a series of treatments. Recovery time after each session can vary depending on your skin and on the intensity of the microdermabrasion. Surgeon's fee for chemical peel: $850 to $1,300. Esthetician's fee for chemical peel: $75 to $200. Surgeon's fee for microdermabrasion: $300 to $400. Esthetician's fee for microdermabrasion: $100 to $200
Face-lift
When skin has aged and the soft tissue underneath the skin has fallen, people consider this surgical procedure to lift sagging areas around the neck, jaw, lips, cheeks and nose. "It's not just a skin operation anymore," says Dr. Greco. "It involves tightening and repositioning the underlying facial tissue so that you correct the foundation. The result is that you look like a better version of you." A full face-lift requires incisions at the scalp around the ear, which become almost imperceptible. The procedure takes three to four hours, is done under general anesthesia and may be accompanied by eyelid or brow surgery as well. Thanks to special facial glues, most of the bruising and swelling post-operation should dissipate after about week, and you will be ready to face the world—and go back to work—in about two weeks. Surgeon's fee: $8,000 to $15,000
Breast Augmentation and Breast Lift
Breast augmentation is the most commonly performed invasive cosmetic procedure, and it's often chosen by women who are looking to restore breast shape after pregnancy or to minimize the signs of aging. During this surgery, done under general anesthesia, the surgeon makes incisions under the breast, near the areola, or in the armpit in order to insert a saline or silicone implant. Women who are happy with the size of their breasts yet want to reduce sagging may opt for a breast lift—a surgical procedure (also done under general anesthesia) in which the surgeon makes incisions around the areola in order to remove excess skin and raise and tighten the breast tissue. After the operation, you will likely feel sore and tired for the next several days. You'll also need to avoid strenuous activity for four to six weeks post-op, but you will be able to do some light activity in about a week and return to work within a few days to a week. "I also have patients wear a postoperative support bra to add comfort and to decrease the incidence of complications such as fluid buildup," says Dr. Samra. Surgeon's fee for breast augmentation: $5,000 to $10,000. This does not include the cost of the implants, which can range from $300 to $1,000 per implant (saline is less expensive than silicone). Surgeon's fee for breast lift: $8,000 to $12,000
Liposuction
Liposuction (also called body contouring) is used to remove unwanted fat, particularly in stubborn areas that won't go away with regular exercise and healthy eating. But buyer beware: If you gain weight after the surgery, the fat will come back. "Body contouring is just an adjunct to good diet and exercise," says Dr. Greco. "It is not an alternative. Everybody still needs to do his or her part." If you do keep your weight in check post-surgery, the results of the procedure should be long-lasting. Surgeons may use a variety of different liposuction methods depending on the area of the body or the patient's needs. With "tumescent" liposuction, the most common form, tiny incisions are made into the fatty area, allowing the surgeon to inject a liquid solution that constricts blood vessels and reduces blood loss and bruising. Then the surgeon inserts a thin tube (called a cannula) that loosens the fat. Finally, that fat is suctioned out through the cannula. In some cases, after the liquid is injected, surgeons use powerassisted cannulas to break up the fat more quickly before suctioning. In other instances, surgeons perform ultrasoundassisted liposuction (brand name: Vaser liposuction), a technique that liquefies the fat before it's suctioned out. Or they may use a method called laser-assisted liposuction (brand name: SmartLipo), which is another way to break up the fat before suctioning. You'll want to talk with your surgeon about the best procedure for you. The surgery (done under general or local anesthesia) should take about two to three hours. Expect discomfort and bruising for about one to two weeks postop, and note that you'll need to wear a compression garment for one to two months following surgery. Surgeon's fee: $4,000 to $6,000 for the first area. There is often a reduced rate in the range of $3,000 to $5,000 for each subsequent area.
Full Tummy Tuck
With this procedure, you're removing the loose skin of the entire stomach area and tightening the abdominal muscles. Women whose ab muscles never returned to their pre-pregnant state are often good candidates for this procedure. Liposuction may be done at the same time if it's desired. "Some women who are finished having children opt for the 'Mommy makeover,' which may include a tummy tuck, liposuction and a breast lift or augmentation," says Dr. Greco. The tummy tuck on its own should take between one-and-a-half and two-and-a-half hours. (Additional procedures such as lipo will add more time on the operating table— and will cost more.) After the operation, your doctor may recommend that you wear a compression garment, and you will need to take it easy for 10 days to two weeks. At that point you may resume some light cardio if your surgeon approves. But you won't be doing any crunches or intense workouts for at least six to eight weeks post-op. Also keep in mind that it's helpful to start moving shortly after surgery to increase circulation, but you'll need to discuss your level of activity with your surgeon so as to avoid going too far and undoing the effects of the surgery. Surgeon's fee: $6,500 to $9,500
Mini Tummy Tuck
If the upper portion of your abdomen is toned, and you are concerned only with the loose skin or fat below the belly button, you may be a candidate for a mini tummy tuck. This procedure requires less operating time and less recovery time than a full tummy tuck. You may be able gregory greco, m.d. to resume normal physical activity in two weeks to a month. Surgeon's fee: $3,500 to $5,500
Eyelid Surgery
During this procedure, surgeons remove excess, sagging skin (and sometimes fat) around the upper eyelids, lower eyelids or both in order to give the eyes a rejuvenated, natural look. Depending on what you and your surgeon decide is best for you, this procedure may also be accompanied by the insertion of fillers or by a brow lift or face-lift. Surgeon's fee: $4,000 to $8,000
NOTE : All fees are estimates. In addition to surgeon's fees, surgical procedures will require facility and anesthesia fees, which vary greatly. Fees for three hours in the operating room (usually required for a breast lift) can range from $2,500 to $5,000.
Stay Young-Looking Naturally
If you're not quite ready to invest in a cosmetic procedure, here are other ways to keep your youthful glow.
Take care
Get your beauty rest. Aim for eight hours of shut-eye each night. Sleep restores and repairs your entire body and gives you a refreshed appearance.
Eat healthy. Antioxidants in your diet improve your overall skin health, so don't forget to eat your fruits, veggies and whole grains. Also remember to drink about eight glasses of water each day to help keep your skin hydrated.
Exercise. Keep your body toned and tight with regular workouts.
Be sun-safe. Sun damage causes wrinkles and age spots, says Dr. Greco, so wear sunscreen with SPF 30—even during the winter—and don a hat to stay in the shade.
Kick butts. Smoking drastically affects the skin and leads to wrinkles, says Dr. Samra, so kick the smoking habit.
Makeup the difference
Exfoliate. Consider using products (cleansers, toners or masks) made with alpha hydroxy acids (such as glycolic acid or lactic acid). These acids exfoliate the skin by removing dead skin cells, which in turn can lead to the stimulation of collagen, a reduction in the appearance of wrinkles and a more even skin tone.
Use moisturizing products. Apply a noncomedogenic moisturizing lotion (one that doesn't clog pores) to your face each morning and night after you wash your face to hydrate your skin.
Apply antioxidants. Skin care products that contain antioxidants can help regenerate skin cells, stabilize free radicals and even out skin tone. Look for ingredients such as vitamins C and E, retinoids (which are derivatives of vitamin A), or green tea (which contains antioxidants called polyphenols).
Seek out anti-aging ingredients. Try products made by established brands that have growth factors (aka human proteins), which help nourish skin and reduce wrinkles, or look for pentapeptides (such as pal-KTTKS), which are composed of five amino acids that help renew the skin's outer layer and stimulate the production of collagen and elastin, creating healthier, younger-looking skin.
---
Related Read: Sweat! It Does a Body Good