To Cleanse or Not to Cleanse?
Two dietitians weigh in on the pros and cons of a juice fast.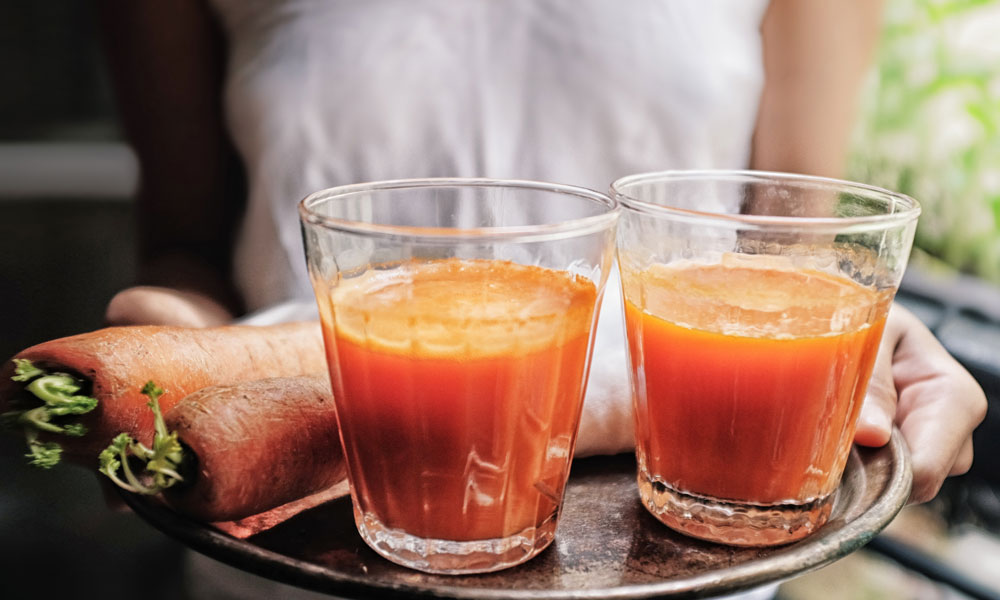 These days, it's not surprising to hear of Hollywood's leading ladies doing dietary cleanses. To lose weight for a role, Beyoncé once completed a "master cleanse," limiting herself to herbal laxative tea, salt water and a concoction of lemon juice, maple syrup and cayenne pepper. Salma Hayek co-founded a company called Cooler Cleanse, which offers an assortment of organic fruit and vegetable juices and nut milks. And Gwyneth Paltrow endorses several detox programs and cleanses on her goop.com site.
So what is a cleanse? In short, it's essentially a semi-fast, most often involving a juice-only menu. It typically lasts anywhere from 48 hours to 10 days or more, and enthusiasts insist it rids the body of toxins while causing the skin to glow and the pounds to melt away. But before you head to the grocery store to stock up on juicy supplies, proceed with caution.
Far from a surefire health booster, a juice cleanse or detox can actually be harmful. Laura Allen, R.D., a clinical dietitian at Monmouth Medical Center notes some of the drawbacks of juicing. "Given the natural sugar content of fruits, juice cleanses can exceed recommended sugar intake and can provide excess calories," she says. Those on a cleanse, Allen adds, often do not get essential fatty acids nor the required amount of daily protein.
"With juice cleanses, you're drinking a diuretic that usually includes laxatives," adds Jacqueline Ehlert-Mercer, Ed.D., M.Ed., R.D., who has lectured at several New Jersey colleges and universities. "You'll lose a lot of water and electrolytes while depriving your colon of good microbes and bacteria. That's not a positive thing to do."
Because the weight you lose in a cleanse comes from fluids, "the pounds will likely come right back when you're off the fast and eating normally again. You can get trapped in a yo-yo diet," she cautions.
For a long-term weight loss or management plan, go the old-fashioned route—eat regularly but in moderation, limit salt and sugar, drink plenty of water and exercise daily, Ehlert-Mercer recommends.
Those with medical conditions and histories, such as diabetes, should be cautious about starting a cleanse, Allen says.
A time to juice
People often begin a cleanse to kick off health-related New Year's resolutions or to flush impurities from their bodies, says Allen.
"Typically after the holidays or after an extended period of unhealthy eating, individuals will start a juice cleanse to detox their body or kick-start the habit of eating healthier or to promote weight loss."
The benefits come from the daily increase in vitamins found in fruits and vegetables—the main ingredients used for the juices. Taking in more "greens" will also flush sugars from the body and potentially lead to a path of better eating habits once the cleanse has ended.
"The ideal cleanse," according to EhlertMercer, "is one that increases intake of organic fruits and veggies and offers plenty of fiber and vitamins." The founder of Ramapo College's Havemeyer Edible Garden, Ehlert-Mercer notes that one of the keys to an effective detox plan is fiber, which helps remove waste and toxins from the body.
Ehlert-Mercer, who has authored several studies on cleanses, also believes juice fasts are a good way to rid allergens from the body.
Both dietitians recommend that everyone, whether starting a cleanse or not, seek advice from a physician to determine the best weight-loss or detox plans.