Tommy's Tavern + Tap
NEW FREEHOLD EATERY GIVES BAR FOOD AN UPSCALE TWIST.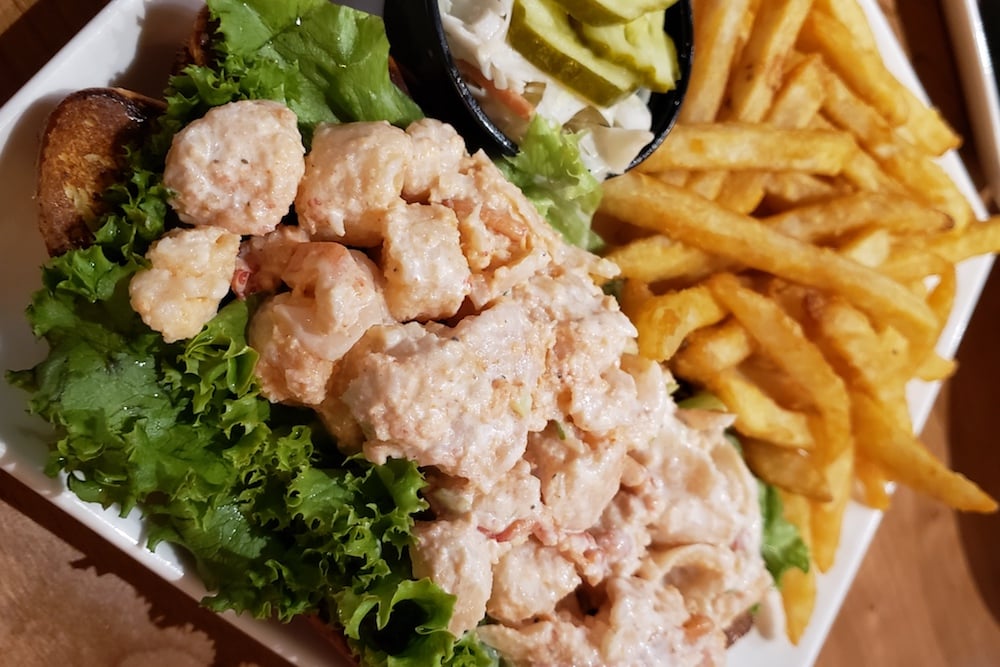 I STILL REMEMBER MY FIRST trip to the local sports bar, a jaunt with friends some 20 or so years ago to watch my beloved Jets. There was little to think about other than the game; people stood elbow to elbow at the bar, drinks were limited to mostly domestic beers, and if you were lucky to score a high-top, you had a limited selection of pub grub—wings, nachos, burgers and fries. I still root for the same football team, but much has changed in the world of bars—just take a look at Tommy's Tavern + Tap in Freehold.
Many give Tommy's, which also has locations in Sea Bright and Staten Island, a sports bar label because of the numerous flat screens mounted throughout the establishment. But make no mistake, this is an upscale tavern—the sheer number of tables, large booths and expansive outdoor patio say so. Tommy's recently took over a former Applebee's, maintaining the national chain's family-focused environment but bringing an elevated bar menu that falls in line with the desires of today's diners: fresh takes on the classics and Instagram-worthy presentation.
'Tis the season, so my friend and I started with autumn-themed drinks—an Octoberfest beer for me and spiked cider for her. The sips were perfect as we perused and debated the lengthy list of starters. A specialty pizza or a flatbread (there are nearly two dozen options) could've served as an app, but we opted for traditional plates. We passed on crispy Brussels sprouts and crab cakes and began with fried calamari, a typical offering at any bar or restaurant. Tommy's version came with zesty marinara and garlic aioli dips, both of which were needed to save the unfortunately over-oiled (read: soggy) breaded squid. A one-time misfire, I hoped.
My friend ordered our second app, sushi nachos, off the separate Japanese-themed menu. (It also features seaweed salad, edamame and shrimp tempura, among other starters.) We were taken aback by the size of the bowl and more overwhelmed by the amount of food piled in it. Fresh spicy tuna and avocado overflowed, and unlike the typical bar nachos that lose crispiness under the moisture of cheese and tomatoes, Tommy's sushi nachos maintain their chip integrity until the last bite—and believe me, you'll want to eat it until the very end. Word to the wise: One bowl will easily stuff two people, so be sure you have a larger party in tow if you're ordering this app.
Already full, I pledged to trudge forward, as I was really looking forward to my main—Tommy's tavern dip. Spins on classics like pulled pork mac and cheese and mango shrimp tacos piqued my interest, but I was drawn to the meaty sandwich. One taste of the sliced prime rib, which was topped with mozzarella and a light horseradish sauce, made me forget that my belly was filled to the brim. For an extra blast of juicy deliciousness, I dipped the sandwich in the accompanying au jus sauce—though frankly I was more than happy without it.
I was under the impression that my friend would order sushi (yes, this tavern has a complete list of specialty rolls as well as poke bowls), but she went with a Shore staple—a lobster roll. She reported that the abundance of Maine lobster wasn't overpowered by the mayo that topped it. In fact, as she dissected the sandwich (she eventually pulled the meat from between the brioche bread) it became clear that only a touch of mayo had been used. She graded it not as the best lobster roll she's ever had, but one that's definitely worth ordering again.
Assorted ice cream, cakes and cannoli are featured on the dessert menu, but there was certainly no room in the inn for sweets let alone anything else. I'll plan better for our next visit, whether it's dinner for two or an outing with friends to watch the next big game.
—Darius Amos
Tommy's Tavern + Tap, 3492 Rte. 9, Freehold, 732.543.0053, tommystavernandtap.com