Top of the Charts
Monmouth Medical Center is at the head of the class for care.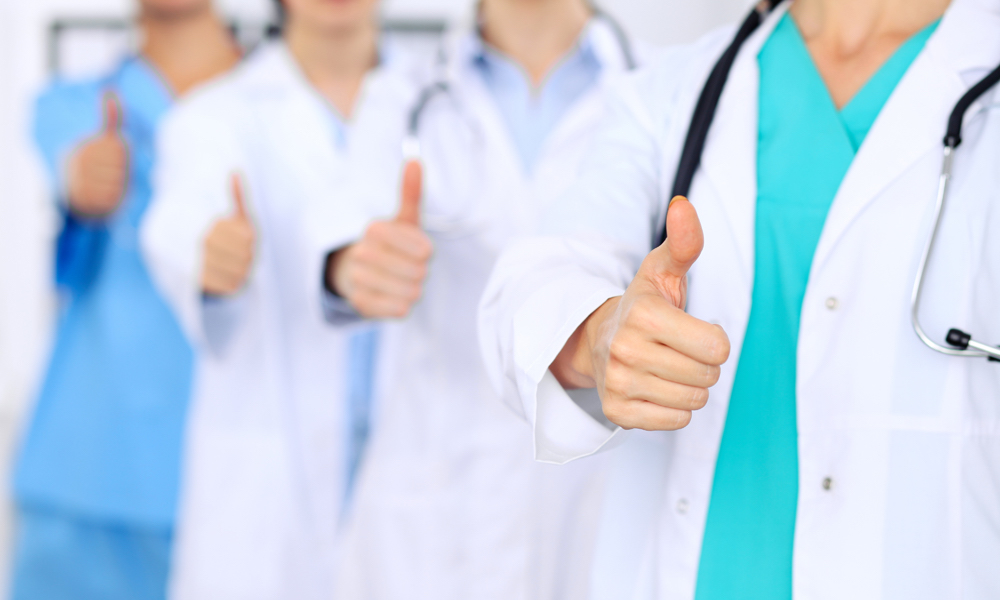 How do you know if your health care provider is delivering high-quality care? Look at the ratings. Much like movies and restaurants, hospitals are reviewed by experts and rated for their results. Monmouth Medical Center has recently received top honors from prestigious organizations in several different areas—including a rare four-star rating for overall care.
In fact, Monmouth Medical Center was among only eight hospitals in New Jersey to receive that four-star rating, the highest hospital rating achieved in the state. The honor, based on a new hospital rating system rolled out by the Centers for Medicare and Medicaid Services (CMS), reviews 64 different measures that are divided into seven measure groups or categories: mortality, safety of care, readmission, patient experience, effectiveness of care, timeliness of care and efficient use of medical imaging. Data from these measures are correlated into a single overall star rating ranging from one to five.
"A four-star rating should make us all very proud of the work we do here every day," says Bill Arnold, president and chief executive officer of Monmouth Medical Center. "This impressive rating is reflection of the hard work, dedication and expertise of our entire team here at Monmouth Medical Center."
Along with the overall rating, three individual departments have also been awarded important honors. Monmouth Medical Center's Bariatric Surgery Center has been recertified as a Bariatric Surgery Center of Excellence by the American Society for Metabolic and Bariatric Surgery. This designation recognizes surgical programs with a demonstrated track record of exceptional patient outcomes in bariatric surgery. To earn a Center of Excellence designation, the medical center underwent a site inspection, which examined all aspects of the program's surgical processes and collected data on health outcomes.
Monmouth Medical Center has been performing bariatric surgery for 17 years. Led by experienced bariatric surgeons, the medical center's bariatric surgery program provides a coordinated and supportive approach to the decision to pursue weight-loss surgery. As a part of the RWJBarnabas Health New Jersey Bariatric and Metabolic Institute, the program features extensive education and patient support before, during and after weight-loss surgery.
The medical center has also been honored for its care of breast health. For a third consecutive year, the Jacqueline M. Wilentz Comprehensive Breast Center has been named a recipient of the Women's Choice Award as one of America's Best Breast Centers, acknowledging its dedication to providing exceptional patient care and treatment. "By carrying the Women's Choice Award seal," says Arnold, "the Jacqueline M. Wilentz Comprehensive Breast Center at Monmouth Medical Center has signified its commitment to a global mission to elevate the patient experience for women and all patients as one of America's Best Breast Centers."
As one of America's Best Breast Centers, the Wilentz Centeralso carries the Seal of the American College of Radiologists as a Breast Imaging Center of Excellence, and scored above-average on the Centers for Medicare and Medicaid Services patient satisfaction measures. And the center received a three-year full accreditation designation from the National Accreditation Program for Breast Centers for "providing the highest-quality evaluation and management of patients with breast disease." This designation is the first for any medical center in Monmouth and Ocean counties.
And finally, Monmouth Medical Center was one of eight hospitals in the RWJBarnabas Health System to be included in the 18th Annual Health Care's Most Wired Hospitals survey, conducted by the American Hospital Association's Health Forum. The survey is a leading measure and report card on information technology(IT ) use and adoption among hospitals nationwide. It covers an estimated 2,146 hospitals—more than 34 percent of all hospitals in the U.S.—and examines how organizations are leveraging IT to improve performance for value-based health care in the areas of infrastructure, business and administrative management; quality and safety; and clinical integration.
Along with these honors, the medical center recently was among only 251 hospitals in the entire nation and the only hospital in Monmouth County to achieve an "A" grade in five key hospital safety scores released by the Leapfrog Group, an independent, national organization promoting the safety, quality and affordability of health care in the U.S. Monmouth Medical Center also ranked as the safest hospital for maternity care in the region, scoring well above the standard of care. And it was designated Top Performer by the Joint Commission, a national organization that accredits more than 21,000 health care organizations and programs in the United States.
Arnold says that his priority as CEO is "to stay ahead of the curve as the health care landscape undergoes a major transformation across the nation. Providing high quality care has always been a top priority at Monmouth, and the patient experience is more important than ever. We're positioned well for this as hospitals move from volume-based to value-based health care."
To learn more about the bariatric surgery options offered at Monmouth Medical Center, call 732.923.6070.
To learn more about the Jacqueline M. Wilentz Compr ehensive Breast Center, visit monmouthwilentzbreastcenter.com.