Town Bar & Kitchen
Though parts were destroyed by the fire in early 2015, Elm Street in downtown Morristown is teeming with life again thanks in part to the immediate success of Town Bar + Kitchen.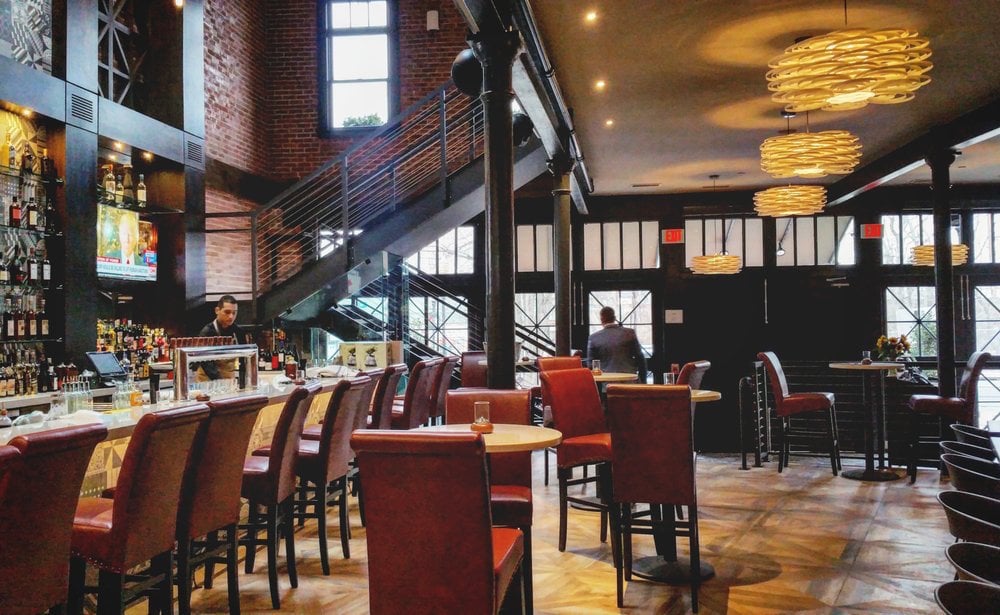 Though parts were destroyed by the fire in early 2015, Elm Street in downtown Morristown is teeming with life again thanks in part to the immediate success of Town Bar + Kitchen. That's probably not shocking, considering the contemporary American restaurant is owned by the same group running the widely popular Cambridge Wines. (The guys at the nearby store deliver wine to your home or if you're at a local BYOB restaurant.)
Town is just a few weeks old and it's already a hot spot, with diners raving about its cool layout, modern decor and swanky vibe (not to mention ample parking). What also helps is the vino selection. The impressive wine list boasts about 200 varieties, including, of course, the entire Cambridge collection.
Not sure which to try? Knowledgeable staff will gladly let you sample some before you commit, which our server Lauren suggested that my dining companion do before ordering. (She eventually selected a Bordeaux blend that pairs well with chicken and seafood.) And beer lovers, myself included, need not worry— there are plenty of craft brews on tap. My fancy for the evening: Bolero Snort's Frozen Pasture, an ale brewed right here in Jersey.
So what do wine guys know about food? A lot, as my friend and I quickly discovered. For starters, we shared a plate of tuna tartare, which easily rivaled some of the freshest and best sushi I've ever tasted. Beneath the fish was a creamy bed of avocado and a sweet citrus sauce. The only drawback was the accompanying tray of taro chips. Each thin-cut chip snapped when we loaded it with tuna and avocado.
Comfort food was on the mind of my friend, who also selected lobster mac and cheese from the appetizer menu. Unlike many mac and cheese dishes, this plate wasn't swimming with cheese and didn't skimp on the seafood—in fact, the lobster meat outlasted the other ingredients on the plate. "This really got me," she said, praising the dish.
It wasn't easy choosing an entrée from a menu featuring farmfresh ingredients, locally-sourced meats and house-made pastas; everything sounded so good. Alas, I went with the herb and truffle Amish chicken, a half-bird with a generous side of fingerling potatoes, carrots and onions. Each bite of the tender chicken, served on the bone, was a delight to the taste buds, as were the veggies and the plate of Brussels sprouts with pancetta that I added to my order. My companion selected the smoked seared scallops, which came atop a bed of mashed cauliflower, sweet potato and truffle. Though each of the three large scallops was cooked to the right temperature, the smoky flavor flexed too much muscle and overpowered the other components of the dish—and my friend's senses.
Though our stomachs were nearly full, my companion and I were drawn to the dessert menu. Town's classic crème brulee, my order, is a sure-fire hit for those hoping to satisfy a sweet craving, but my friend was grateful for Lauren's recommendation of the banoffie pie. The layers of banana, dulce de leche and crust make for the perfect after-meal treat.
Our dinner complete, my friend and I lingered to savor Town's upscale casual vibe. We ordered another drink and, despite loud music from an overhead speaker, we enjoyed the evening conversation. Also surprisingly pleasant was a trip to the restroom, which featured a complimentary hand-care center with an antibacterial sugar scrub. (Your hands will feel so soft!)
By the end of the night, we fully appreciated why the restaurant has quickly become the talk of the town.
Town Bar + Kitchen, 80 Elm St., Morristown, 973.889.8696; townbarandkitchen.com