Transforming Healthcare
Monmouth Medical Center to build the state-of-the-art Vogel Medical Campus at the former Fort Monmouth property in Tinton Falls.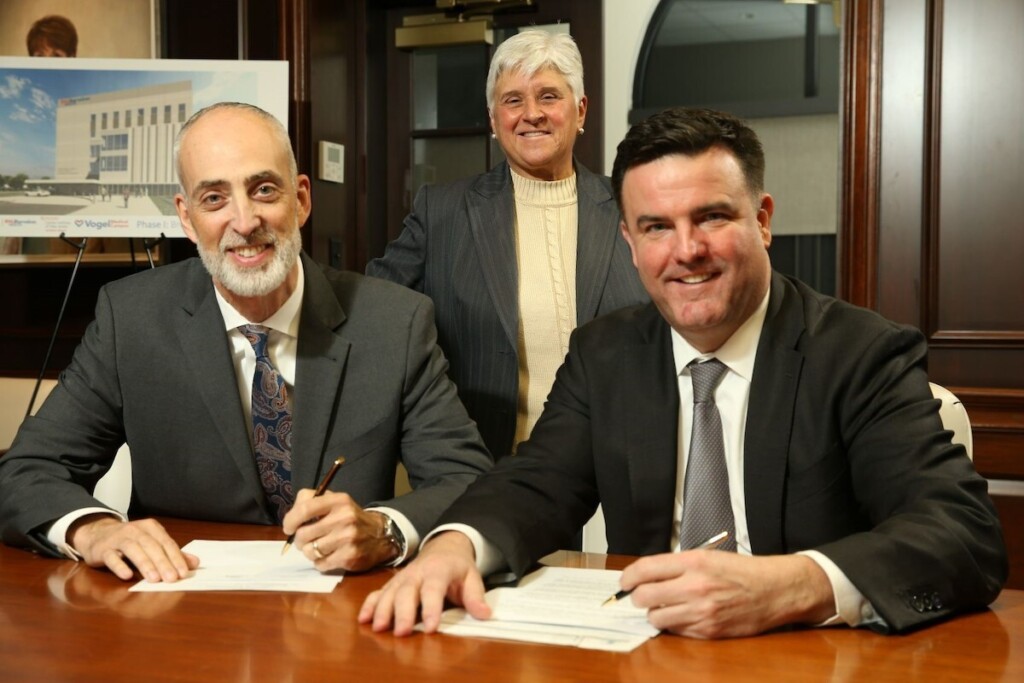 Monmouth Medical Center (MMC), an RWJBarnabas Health (RWJBH) facility, has officially purchased the former Fort Monmouth property in Tinton Falls from the Fort Monmouth Economic Revitalization Authority (FMERA).
The property, located at Corregidor Road and Pearl Harbor Avenue, will be the home of the Vogel Medical Campus at Tinton Falls. Construction of the state-of-the-art medical campus will begin this year and was made possible by a historic $50 million gift to MMC from local philanthropists Sheldon and the late Anne Vogel.
The Vogel Medical Campus at Tinton Falls will bring worldclass care to an easily accessible location where patients can receive health care services in one place—creating a seamless and exceptional experience. The outpatient center will feature comprehensive same-day surgery, advanced diagnostic imaging and on-site specialty physician offices. The cornerstone of the outpatient center is a comprehensive cancer center in partnership with Rutgers Cancer Institute of New Jersey, the state's only National Cancer Institute-designated Comprehensive Cancer Center. All of these services will be provided in a park-like setting designed to promote a healing environment by embracing the natural landscape with green vistas and outdoor seating and walking areas.
"We are excited to take ownership of the property and begin the process of constructing a truly incredible facility," says Eric Carney, President and CEO of MMC and Monmouth Medical Center Southern Campus. "The Vogel Medical Campus will enable us to further our mission to deliver truly outstanding care to our community. As an expansion of the MMC campuses in Long Branch and Lakewood, the Vogel Medical Campus is located within the communities we currently serve and will be designed to meet the unique needs of our diverse and growing community now and in the future."
The development of the Vogel Medical Campus is part of MMC's mission to create an integrated outpatient network that helps patients maintain wellness and meet their evolving care needs. It is also supported by RWJBH's expansive primary and specialty care provider network throughout the region. Recent advancements include:
• MMC and its Unterberg Children's Hospital expanded access to pediatric care and wellness programs through the Anne Vogel Family Care and Wellness Center at the Monmouth Mall in Eatontown. The center also provides access to the outstanding offerings of Children's Specialized Hospital, also an RWJBH facility.
• MMC partnered with Monmouth University on the Linda Grunin Simulation Lab and Learning Center in West Long Branch, which is providing high-tech, hands-on learning experiences for medical residents, students and staff.
"The Vogel Medical Campus is another example of meeting the healthcare needs of our region in an effective, flexible and sustainable way," says Bill Arnold, Executive Vice President and President of the Southern Region, RWJBH, and President and CEO of Robert Wood Johnson University Hospital. "Our integrated network of inpatient and outpatient facilities, along with our outstanding providers, is ensuring high-quality care now and for generations to come."
Monmouth Medical Center is the only hospital in the region to receive an "A" Hospital Safety Score by the Leapfrog Group for 16 consecutive rating periods. MMC was also named a top teaching hospital by the Leapfrog Group in 2021 and was named to the 2022 Newsweek list of "World's Best Hospitals".
As part of the outpatient center development at the Vogel Medical Campus, plans for transforming the site also include the option for a new acute care hospital, should there be a future need. This hospital would be an expansion of the care already provided at Monmouth Medical Center and would operate in conjunction with the Long Branch campus.
"We are proud of the trust and confidence placed in us to transform healthcare in the region," says Carney. "Together, we will continue to work with our patients, families, clinicians and partners to advance healthcare in our communities."
---
For more information about Monmouth Medical Center, visit rwjbh.org.