Traveler With a Cause
A doctor brings eye care to needy children overseas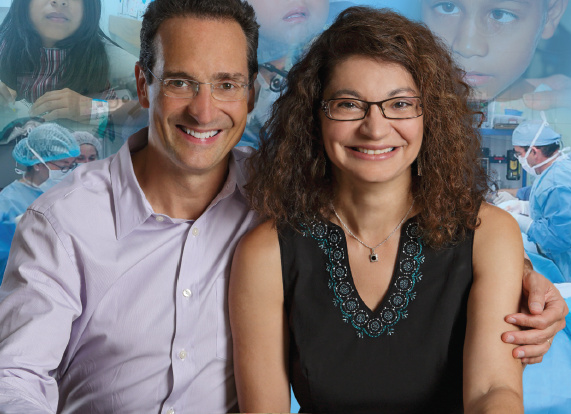 Mark Engel, M.D., and his wife wife, Isabel Kentengian, make a formidable team of medical volunteers. Dr. Engel, 53, a pediatric ophthalmologist with the Children's Hospital at Saint Peter's University Hospital and the CARES Surgicenter at Saint Peter's Healthcare System, has taken his skills abroad on more than 20 missions to Central and South America with Healing the Children, an international group that provides medical care to children in need.
Kentengian, 52, who teaches Spanish at the College of New Jersey in Ewing, has dual American and Spanish citizenship. She travels with her husband and puts her fluent Spanish to use coordinating with the local officials, scouting locations and acting as a liaison for him and the medical professionals they travel with. Good eyesight, of course, is vital for children, and Dr. Engel treats children who otherwise might not get the vision care they badly need.
He corrects disorders such as strabismus, in which the eyes don't line up properly, leading to crossed eyes or "walleye," and ptosis, in which one or both eyelids droop. For this pair, traveling and medical volunteering just naturally go hand in hand. "It's really the same motivation as being a physician," says Dr. Engel, "trying to help people in need." For him, that motivation was instilled by his parents, a Chicago Unitarian-Universalist minister and his wife. "I grew up in a household where you were expected to do service," he says. "That was how I was molded." The mold held. Dr. Engel finds his association with Healing the Children intellectually stimulating as well as ethically fulfilling.
"Visiting these different countries gets you out of your Americacentric view of the world," he explains. He and his wife live in Princeton and have two sons: Alex, 23, and Michael, 20. They met at a dance as undergraduates at colleges outside Philadelphia—he a senior at Haverford, she a sophomore at Bryn Mawr. "It was the Losers' Party," Dr. Engel says with a laugh. "There was a senior formal, but we both went to the alternative party in her dorm." They talked all night, and when he graduated, he delayed medical school and worked at a research lab at Princeton, waiting for her. They wed and moved to Chicago, where he attended Loyola University Medical School and she got a master's degree at the University of Illinois–Chicago.
Naturally, Dr. Engel's medical volunteer trips mean work—a lot of it. On a recent 10-day jaunt to Ecuador, he led a team of surgeons who performed 114 surgeries and treated a total of about 500 children. The couple plans to return to that country in January 2013. Of course, any hard-working professionals need vacations that are purely for relaxation, and Dr. Engel and his wife are quick to insist that they take those trips too. They cite a recent visit to Nicaragua as an example—then concede that they took time out to meet with local medical leaders to establish relationships for a future volunteer mission. "Travel is simply more meaningful," says Dr. Engel, "when you're also helping others."
Related Read: A Passion for Helping