Triumph Brewing Company
Tavern food gets an upscale flavor at new Red Bank eatery.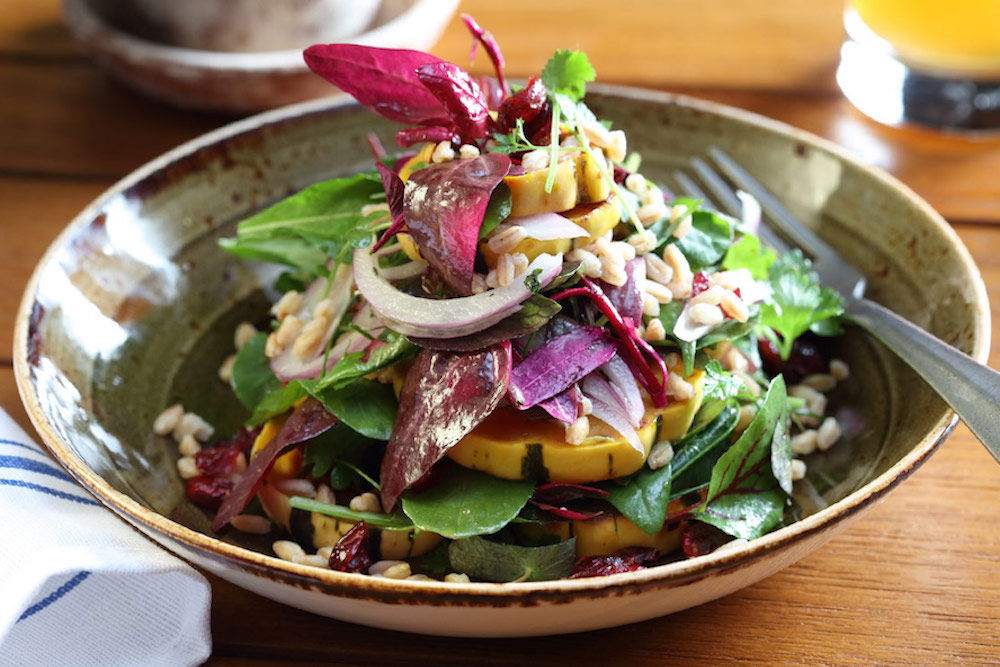 GOOD THINGS COME TO THOSE WHO WAIT, and I'm not just talking about showing up at a trendy Jersey Shore restaurant without a reservation. Food and drink enthusiasts stood by for years in anticipation of Triumph Brewing Company's debut in Red Bank, watching since 2014 as the establishment's owners and local land use boards got caught in a red-tape tug o' war. So it came as no surprise that there was much fanfare when the doors finally opened late last year, giving diners their first taste of the elevated tavern fare and craft brews.
My friend and I made the trip to Triumph on a busy Saturday. We were ushered past a large collection of communal tables that filed an expansive front dining area, where, we presumed, customers gather for more casual dinners and drinks. Intimate and quieter dining—as well as special events—takes place in a back room, where we sat.
We hung out without menus longer than one might expect at a place that oozes hip and chic, but we picked out our drinks rather quickly: a Bluecoat blondie (Triumph's Belgian Blonde beer, Bluecoat gin, syrup and orange juice) for me, cucumber Moscow mule for her (cucumber vodka, syrup, ginger beer, lime juice and cucumber). Both drinks were too strong for our liking, and the ginger beer in my friend's cocktail left a powerful biting aftertaste that, after every sip, made her reach for water.
Everything about our appetizers, on the other hand, was palatable. The nutty consistency of the six fried falafel was the perfect start, especially when each piece picked up the flavors of the accompanying Romesco sauce and creme fraiche. We shared a small bowl of Mulligatawny, which was made with an autumn-esque (yet delicious any time of year) blend of butternut squash, chickpeas, coconut milk and curry. But it was the mushroom toast took the top spot, a hearty combo of cream, wild mushrooms, shallots and thyme atop crispy French bread. Our three choices made me want to try other apps like lump crab salad, bacon tart and chicken posole.
But instead of a table topped with starters, we selected two entrees from an inventive menu that included jazzed up banh mi and spicy chicken sandwiches and locally sourced chicken and steak dishes. Hoping for something lighter, I ordered a perfectly charred and generously sized Arctic char filet. The fish is served skin side up, but I flipped it upon serving to reveal the wonderful salmon color. Flavorful on its own, the char got a little boost when forked with some of the lentil ragout and creamed leeks, the same creaminess that topped the mushroom toast.
My friend, who was full after the appetizers, had the wheat berry salad, a large bowl with fresh squash, baby greens, red onions, dried cranberries and splashes of maple vinaigrette. She quickly regretted adding grilled chicken to the order, as the protein was heavily salted and peppered and overpowered the otherwise refreshing bites of salad.
Triumph doesn't have a lengthy dessert menu, but each option—from the bread pudding to the warm apple upside down cake (which we devoured)—was as tempting as the next. As a whole, the items on the upscale pub menu—save a couple of exceptional standouts—are simply on par with bevy of offerings available throughout Red Bank's rich dining scene. The craft brews and innovative cocktails, however, were worth the wait and definitely worth trying.
—Darius Amos
Triumph Brewing Company, 1 Bridge Ave., Red Bank, 732.852.7300, triumphbrewing.com