Turning Tragedy Into Philanthropy
"Love, Annaleigh" helps parents with preemies and the hospital that cares for them.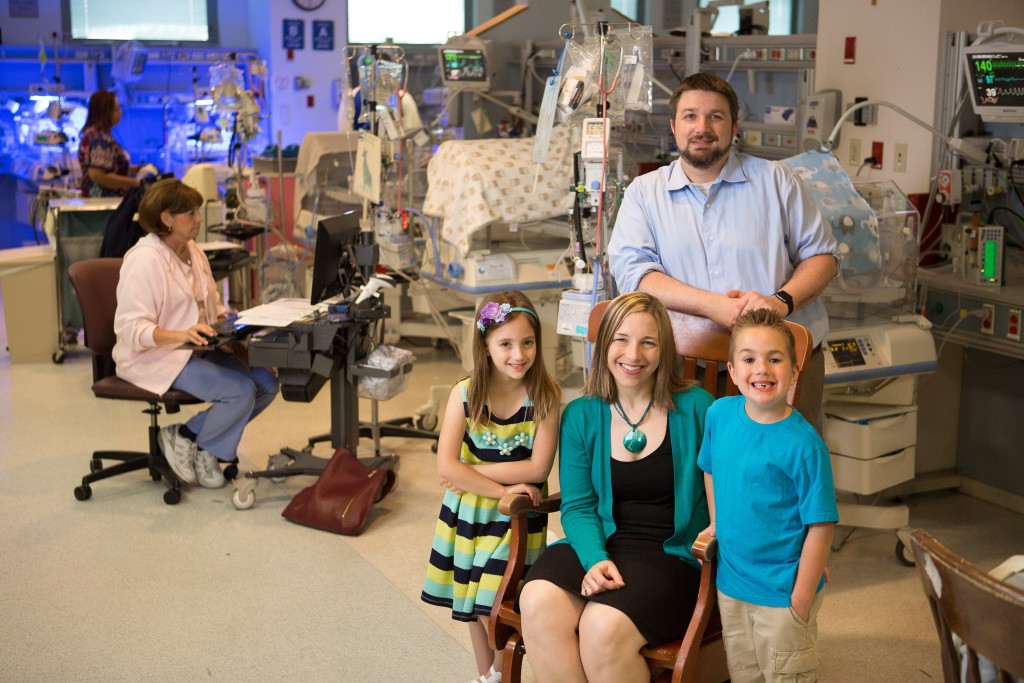 "Even the biggest miracles need a little help sometimes." That's the motto driving "Love, Annaleigh," a philanthropic foundation established to honor the memory of Annaleigh DiGiuseppe. Annaleigh, unlike her brother and sister, was the biggest and seemingly strongest of the triplets born at Saint Peter's University Hospital on June 27, 2009, 15 weeks premature. Despite the care given to her by the Saint Peter's Neonatal Intensive Care Unit (NICU ), she developed a fatal gastrointestinal disease common in premature babies called necrotizing enterocolitis, and she died at the age of 2 months.
"It happened really quick," says mother Brooke, 35, an employee training coordinator for Cracker Barrel. She and her husband, Joe, 37, an English teacher at Freehold Township Regional High School, live in Hamilton with Annaleigh's now-thriving siblings, Charlie and Lily. "We thought she was fine, but on August 21 the doctor called and said she was sick. They took her into surgery, so we were still hopeful, but after 20 minutes they saw her entire bowel was dead. They told us she would not wake up from her coma. We stayed with her all night."
So did the doctors and nurses on staff that evening, as Saint Peter's closed the NICU to allow the family to privately say goodbye. "We held her and they made it as easy as possible for us," she says. "We love Saint Peter's for that."
About a year later, Brooke and Joe contemplated "doing something to keep her memory alive," she says. "We wanted her life to mean something." They asked family and friends to donate items like mobiles and rattles for the NICU , which they took to the hospital on the anniversary of Annaleigh's death.
Their organization grew to the point that in 2014 they formed a 501c3 corporation. As fundraising brought in more money, they were able to help families in need. For instance, one family's premature infant, after spending almost a full year in the NICU , needed a service dog, and Love, Annaleigh funded its purchase. They also hold parent mixers the first of each month so parents with preemies can learn about the NICU and prematurity. "They get to talk, tell stories and make connections with others who are in the same situation that they are," Brooke says. "One woman came in, and when I told her about my two healthy kids, she started to cry and said, 'Thank you, I just needed someone to tell me it might be OK .' I want to help people feel better. It is a horrible experience, but it does end and most of the time, it ends OK ."
This year, they established a scholarship fund for high school seniors who spent their first days in the NICU . The foundation has also purchased toys for the pediatric ICU and funded two transilluminators—fiber-optic lights that are used to explore tiny blood vessels in premature babies—for the NICU .
"We want to do this because of how positive an experience we had at Saint Peter's," says Joe. "Even though the worst possible thing happened—we lost a child—the people in the NICU made us feel at home. The first couple of years, every time we said Annaleigh's name it was in sadness. Now we use her name 25 times a day, generally in a positive context. It has been great for us."
To learn more about Love, Annaleigh or to make a donation, go to loveannaleigh.org.
To find out more about services available for you or your family at Saint Peter's University hospital, please call 732.745.8542 or visit saintpetershcs.com.