Twin Farms Resort in Vermont
Enjoy low-key luxury in the Vermont hills.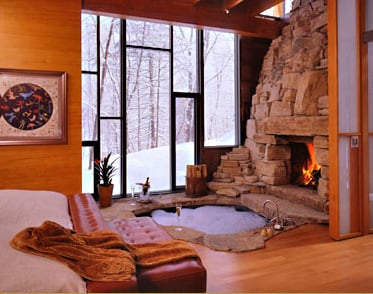 Leave this world and enter a place of dream-inspiring tranquility with a visit to Twin Farms resort in Barnard, Vermont. Named the best small hotel in the U.S. by Zagat in 2010, it's worth the drive. As you pass through quintessential Vermont landscape where small farmhouses dot snowy fields, you see a preview of what's to come in your near-private getaway.
Upon arrival, guests are personally welcomed by staff and given a short tour of the property. The main house (circa 1795) is rich in history, having been owned and occupied by Nobel Prize-winning writer Sinclair Lewis and his wife, journalist Dorothy Thompson. They're considered the "twin spirits of Twin Farms," and their artistry is honored with contemplative landscaping and bold combinations of art and architecture found throughout the several free-standing properties located on 300 acres of woods and meadows.
Your most difficult task in planning a visit to Twin Farms will be deciding which accommodations most delight your senses. Within the Main House there are four suites decorated by the late Jed Johnson to complement the traditional New England architecture. Toile drapery, quilt-covered feather beds and thick, hand-made rugs laid on original pine boards create a warm, relaxed atmosphere. If traditional décor isn't your cup of tea, look beyond the Main House to the Lodge (with two suites) or the Farmhouse at Copper Hill (with four). For a truly private experience, reserve one of the 10 "cottages." During my visit, I stayed in the modern Studio, complete with cathedral ceiling, original artwork by Frank Stella, lofted sleeping space with views into the woods and giant copper tub, good for an afternoon soak after skiing one of the six private downhill runs.
For those looking for more winter fun, the resort maintains a 100´ x 50´ ice rink. Ice skates are kept warm for guests, and steaming hot mugs of cocoa and treats from the pastry chef are just a request away. An outdoor fire warms your mittens as you enjoy a drink with friends.
In case you've forgotten you're at Twin Farms to relax, visit the "Out of the Woods" spa. The "Ultimate Body Treatment" offers a full hour and 45 minutes of other-worldly relaxation and includes body exfoliation, a hydrotherapy session, a deep-sea body wrap and a refreshing massage. (Guests may also request spa services within their accommodations.) Nearby is the free-standing Furo, a Japanese-style, 104-degree indoor soaking pool. Make sure to reserve a time in the Furo in advance of your stay.
New England Culinary Institute-trained chef Ted Ask's "farm to table" philosophy means meals at Twin Farms are fresh, innovative and local. At breakfast, ask your server for the soufflé pancakes. During lunch, enjoy farm-fresh salads with unique wine pairings. In the evening, cocktail hour begins at 7 p.m., with dinner served promptly at 8 in the dining room located within the Main House. Expect to enjoy hearty handmade breads, Vermont butters and cheeses, and exquisite main courses at once unexpected and familiar. The roasted beef strip with horseradish whipped fingerling potatoes is truly enjoyable. If you feel like staying in, dinner will arrive en suite picnic-style, complete with table setting, paired wine selection, breads, salad and main course. And don't forget dessert—the hazelnut brown butter cake with chocolate ganache, poached white figs and orange drizzle is the perfect winter's eve ending. With the exception of breakfast, meals are predetermined by the chef. Because Twin Farms always aims to please, you'll be asked your culinary preferences prior to your stay so that what's served is tailored to your liking.
In every way, Twin Farms strives to accommodate guests. The resort's easy hospitality, serene location and inspiring architecture make for a reverie-like getaway— and right away you'll be dreaming of your next visit.