Two Healthy Girls!
These twins were treated in the neonatal intensive care unit. Their mom tells her story.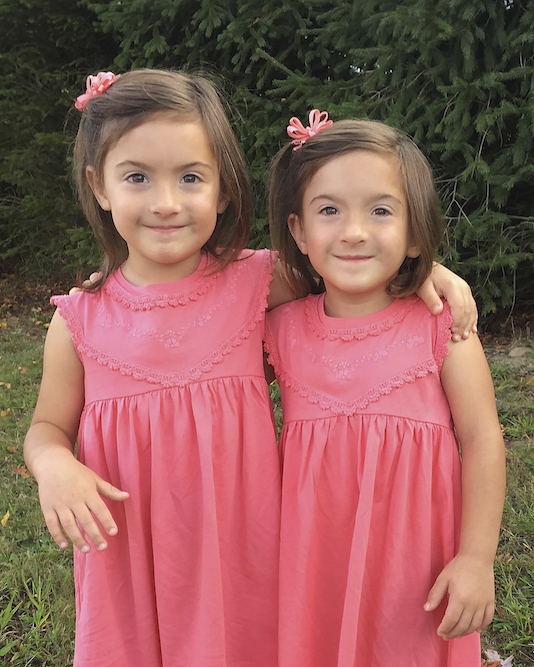 SIX WEEKS INTO MY PREGNANCY, I found out that I was pregnant with not just one, but two babies. It was the shock of a lifetime. My husband David and I were thrilled to know we would soon become parents and felt doubly blessed to be expecting twins. Unfortunately, our excitement was soon thrown a curveball. Just past the 12-week mark, during the first trimester screening, we were given great news about the health and development of "Twin A"—and, moments later, terrifying news about the condition of "Twin B." We were told to prepare for the worst and that it would only be a matter of days, if not hours, before our baby B would pass away in utero.
I'm grateful to report that that prediction did not come true. For the remainder of the pregnancy both babies continued to be monitored very closely, with weekly ultrasounds and other tests. Baby A continued along as expected while its twin remained inexplicably small. The health of Baby B was always of great concern and the prognosis poor. Nevertheless, David and I were determined to stay hopeful and chose to focus on the positive.
On July 7, 2013, at 31 weeks and 6 days, our daughters Ava and Giuliana were born. I experienced spontaneous pre-term labor that advanced very quickly and resulted in a successful natural and unmedicated birth. Ava arrived first weighing 3 pounds, 14 ounces. Giuliana arrived seven minutes later, after just one push, weighing 2 pounds, 8 ounces. She was diagnosed with IUGR (intrauterine growth restriction), SGA (small for gestational age) and microcephaly (an undersized head). Much to everyone's surprise, she was born with her amniotic sac still intact, which I learned was pretty rare.
That day, when my girls entered the Neonatal Intensive Care Unit (NICU), everything changed—for the better. We felt it was truly a place where miracles happen. For us, it became a place of hope and positivity. Amid all our fears and the initial chaos of it all, the doctors and nurses made us feel that what we were experiencing was routine, to be expected, and treatable. We found great comfort in that. It was as if there were nothing unusual about the health of our girls that they hadn't seen and successfully treated a thousand times before, and that provided a sense of reassurance that we so desperately needed. Our girls received exceptional care and we genuinely felt they were in the best place they could possibly be. This is what helped us put our minds at ease when we left to go home every night.
Ava quickly became a typical "feeder and grower" and spent just 15 days in the NICU. We were so grateful she was healthy enough to go home, yet it was bittersweet to have Giuliana still in the NICU. We were soon thrown another curveball. Just a few days after bringing Ava home, I ended up back in the hospital for emergency surgery to remove my appendix. The bright side was that I was again living under the same roof as Giuliana. I had amazing nurses who wheeled me to the NICU for visits. Thankfully, the rest of her stay was relatively uneventful and she was able to come home after a total of 31 days, weighing exactly 4 pounds.
Giuliana was eventually diagnosed with a rare growth disorder. Luckily, it's had no effect on her cognitively or developmentally. She is being treated with growth hormone therapy and had surgery to remove her tonsils and adenoids. So far it's been a tremendous success, she's healthier than ever, and recently made it onto the growth chart for the first time ever! Ava and Giuliana are now typical 5-year-olds and will be starting kindergarten in the fall! Both our girls are happy and healthy, and David and I are still feeling doubly blessed.
We are eternally grateful for the love and care our family received during our time in the Saint Barnabas Medical Center NICU, and we participate in the Miracle Walk and the NICU Family Advisory Council to give back. Additionally, when I heard about a special project to benefit NICU families, I knew instantly I wanted to participate. The Twenty-Five and Four project was founded by a NICU graduate mom in Arizona, Amanda Huhta, whose son was born prematurely at 25 weeks and four days' gestation. During their NICU stay, she wanted to be able to dress her son but couldn't find any clothes that fit. Out of necessity, the Twenty-Five and Four diaper shirt was born! Amanda and her mom created a unique shirt designed especially for babies in the NICU. It allows for the tubes and wires and can open easily in the front and over the shoulders.
I quickly signed up to be a volunteer seamstress and began sewing handmade diaper shirts specifically for the NICU babies at Saint Barnabas Medical Center. I make shirts to fit babies of all sizes. It's a small gesture, but often it's the little things that can have a big impact. It's about hope and dignity. Every parent deserves the joy of dressing their little one, and every baby deserves a shirt that fits! If you sew and would like to help make these special shirts, please contact Hayley Hirschmann, NICU family coordinator, at Hayley .hirschmann@rwjbh.org. She will forward me your contact information. If you'd like to find out more, visit twentyfiveandfour.com.
FOR THE NICU, A DAY TO 'WALK THE WALK'
Want to show your support for the Neonatal Intensive Care Unit at Saint Barnabas and the devoted, often lifesaving care it provides for tiny babies? This fall's Miracle Walk is your chance. Here's the information—and how to learn more:
18th Annual Miracle Walk
To benefit the Saint Barnabas Medical Center Neonatal Intensive Care Unit Sunday, October 7, 2018
9 a.m. at Verona Park, Verona, N.J.
miraclewalk.com; facebook.com/miraclewalk; 973.322.4259
TO LEARN MORE ABOUT MIRACLE WALK, CALL 973.322.4259 OR GO TO MIRACLEWALK.COM. TO SHARE THIS ARTICLE WITH A FRIEND OR TO RECOMMEND IT ON YOUR FACEBOOK PAGE, VISIT MSXHEALTHANDLIFE.COM.