Up Thai
This Morris plains eatery is a new dine-in hotspot. No run-of-the-mill menu here.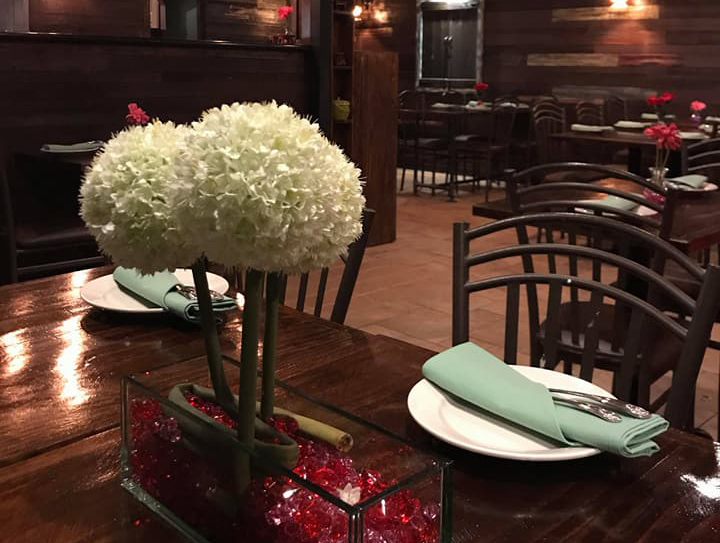 Eateries specializing in Thai Cuisine have quietly settled into our culinary landscape: They're not as widespread as Chinese and Japanese restaurants, and many have enjoyed their 15 minutes, allowing Korean and Filipino joints to become the new trend. But the folks at Up Thai in Morris Plains haven't settled for ordinary. Tucked away in an unassuming strip mall is their cozy space, marked by rustic, reclaimed wood walls and Asian-themed décor. And the menu—it's rich with selections that will shift your Thai thoughts from basic weeknight takeout to Saturday night's main event.
For starters, Up Thai offers many of the same options found on traditional Asian menus—think variations of spring rolls, dumplings, calamari and chicken satay, which my dining companion and I ordered. Each of the four chicken breast skewers was just slightly marinated with yellow curry (a bit of a disappointment to me, as I relish a stronger curry taste, though the level of spice was perfect for my friend's sensitive palate). Thankfully, two accompanying dressings, a sweet peanut sauce and a cucumber-infused dip, gave the meat all the complementary flavors it needed. On the contrary, another appetizer, simply called Golden Pouch, didn't need flavor assistance. These mini spring roll wrappers were stuffed with fresh crabmeat, soft cream cheese, finely chopped carrots and scallions, then meticulously shaped into oldfashioned moneybags and deep-fried. These, too, were served with a sweet dipping sauce, but the extra taste wasn't needed. A third app, crispy tofu, wowed us for several reasons. To our surprise, this dish hardly resembled anything fried: There was little to no trace of oil on the plate or absorbed by the tofu. This contributed to the airiness and light flavor of the bean curd, which got a boost from the peanut and sweet chili side sauce.
Unlike many Western countries' residents, Thai people love to share plates—and we followed suit for dinner. Our first entrée was Panang Curry, a mildly spiced mash-up of sweet, savory and sour: the distinct flavors of beef, kaffir lime, peanut paste, peppers, string beans and other veggies in simmering coconut milk. Mix it with white rice (we each received a small bowl), and you've struck culinary gold.
Up next was papaya pad Thai, an inventive street food version of the country's popular noodle dish. This version of the thin rice noodles contains a fresh blend of green papaya, shrimp, fried egg ribbons, tofu, peanuts, bean sprouts and other spices and vegetables. Although this novel take on pad Thai boasted the same sweet and tanginess of most versions, the extra oomph from ingredients like papaya separates it from the pack.
We crammed our table for two with a third main (don't judge our empty stomachs!): spicy chili shrimp. Though prominent, the biting taste of lemongrass and Thai basil didn't overpower the sweetness of the shrimp in this dish. And lucky for me, my friend deferred much of this entrée to me because of its higher degree of spiciness.
To most Thai purists, appetizers and entrées are enough to make a meal. At Up Thai, however, dessert is a must—particularly the sweetened black sticky rice and carrot cake. Black sticky rice changes to a regal purple hue when cooked, and it's fit for a king when paired with slices of fresh mango. The carrot cake is infused with just the right amount of rum and capped with a light cream cheese topping.
Up Thai is an anything-but-ordinary restaurant in an area that has good taste and craves it too. With an innovative menu that pays homage to classic dishes, this eatery is worth checking out. —Darius Amos
Up Thai, 981 Tabor Rd., Morris Plains, 973.998.8536, upthainj.com