Vegan Seitan Carne Asada Tacos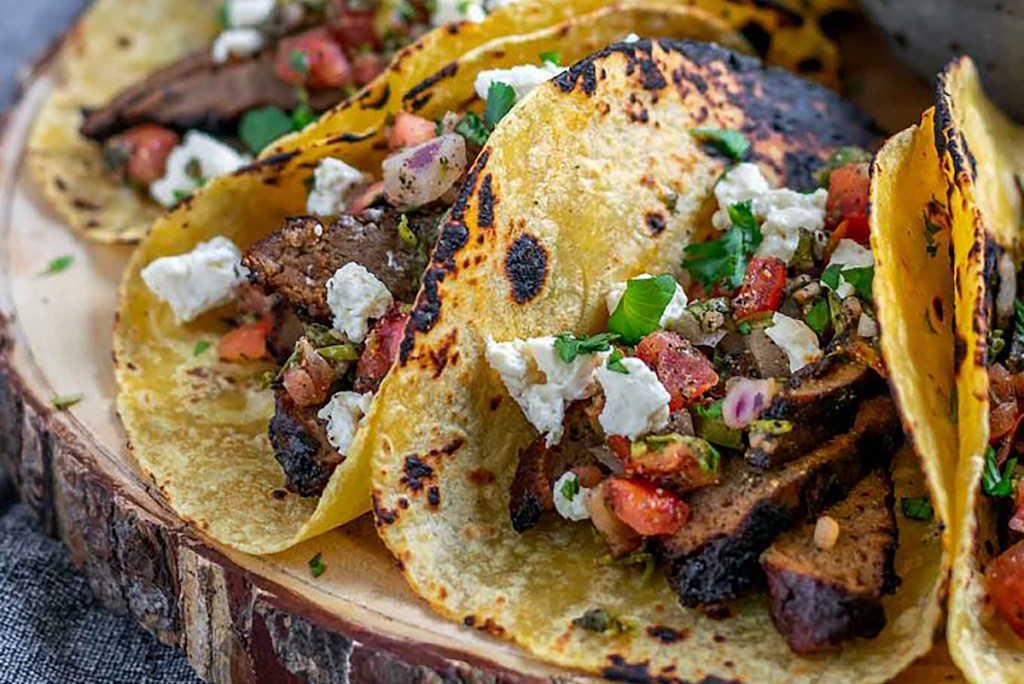 Yields 12 servings
INGREDIENTS
1 lb. seitan steaks
3 dried ancho chiles
1 chipotle in adobo, seeded for less heat if desired
2–3 cloves garlic
1⁄4 cup coarsely chopped cilantro, leaves and tender stems
1⁄2 cup orange juice, freshly squeezed
2 Tbs. lime juice, freshly squeezed
2 Tbs. olive oil
1 Tbs. apple cider vinegar
1 Tbs. soy sauce
2 tsp. packed brown sugar
1⁄2 tsp. whole cumin, toasted and ground, or 1⁄2 tsp. ground cumin
1⁄2 tsp. salt, more to taste
freshly ground black pepper
TO SERVE:
corn tortillas
pico de gallo
vegan queso fresco
minced cilantro
DIRECTIONS
Toast the ancho chiles on a dry skillet over low heat until softened, about 5 minutes, or microwave in 30-second increments until soft and supple. Remove seeds and stems, roughly chop and add the chiles to a blender.
Add the chipotle in adobo, garlic, cilantro, orange juice, lime juice, olive oil, apple cider vinegar, soy sauce, brown sugar, cumin, salt and black pepper to the blender. Blend until thick and smooth. Taste and add more salt if desired.
Place the seitan steaks in a quart-sized ziplock bag and smother with all of the marinade sauce, making sure the sauce gets in between the steaks and fully coats each one. Seal the ziplock bags and place in the fridge for at least 2 hours, but ideally overnight.
When ready to make your tacos, heat a grill pan to medium high heat. Brush the hot pan with a little bit of oil, then remove the steaks from the marinade, taking care to only leave a thin layer of marinade on the seitan. Grill the steaks for about 3-5 minutes on each side, not flipping until blackened char marks from the grill have formed. Alternatively, you can cook these steaks on an actual grill. [Note: if using store-bought seitan that comes pre-sliced or diced, you'll want to pan fry the marinated strips until slightly charred.]
Thinly slice the grilled seitan carne asada and set aside, covered to keep it warm.
Heat the corn tortillas, either over the gas flame (for charring) or on a dry skillet, and wrap in a cloth or a tortilla warmer to keep warm.
To assemble the tacos, place the sliced seitan asada in a warm tortilla and top with pico de gallo and crumbled queso fresco. Sprinkle on a little extra cilantro and serve with extra thinned mojo sauce if desired. Enjoy!
Recipe and photo courtesy of thecuriouschickpea.com