Water Works
The centuries-old use of H2O to heal and soothe is alive and well in Monmouth County. Book a treatment today to indulge in the healing power of water.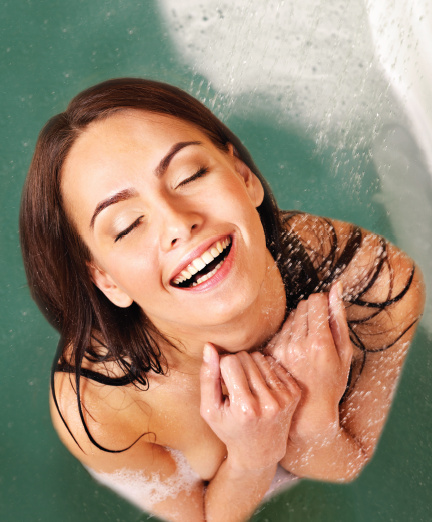 Historians aren't sure whether the word "spa" comes from the Latin phrase salus per aqua, which means "healing through water," or derives from the town of Spa, Belgium, where, centuries ago, a health resort built on the area's natural mineral springs became internationally renowned. In either case, water therapy was historically a spa's raison d'être, the lure for treating everything from leprosy and rheumatism to indigestion and sore feet. And it's no wonder.
Hydrotherapy, which the International Spa Association says is "any treatment that incorporates water for therapeutic purposes," makes us feel so good. Among other things, it increases our red and white blood-cell circulation and endorphin production. This in turn strengthens the immune system, reduces inflammation, decreases stress and gives us energy. Warm-water soaks and massaging showers are not only relaxing, they can also detoxify through vasodilation (expanding the blood vessels), bringing blood to the body's surface and releasing toxins.
Saunas and steam rooms help to open airways by sending white blood cells to areas in need of healing, thereby increasing respiration. While today's spas mostly do massages and facials, quite a few in our area have stayed true to their roots by offering hydrotherapy treatments that detoxify, beautify and destress-ify you. Check out these popular water treatments designed to soothe your cares away. Then read on to see what your local spas are offering.
Herbal and Mineral Soaks and Baths
For centuries, spa-goers have flocked to the earth's mineral springs to treat arthritis, joint pain and other ailments. Mineral springs contain elements such as calcium, magnesium, potassium, sodium and iron. Different springs bring forth different minerals, and each works well for various maladies. A soak in the naturally carbonated waters of Saratoga Springs, N.Y., for instance, can aid in circulation, open skin pores and relieve tension. Even though there aren't any natural springs in our immediate area, local spas and bathhouses have done a great job mimicking them with special mineral and herbal soaks. An herbal soaking treatment might include magnesium and potassium to relax tired muscles or rosemary and eucalyptus to detoxify.
Vichy Shower
Vichy, France, is famous for its geothermal mineral springs, which have been used to treat arthritis, rheumatism, gout and digestive complaints, among other ailments. Vichy continues to be worldrenowned for its spa therapies, and it is from here that the Vichy shower originated. What is a Vichy shower? Imagine lying face down on a comfortable massage table, only this table allows water to drain. Water rains down from a hinged arm above the table, which contains five to seven shower heads. A therapist controls the flow, pulse and temperature of the water. The cascading shower helps improve blood circulation and skin elasticity. It often follows other body treatments such as scrubs and wraps, replacing a stand-up shower.
Watsu
Watsu gets its name from combining the words "water" and "Shiatsu." Shiatsu employs stretching and pressure techniques to relieve stress. And water here means a secluded pool at body temperature, about waist-deep. In a Watsu session, a massage therapist holds you as you float in the pool, guiding you through a series of gentle, flowing stretches and twists. Because you are in water, you can move your body, especially your spinal column, in ways that you can't on land. This allows for a deeply relaxing experience. Trust and connection are big components of Watsu. You must be led by the Watsuer while the Watsuer learns to move you based on your breathing rhythms. In this way, it is profoundly soothing both emotionally and physically.
Circuits
Who says a spa experience can't be exciting? Try doing a hydrotherapy circuit, which involves alternating hot and cold water treatments, such as going from a hot tub to a quick plunge in a cold pool to a sauna. Alternating heat and cold increases white blood-cell activity, which improves circulation and reduces inflammation. It also detoxifies: Heat makes our muscles expand, while cold makes them contract. This squeezing pushes out toxins. Circuits are used to treat skin disease, arthritis and circulatory problems. They are also downright exhilarating. Some of the biggest spas in the country (the likes of Qua Baths & Spa at Caesars Palace in Las Vegas) incorporate snow rooms and cold-water steam sprays. Try it—if you dare! Water treatments close to home
Taking a break from a harried deadline season to test the healing potency of H2O, I went out in search of hydrotherapy experiences around Monmouth County. Here's what I found:
Flotation at Avanti Day Salon
Dry hydrotherapy? It is possible, thanks to the innovative flotation bed at Avanti. And it is primal—like a return to the womb. Try the Sea of Senses experience. First you get a full-body exfoliating massage with a Dead Sea salt scrub, followed by an eight-showerhead rinse in the standing Vichy. Then you lie on the flotation bed (not floating yet) and enjoy an application of one of their moisturizers. Choose the Butter Cream Melt, Primrose Cocoon or the Champagne and Roses. Your masseuse will wrap you in a derma fleece (resembles a see-through sheet) to absorb the moisturizer and—here's the best part—lower the bed a few inches into its warm water self-contained soft tank, where your entire body, even your feet, will enjoy 30 blissful minutes of gentle massaging pulses from the hydro jets. Your lymphatic system will be born again in 60 minutes. $105.
Avanti Day Resort, 345 Route 9 South, Manalapan, 732.780.0222, avantidayresort.com
Do as the Russians Do at Bear and Birch
Move over, Rome. Here comes Russia with its banya (sauna) tradition of hot/ cold/hot hydrotherapy and—being whacked with birch tree branches? Yup. You read it right. Peter Kizenko, former Goldman Sachs chief equity trader in Moscow, has brought an authentic Russian banya to Freehold, so authentic it was built in Russia and assembled here. For centuries, the Russians have invigorated, detoxed and healed themselves through a ritual of heating up via whacking one another with birch branches in a steam-filled room, then rolling in snow or jumping in cold water to cool down. A visit to Bear and Birch is a step into Russian culture, complete with Russian tea and fare in the lounge. Pay a $30 entrance fee and enjoy as many hot/cold circuits in the sauna and cold plunge pool as your Russian-inspired self can endure. Pay a la carte for a scrub and soap massage and even a Vichy shower. The optional birch-branch treatment is $30—invigorating and good for your circulation!
Bear and Birch, 6 Paragon Way, Freehold, 732.780.3354, bearandbirch.com
Be Purified at Immersion Spa at the Water Club Hotel
Water, Water, Everywhere.
Located on the 32nd floor of the Water Club Hotel at the Borgata casino, the Immersion Spa boasts 360-degree, floor-to-ceiling views of the Atlantic that set you afloat in serenity before you even hit the whirlpool. This is your escape from anything concrete. If you've never heard of a Javanese Lulur bath ritual, try it here. It originated on the island of Java in Indonesia as a purifying wedding treatment for princess brides. It begins with a Balinese massage, which is "repetitive, rhythmic and uses strong pressure," according to the spa director. Next a yogurt-based skin polish is applied, infused with turmeric, licorice root, rice powder, ginger root and spices. Then comes your relaxing soak in a bath infused with essential oils, followed by an application of organic jasmine lotion. A luxurious 100 minutes. $200.
Immersion Spa at the Water Club Hotel, The Borgata, Atlantic City, 609.317.7555, thewaterclub hotel.com/spa
Banish Tension at Mosaic Salon & Day Spa
Slip into the Essencia Tub here and embark on a multisensory, tension-busting half-hour journey for your ears, eyes, body and mind. Lie back and send toxins packing. "The heat in the air and the water penetrates the skin and opens pores, eliminating toxins, and relaxes your joints and muscles," says spa coordinator Katie Sedan. Tiny champagne bubbles envelop you, creating a constant, equal pressure through the tub. Essential oils in the water soften your skin and fill the air with a sweet aroma of lavender or pine, depending on the oils you choose. Open your eyes and view it all through the color of your choosing: blue for reducing blood pressure, green for an even mood, violet for an enhanced immune system. And there are plenty of other colors available to balance your mind and spirit. The Essencia Tub Experience is complimentary with other spa treatments, or $30 (for 25 minutes) or $50 (for 45 minutes) alone.
Mosaic Salon & Day Spa, 65 Highway 34 North, Morganville, 732.772.1838, mosaicspasalon.com
Bathe imperially at Qua Baths and Spa
You'd expect a spa at Caesars to transport us to Rome, and it does. This is Roman bathing qua Roman bathing. Qua massage therapist Holly Gibson says the warm/hot/cold hydrotherapy cycles at this upscale casino bathhouse have numerous physical and mental benefits. The experience starts in a warm steam room or sauna, then progresses to the hot tub and then to a plunge in the cold pool. This alternation, says Gibson, "shocks your body and tightens everything up. It increases circulation, relieves tight muscles and aches and pains through the release of lactic acid, improves sleep and metabolism, reduces stress and puts you in a better mood." The circuits are complimentary with a booking of any spa treatment.
Qua Baths and Spa, Caesars, Atlantic City, 609.343.2400, caesars.com/qua
Related Read: Sweat it Out in the Sauna