Weekend Warrior on the Mend
For this amateur athlete, thanks to innovative surgery, an achilles tear looks like just a brief delay.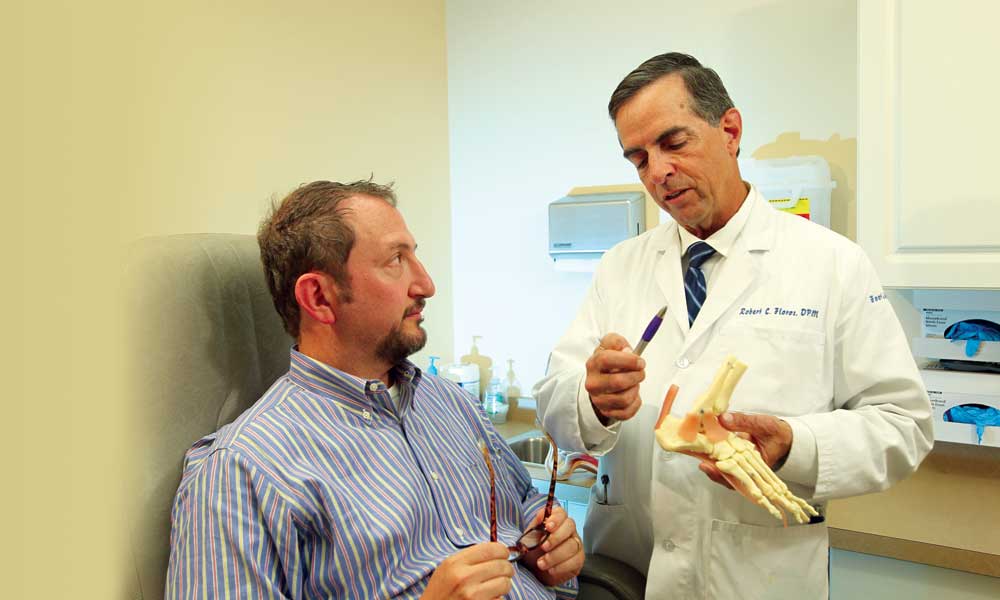 Sean Gertner is a man "on the go." And there's no slowing down on weekends as the active 49-year-old plays pickup basketball with the guys every Sunday morning. During a recent game, however, the Jackson resident suddenly felt a stabbing pain in the back of his leg. At first he thought someone had kicked him, but then he heard what he calls "the proverbial snap."
He hobbled off the court with the help of his teammates but insisted on driving himself home. "I knew something serious was going on, but I was in denial," says Sean, an attorney with offices on the Lakewood-Jackson border and a member of the Board of Trustees of Monmouth Medical Center/Monmouth Medical Center, Southern Campus. "Every armchair athlete is fearful of injury—especially the Achilles.
"With an injury like this, I knew time was of the essence," says Sean. "From the initial diagnostic test to pre-op testing and scheduling the surgery, I was impressed with the smooth coordination between the surgeon's office and Monmouth Medical Center, Southern Campus. They made everything so easy."
Robert Floros, D.P.M., FACFAS, a podiatric surgeon with Ocean County Foot and Ankle Surgical Associates in Toms River who is on staff at Monmouth Medical Center, Southern Campus, performed Sean's Achilles tendon reconstruction surgery.
"Sean completely tore his Achilles tendon and sustained an 8cm. destruction of tendon and muscle tissue," says Dr. Floros, who also serves as a guest clinical instructor for the Department of Surgery at the Temple College of Podiatric Medicine.
Board-certified in foot and ankle reconstructive surgery since 1991, Dr. Floros performed a human allograft reconstruction of the Achilles tendon in which a cadaver-donated Achilles tendon was attached to the remaining viable muscle and tendon tissue with a suture done with a synthetic fiber similar to Kevlar.
"This innovative technique is designed to eliminate the use of metal anchors or screws in the heel bone," says Dr. Floros. "By placing the wire through the heel bone and running it up the sides of the graft on both sides all the way to the mid aspect of the calf, we can create a strong tether for the new tendon and muscle pull in one long, connected mechanism to the heel bone. This is very low-profile and rarely needs to be modified or removed."
Dr. Floros also used Biovance, an amniotic membrane portion that helps in healing and in the reduction of deep scar formation. "Achilles tendon injuries are very disabling if not repaired, but thanks to young tissue donors and new technology, the surgeon can help return the injured patient to a reasonable functional level," the doctor adds.
The surgery was a huge success. Sean's biggest challenge during recovery is adjusting from his active lifestyle to a sedentary— non–weight-bearing— lifestyle. He especially appreciates the support of his wife, Marla, and his parents, who all rallied around him through this ordeal. Sean is gearing up for physical therapy sessions in the near future. Knowing Sean, there's no doubt he'll be back on the court soon!
To learn more about surgical services at Monmouth Medical Center, Southern Campus, call 888.724.7123.