Welcome to Belmar
You'll find sand, surf, sun and lots of seafood at the "#1 Beach in Central Jersey"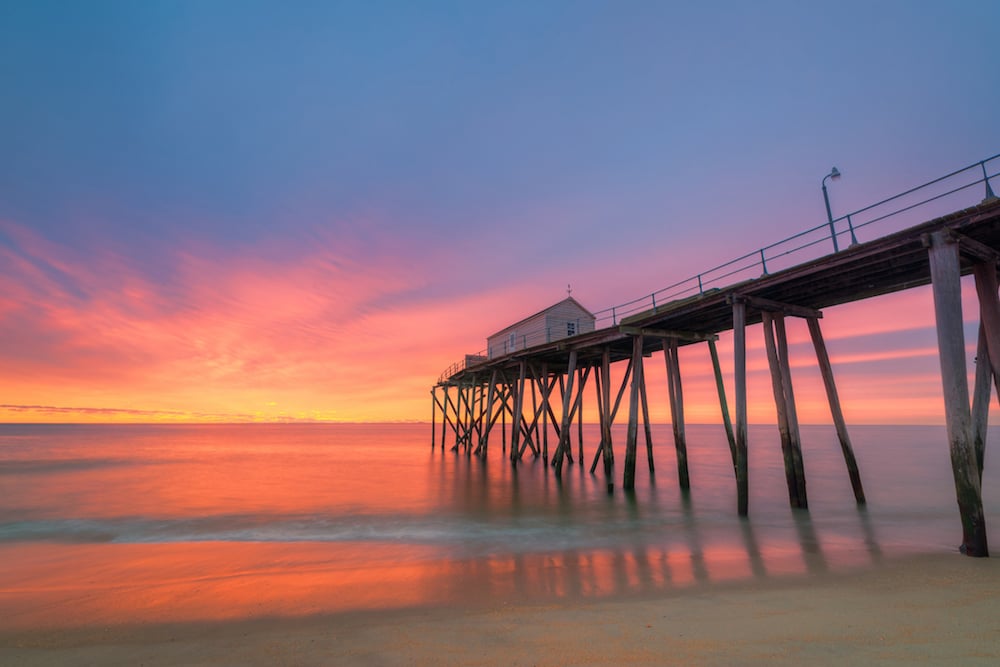 Despite its small size (just 1.6 square miles) and small population (under 6,000 people total), Belmar has everything that's quintessential to a Jersey Shore town—a mile-long boardwalk with shops and restaurants, sandy beaches for surfing, swimming and tanning and a stunning marina off of the river. But perhaps its small-town charm and endless activity offerings are what make Belmar a popular vacation destination and favorite place to call home.
ESTABLISHED: 1885
POPULATION: 5,680
WEBSITE: BELMAR.COM
SURF'S UP
Belmar is one of the most popular surf spots on the East Coast and hosts the Belmar Pro Surfing Competition every September, where both pro and amateur surfers from around the world convene to compete against each other. Newbies can also learn the ropes at Belmar's surf camp located at 3rd Avenue Beach. Prefer to play sports on land? There is also an active skate community and skatepark here.
WHAT'S IN A NAME?
Belmar translates to "beautiful sea" in Italian.

BELMAR MARINA
The marina is located along Shark River, an inlet of the Atlantic Ocean. In addition to being a place to dock a boat or go fishing, the marina is also home to restaurants, a playground, a mini golf course and tennis courts. You may also recognize this marina from HBO's The Sopranos, as this was the marina at which Tony Soprano docked his boat—and where the Mob boss held top-secret meetings.
STATE OF THE ARTS
Arts and culture are alive and well in this borough, as The Belmar Arts Council puts on art shows, workshops and live performances all year round.
BEACH LIFE
The first thing that comes to mind when you think of Belmar is likely its beaches, which are among the cleanest and highest-ranked in the state (Belmar was even rated the #1 beach in Central Jersey in 2014). Belmar beaches also boast the most playgrounds of any in New Jersey—you'll find a colorful play area every five blocks, in fact—and some offer family-friendly activities like kayaking, surfing and boogie boarding. There is also a mile-long, handicapped accessible boardwalk running along the shore which is brand-new; it was rebuilt after the original boardwalk was destroyed by Hurricane Sandy.
HOME, SWEET HOME
Thinking about buying or selling a home here? The median home value in Belmar is $579,200, up 5.2 percent over the past year. Home values are expected to increase 3.5 percent within the next year, according to Zillow.

FAMOUS FACES
Several notable people and celebrities have once called the town home, including David Sancious, Bruce Springsteen's original keyboardist. Springsteen even named his "E Street Band" after "E Street" in Belmar, where Sancious's mother lived; she let the band practice at her home before they hit it big. Brian Lynch, former basketball star who played for Villanova University and then played and coached professional basketball in Europe, also grew up in Belmar.
DINING OUT
Not surprisingly, seafood and fish are abundant in this seaside town; locals love the casual, nautical vibes and yummy eats at Mr. Shrimp and the seafood, sushi and oceanfront views at Klein's Fish Market. Speaking of oceanfront, indulge in American cuisine at Boathouse Bar & Grill, grab burgers and tacos at 9th Avenue Pier or munch on Italian food classics at La Dolce Vita, all of which offer views of Shark River. Want something… meatier? Jersey Shore BBQ has some of the most savory and delicious BBQ in the area.

SEAFOOD BY THE SEASHORE
Belmar is the site of the notorious NJ Seafood Festival, an event held annually at the start of the summer where visitors feast on crab cakes, clams, coconut shrimp, scallops, lobster rolls and more crustacean delicacies. As of the 2019 festival, the event relocated to downtown Belmar near Pyanoe Plaza to provide greater exposure to the family-owned businesses located there and better accommodate the large crowds.
DID YOU KNOW?
In 2008, Belmar established a legal "Sister City" relationship with Balbriggan, a seaside town near Dublin, Ireland. "Twin towns" foster a sense of belonging and help residents better understand each other's traditions and cultures..