Welcome to Boonton
The magic of this top-ranked community lies in its history.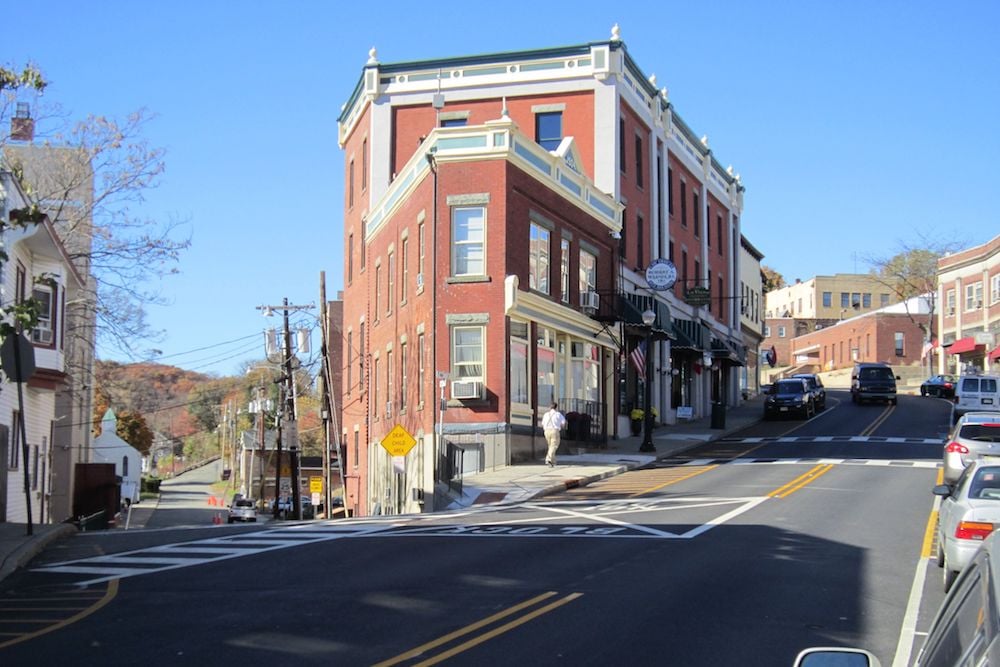 NEED A DESTINATION A STONE'S THROW AWAY TO soak up the glory of autumn? Don't overlook Boonton Township, where farms usher in fall with a cornucopia of seasonal activities, like a corn maze or hoedown party.
With fresh produce handy, it's not surprising that the town has an award-winning farmers market, held at the Plane Street parking lot. You'll be part of a farm connection that goes back to Boonton's roots, but this is hardly the only claim to fame for this vibrant 2-plus-square-mile Morris County town.
In fact, Boonton was named one of the most desirable communities to call home: Just what is its secret? It's plain that beyond the convenient access to highways or shopping that ranges from antiques to Walmart, one of the town's greatest treasures is its sense of history. You won't find that history buried in some old book, but infused with everyday life.
To see what we're talking about, visit the Darress Theatre— one of the few remaining vaudeville houses—where you can watch a silent movie (with organ accompaniment, of course). Built in 1919, the theater is truly a walk back in time, but you can catch a more contemporary film there too.
Then there's Boonton Falls. Once tied to iron-making here with a power only rivaled locally by Paterson's Great Falls, today it's an amazing vista that's part of the 14-acre Grace Lord Park, which includes the Rockaway River. The 25 feet of cascading water and the meandering trails along the river create an ideal fall getaway and an Instagram wow.
The downtown saw the bustle of trolley cars and hotels at the turn of the century, but like the other attractions, it too is more than some juice for a photo album. The modern downtown thrives with car shows, a music and craft beer festival, and of course, restaurants and retail. Shopping truly is a mix, from Time to Consign and Quality Consignments for fashion finds, to Sinofilia for authentic Chinese tea and Karin Menzel for violins. The go-to place for costumes for any holiday (think turkeys and pilgrims for Thanksgiving) is Ann's Costume & Magic Shop, and Time's Tin Cup has Hollywood accent lamps and other unique décor to jazz up your home.
FUN FACTS
The historic New Jersey's Firemen's Home is located on an 88-acre Lathrop Avenue estate. It's one of the few in this nation that cares for full-time and volunteer firefighters.
Boontonware, a line of molded plastic dinnerware was manufactured in the township during the '50s and '60s. Ohio-based GMR Technology purchased the name and the rights to the molds in 2001.
Engineer Othmar Ammann (pictured) lived in town between 1918 and 1958. Among his design credits are the George Washington and Verrazzano bridges.
DINING
Let your taste buds trot the globe as you explore the wide variety of cultural delights this town has to offer. II Michelangelo Italian Restaurant is where the Cascio family owners serve up selections inspired by their Sicilian heritage. At Fasil Mediterranean Restaurant, kebabs are a favorite among the classic dishes with a modern twist. Chili Willie's Mexican Restaurant is where you can taste Grandma's recipes as handed down to chef owner José, while Boonton Station 1904 plates classic American fare (pictured) in a historic train station setting.
LOCALS LOVE
Keeping in step with the Harmony Senior Drum Corps, which traces its roots to St. Mary's Flute and Drum Band from 1886, and is always ready for a good parade.
Becoming familiar with the men and women in blue by having Coffee with a Cop.
Watching black bears roam the neighborhood—but from a safe distance!
HOUSING COSTS
The median home value in Boonton is currently $386,500—up 2.6 percent over last year and predicted to rise 6.4 percent within the next year, according to Zillow.
MEDIAN HOUSEHOLD INCOME
Approximately $90,082, according to the latest U.S. Census Bureau statistics.