Welcome to Florham Park
The upscale borough is scoring plenty of touchdowns.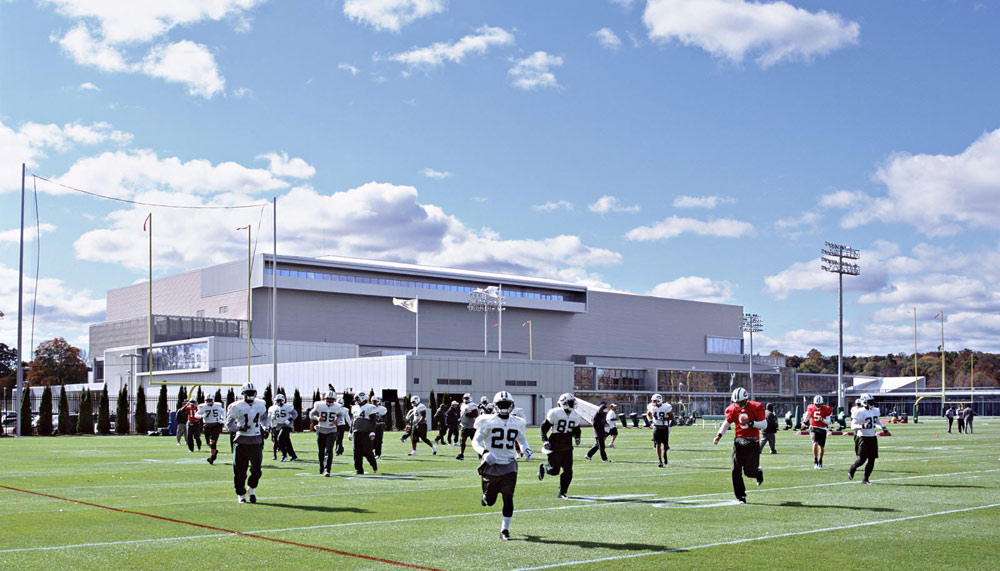 We've got on question for you: Giants or Jets?
If you're from Florham Park, we're betting your answer is the latter.
The Morris County borough, about 7.6 square miles in size, became proud home to the football team's training facility and corporate headquarters back in 2008 after beating out a slew of other towns all hoping to be the Jets' new homeland. But alas, Florham Park's origins were touchdown-free and, hence, much more humble.
Settled by the English sometime after 1680, the community was mostly a farming area, but by the late 1800s, it had become a desired retreat for the New York City upper class—in fact, there were more than 100 millionaires living in town. Today, there are some 12,605 residents (including, we're sure, some Jets and a few millionaires). Kids in pre-kindergarten to eighth grade go to three schools in the district (there's a total of about 982 students and 89 classroom teachers); those in ninth through 12th grades attend the Hanover Park High School in East Hanover Township (there are about 876 students and 85 classroom teachers). For higher education, parts of the College of Saint Elizabeth campus are in Florham Park, as are portions of Fairleigh Dickinson University.
The town's main attractions are ample. For exercise enthusiasts, there's a Lifetime Gym—the only one around— and a Pure Barre studio. If traditional workouts aren't cutting it, Total Health offers CoolSculpting (shh, we won't tell anyone) along with more medicinal fare, while The Peer Group has a full staff of renowned plastic surgeons for those seeking a full nip 'n tuck. There's also the area's sole Trader Joe's.
And since Florham Park is just 30 miles west of The Big Apple and residents are sure to have plenty of houseguests, everyone will be pleased to know that the much-anticipated Archer Hotel will open at The Green shortly. Among its amenities: 161 guest rooms and suites, a backyard with a bocce ball court, an indoor pool and Archer's kitchen, with house-made breakfast and evening fare. But the space won't just be for visitors: Residents are sure to stop by its bar and patio for a cocktail, giving them yet another reason to toast Florham Park.
Fun Facts
Before being christened Florham Park in 1899, the town had been known by several names, including Hoppingtown, Columbia and Afton—plus Broomtown, because it was known for manufacturing brooms.
Former football pro-turned- TV-personality Tiki Barber was born in the borough, as was Nicole LaValle (aka Snooki from Jersey Shore).
Dr. Leslie Ward —aka one of the founders of the Prudential Insurance Company—lived in Florham Park on a 1,000-acre estate, "Brooklake Park." Today, it's the site of the Brooklake Country Club.
Housing Costs
The median home value in Florham Park is currently $657,500—up 2.3 percent over last year and predicted to rise 1 percent within the next year, according to Zillow.
Locals Love
Bringing their young'uns to see an exhibit (there are more than 50) at the Imagine That!!! children's museum
Teeing off at the Pinch Brook Golf Course. Fore!
Tapping their toes to music every season at the Borough Complex's Gazebo Summer Concert Series
Dining
There are plenty of eats in Florham Park, from an expansive menu at the Thirsty Turtle (think burgers, filet mignon and macadamiaencrusted tilapia) to strictly Italian at Puleo's Brick Oven (be sure to try the melenzane rollatini appetizer). Viet Ai, meanwhile, serves Vietnamese fare in a cozy, former residential space; Moe's Restaurant & Tex Mex Grill accommodates just about any diet, including Paleo, vegan, vegetarian, Whole30 and gluten-friendly. And if you sometimes crave disco fries or breakfast at 10 p.m.—hey, we do too— there's always the Florham Park Diner.
Median Household Income
Approximately $103,967, according to the latest U.S. Census Bureau statistics.