Welcome to Long Branch
This popular shore town is brimming with history and is way more than just a summer hotspot for family fun.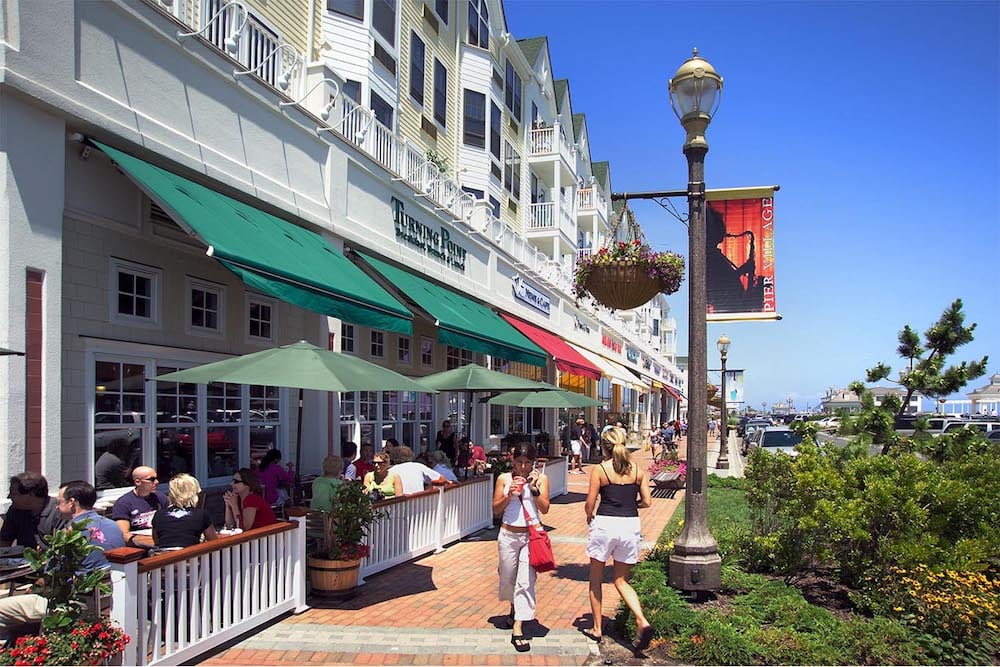 One of the largest Jersey Shore towns at an impressive 6 square miles, it's no wonder Long Branch is both a great place to visit and an even better place to live. There's a beach, park and boardwalk, countless restaurants and family-friendly activities here, plus museums, theaters, marinas and the Monmouth Park Racetrack just miles away. Plus, Long Branch has more of a historical significance in both American culture and pop culture than you may think…
ESTABLISHED: 1867
POPULATION: 30,700
WEBSITE: VISITLONGBRANCH. COM
PIER VILLAGE
The focal point of Long Branch today is Pier Village, a sprawling complex along the water fea-turing upscale stores, top-notch restaurants and luxurious beachfront residences. In the summers especially, Pier Village is bustling with nightlife, festivities and live music, but there's also an ice-skating rink set up in the winter and fun activities for families all year round.
GARFIELD TEA HOUSE
President James Garfield, who died in Long Branch after complications from an assassination attempt, has a landmark in his honor here, the Garfield Tea House. Located on the grounds of the church in the Elberon section of town, this small playhouse was made of wooden railroad ties used to lay the track that transported America's 20th president from the train station to the oceanfront house in which he died. The Long Branch Historical Museum Association is currently working to restore both the church and the tea house and hoping to reopen them to the public.
DINING OUT
Unsurprisingly, there are lots of delicious beachfront eateries from which to choose in Long Branch, including the upscale Avenue Le Club for French cuisine, Charley's for American, Rooney's for seafood, and McLoone's for a little bit of everything. Want to go a bit more casual? The Turning Point in Pier Village always draws a crowd for breakfast and lunch, Nunzio's boasts the best pizza in town, or enjoy all-day breakfast at Amy's Omelette House, with its overwhelming selection of pancakes and 200+ types of omelettes.
SEVEN PRESIDENTS
Long Branch was a beach resort town dating as far back as the 1800s, and presidents Harrison, Grant, Hayes, Garfield, Arthur, McKinley and Wilson often vacationed here with their families. There has since been two landmarks in Long Branch named for these "seven presidents," including Seven Presidents Oceanfront Park and The Church of the Presidents, where they each attended services during their stays.
THEATER TOWN
In the early 19th century, Long Branch was a gather-ing place for some of the greatest performers, and was even deemed the "Hollywood" of the east coast. As immigrants settled and the town became more residential in the early 20th century, it lost its reputation as a theater hub. However, since 1997 Long Branch has been home to the New Jersey Repertory Company, a not-for-profit theater that produces plays.
HOME, SWEET HOME
Thinking about buying or selling a home here? The median home value in Long Branch is $399,800, up 11 percent over the past year. Home values are expected to increase 8.2 percent within the next year, according to Zillow.
FAMOUS FACES
Several notable people and celebrities have once called the town home, but the most well-known is Bruce Springsteen, who was born in Long Branch and famously wrote his "Born to Run" album from a tiny bungalow located on West End Court. A few others include, from left, Marshon Brooks, formerly of the Brooklyn Nets and other NBA teams; late Six Million Dollar Man actor Richard Anderson; the late trailblazing White House reporter Connie Lawn; and actor David Garrison, who most notably played Steve Rhoades on Married With Children.
FUN FACT
Long Branch draws an especially large crowd in July for its Fourth of July Oceanfest, one of the biggest fireworks festivals in the state, and again in August for its annual Jazz & Blues festival, held along the boardwalk with food, fun and music for the whole family.
WHAT'S IN A NAME?
Long Branch is named for the long branch, or south branch, of the Shrewsbury River.