Welcome to Madison
Everything's coming up roses in this picturesque town.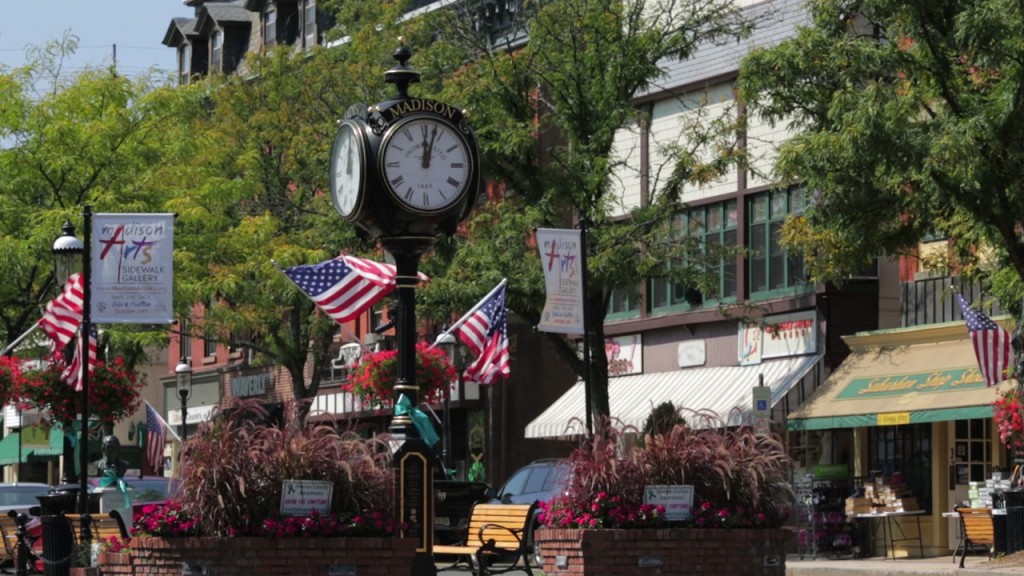 NICKNAMED "THE ROSE CITY," MADISON WAS ONCE the largest producer of roses in the world. How's that for flower power? The borough, incorporated in 1889, was named after President James Madison and was home to many well-to-do families of the 1800s. American heiress Florence Vanderbilt built a massive estate in town, taking advantage of one of the state's first commuter railroads, a convenience still coveted by those who do the daily grind into New York City.
The borough is rich in local history and architectural charm, which residents can learn more about at the Museum of Early Trades. The historic stone building has exhibits on early alcohol distillation processes and 19th century shoe crafting. And speaking of shoes, Madison is chock full of consignment fashion boutiques like New Leaf Consignment and Once & Again, both selling vintage designer clothing. There's also Stitch Boutique, which offers curated modern threads and recently celebrated its twoyear anniversary.
If you still have energy after a day of shopping, head to one of Madison's many gyms like The Bar Method, Madison Area YMCA or Precision Fitness to break a sweat. Want to exercise outdoors? The Loantaka Brook Reservation offers trails for hiking and biking, and plenty of places to just relax and enjoy the view. The Madison Golf Club, a picture-perfect historic club and course, is also nearby. For barbecues, beanbag tossing and other family fun, Memorial Park has tons of space for your summer activities.
And while school is out for the summer, here's a crash course on Madison's educational system. With just over 2,400 students enrolled in the district's five schools, the town boasts a 13:1 student-to-teacher ratio. It has three elementary schools as well as Madison Junior School and Madison High School. Drew University operates a campus downtown, and Fairleigh Dickinson University's Florham campus is located on the former Twombly Estate (home of the aforementioned Vanderbilt). Both warrant a stroll whether you're a student or not!
FUN FACTS:
Madison's charm continuously attracts Hollywood producers— scenes from The Sopranos and A Beautiful Mind were filmed in town.
Actress Janeane Garofalo (pictured) grew up in the borough, before moving to NYC to star on Saturday Night Live! in 1994.
Former MLB pitcher Don Newcombe (who played for Cincinnati Reds and Cleveland Indians) and NFL quarterback Neil O'Donnell once resided in Madison.
Giralda Farms, home to several medical, pharmaceutical and other corporations, is the former estate of Geraldine Rockefeller Dodge.
Dining
Madison offers an array of tasty cuisine: Il Mondo Vecchio and Osteria Trevi have your Italian cravings covered, but if you're in the mood for Asian flavor, head to Shanghai Jazz or Blue Wazabi, both of which serve inventive sushi rolls and ramen dishes. Make your way to 54 Main Bar & Grille on a Saturday night, where you can grab a drink and watch the game. Just make sure you've saved room for dessert: A walk downtown brings you to fabulous sweet spots like Crowley Cupcakes and McCool's Ice Cream & Coffee Bar.
HOUSING COSTS
The median home value in Madison is currently $648,700—up 1.8 percent over last year and predicted to rise 1.5 percent within the next year, according to Zillow.
LOCALS LOVE:
Grabbing coffee and a copy of the Madison Eagle at Mimi's Deli to start their day!
Bringing their kids to Escape Room for some safe and creative fun.
Taking in a comedy or drama with family and friends at the Shakespeare Theater of New Jersey.
MEDIAN HOUSEHOLD INCOME
Approximately $120,408, according to the latest U.S. Census Bureau statistics.