Welcome to Mendham
Historic charm combined with peace and privacy make this Morris County borough a long-time favorite.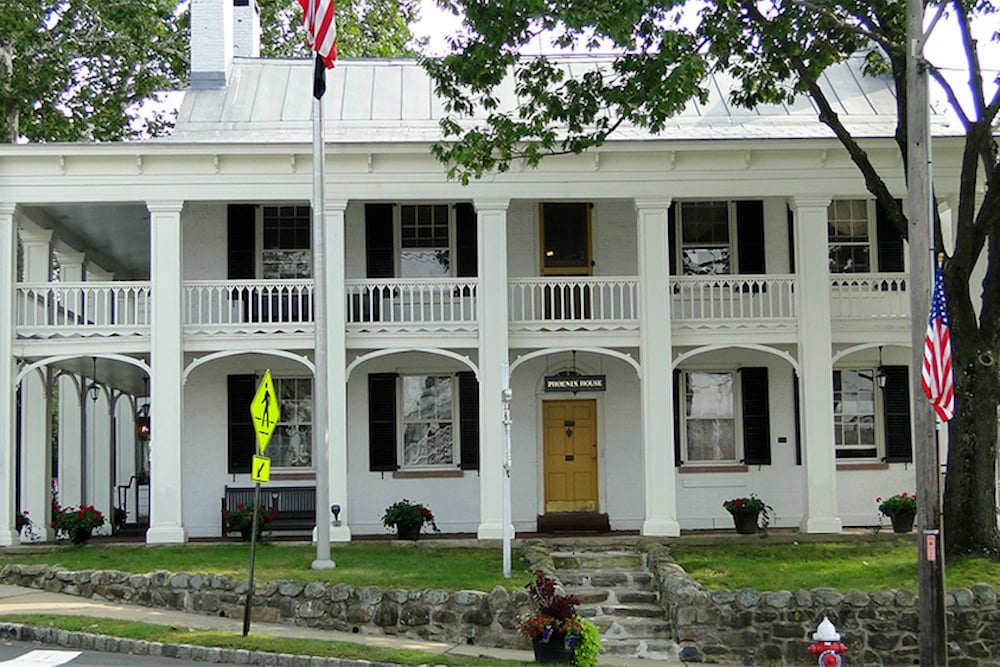 Mendham is a walkable 6 square miles full of historic charm and quaintness. It's a small and homey community with great schools, nice homes and tons of privacy when you want it, which helps explain why New Jersey Monthly gave it the No. 1 spot on its 2013 list of Top Towns. And it's very quiet— Mendham has no train or bus station (NYC commuters go through Morristown instead), no movie theater and no shopping mall. The pros outweigh the cons for residents of the Morris County borough who've chosen Mendham for its impressive historic district and homey, old-school feel.
ESTABLISHED: 1798
POPULATION: 4,992
WEBSITE: MENDHAMNJ.ORG
HISTORIC DISTRICT
Right in the heart of Mendham's Historic District lies The Phoenix House, a former hotel that has served as the borough's Town Hall building since 1938. Across the street is Robinson Drug Shop and Compounding Center, a pharmacy that has been dispensing medications since 1870. It's still a go-to for Mendham residents for prescriptions and vitamins and is an after-school hangout for kids for its candy, gifts and more.

BLACK HORSE TAVERN & PUB
One of the oldest restaurants in New Jersey is the Black Horse Tavern & Pub, and it's right here in Mendham. It was established in 1742 and built in the center of town on West Main Street by Ebenezer Byram, who founded Mendham. Though much has changed over the past few centuries, the tavern and pub still offer American comfort food in a relaxed, equestrianthemed atmosphere. Black Horse Tavern & Pub has even been a hotspot among notable celebrities and historical fi gures, from George Washington to late singer Whitney Houston to comedian Jim Breuer.
HOME, SWEET HOME
Thinking about buying or selling a home here? The median home value in Mendham is $685,500, down 4.5 percent from last year, according to Zillow. Antique cottages and colonials with character are typical of the borough's home styles, but there are more modern townhomes and condominiums as well.
WHAT'S IN A NAME?
Mendham got its moniker from Mendon, Massachusetts, the hometown of Ebenezer Byram who was one of the region's most prominent settlers. There is also a Mendham in England, which is where Mendon, MA got its name from.

TOWNSHIP VS. BOROUGH
Mendham Borough and Mendham Township used to be one entity, but in 1906, the borough decided it wanted its own public water and sewage system while the township was not permitted to do so, so they separated into independent municipalities. The borough is the smaller of the two today and features the commercial district full of historic shops and landmarks. The township has a more rural feel and is noted for its sprawling estates and hilly countryside. Each Mendham has its own excellent school system—Mendham Township Middle School was one of 11 in the state in 2014 to achieve Blue Ribbon status, in fact—but they share West Morris Mendham High School with each other and with the neighboring Chester Borough and Chester Township.
DINING OUT
If all-American pub food à la Black Horse Tavern & Pub isn't your style, there are plenty of other dining options in Mendham. Another eating establishment with deep-rooted history is Sammy's Ye Old Cider Mill, a steakhouse and bar that was a speakeasy in the roaring '20s. Both Dante's and Piattino will satisfy your Italian cravings, then drop by Mendham Creamery for a sweet treat; choose from 24 fl avors of ice cream imported from farms in Hershey, PA.

HILLTOP CHURCH
Hilltop Church, the fi rst Presbyterian congregation in town, was built in 1745. In 1777 during the Revolutionary War, General George Washington and the American Army were encamped in nearby Morristown and used this church as a hospital when the soldiers became ill with small pox. A few buildings have since replaced the original, and the one that stands today on Hilltop Road was built in 1860.

FAMOUS FACES
Both the township and the borough of Mendham are or were home to many notable names. From left to right, Emmy-winning Game of Thrones actor Peter Dinklage grew up in Mendham Township and attended nearby Delbarton High School in Morristown; the late Whitney Houston grew up in Newark but lived in Mendham from 1992 until her death in 2012; former New Jersey governor Chris Christie resides in Mendham Township; and Xander Berkeley, known for his role as Gregory on The Walking Dead, spent much of his childhood here.
*DID YOU KNOW? Mendham was a prominent agricultural area in the 19th century, but its money-maker wasn't wheat, fruit or vegetables—it was "apple jack," an alcoholic strain distilled from apple cider. Visitors today can learn more about Mendham's booming cider business and history at the Ralston Cider Mill museum.