Welcome to Montclair
In this Essex Town, music and the arts take center stage.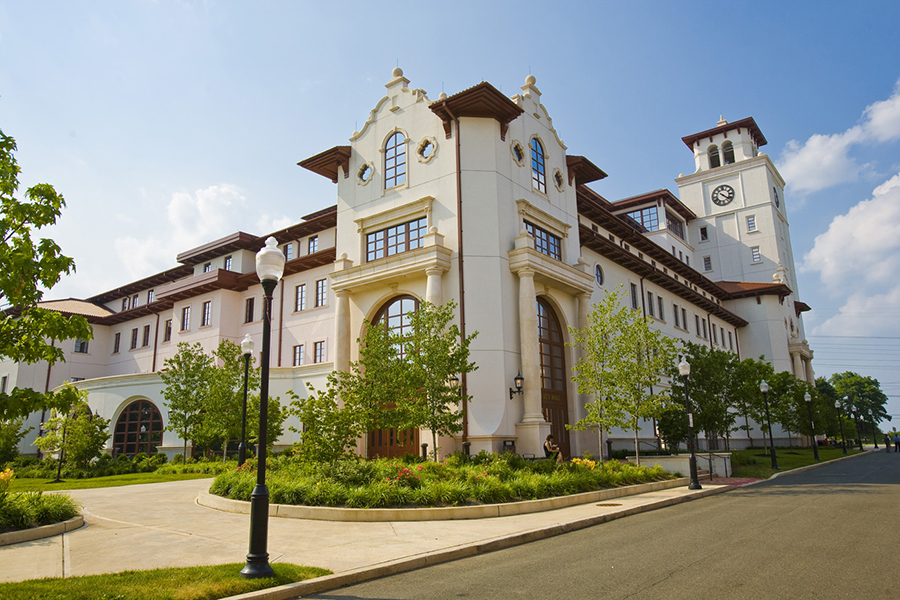 It's been hailed as Mecca for music and the arts, and we're singing its praises too: Montclair, the bustling township in Essex County, has something to entertain absolutely everyone.
First off, the Wellmont Theater—with a capacity of 2,137— presents live performances by current pop acts, golden oldies and comedians. Some of the stars who've twinkled there: Melissa Etheridge, Ziggy Marley, George Lopez, Joan Baez, Lisa Lampanelli and Jay Leno. For art aficionados, there's the Montclair Art Museum; open since 1914, it boasts an American and Native American collection of more than 12,000 works.
Fans of classical music can flock to the Opera Theater of Montclair, which officially opened in 2015 with a presentation of Verdi's Nabucco. The Montclair Orchestra, meanwhile, performs a series of concerts in venues around town (its season finale, Tour of Colors, debuts on May 13 at St. Luke's Episcopal Church). And for movie buffs, the Montclair Film Festival is the ticket. Now one of the top regional festivals in the U.S., it's attracted some 26,000 patrons and 150 filmmakers/industry guests. Some may sound familiar: Richard Gere, Stephen Colbert, Rob Reiner and Jon Stewart have all attended (this year's fest is from April 26 to May 6).
What about shopping? There are choices aplenty: big-boxers like Urban Outfitters and Anthropologie alongside more intimate clothing stores including Envy (owned by Real Housewives of New Jersey star Melissa Gorga), Bridal Atelier, That Little Black Dress and South Moon Under, plus gift shops like Culture Couture and the Pink Bungalow. For those expecting out-oftown guests, there are a couple of options if space is tight: makeup artist Bobbi Brown and her hubby recently opened the George Inn, with 32 distinctly decorated rooms; there's also the MC Hotel, opening in fall, complete with a rooftop bar.
And, lest we forget, here are a few stats: Montclair has a population of about 37,669; there are 11 schools in the public district, a bunch of private and parochial institutions and— with some 20,465 students—Montclair State University. It's also a hop, skip and a jump away from the Big Apple: The average ride into Manhattan is 38 minutes, making Montclair perfect for commuters and—if they somehow haven't gotten their fill of entertainment right in town—those who crave a taste of Broadway.
Fun Facts
Montclair derives its name from the French phrase "mont clair," meaning "clear mountain."
House star Kal Penn (pictured) was born in town, and actress Christina Ricci attended Montclair High School, as did Joe Walsh of the Eagles (FYI, he played oboe in the school band). Meanwhile, talk show queen Wendy Williams once called Montclair "home," and Oscar winner Olympia Dukakis lived there for 30 years.
Montclair is highly historic: It has six districts listed on the Register of Historic Places of both the state and country, plus 92 individually listed landmarks.
Housing Costs
The median home value in Montclair is currently $635,600—up 3.9 percent over last year and predicted to rise 1.9 percent within the next year, according to Zillow.
Locals Love
Enjoying the spring bloom at Presby Memorial Iris Gardens, which boasts more than 3,000 irises!
Seeing baseball memorabilia at the Yogi Berra Museum and Learning Center.
Stretching out like a plant in bloom at Juniper Yoga.
Median Household Income
Approximately $102,349, according to the latest U.S. Census Bureau statistics.
Dining
Montclair has an endless array of eateries: Diesel and Duke has some of the biggest—and best—burgers around, Zeugma Grill serves Mediterranean delights like Beet Falafel, Laboratorio Kitchen has New American and Italian cuisine (try the Veal and Beef Meatball appetizer), Turtle + the Wolf serves out-ofthe- box bistro fare (think Duck Pot Pie), Ani Ramen House is all about—you guessed it—ramen, and Laurel & Sage (named for the owners' daughters) has a seasonal menu with faves like Ginger-Soy Lacquered Chilean Sea Bass. And trust us, with many more restaurants on tap, that's just a sampling.