Welcome to Morristown
This Morris county town is one of New Jersey's most historical and diverse.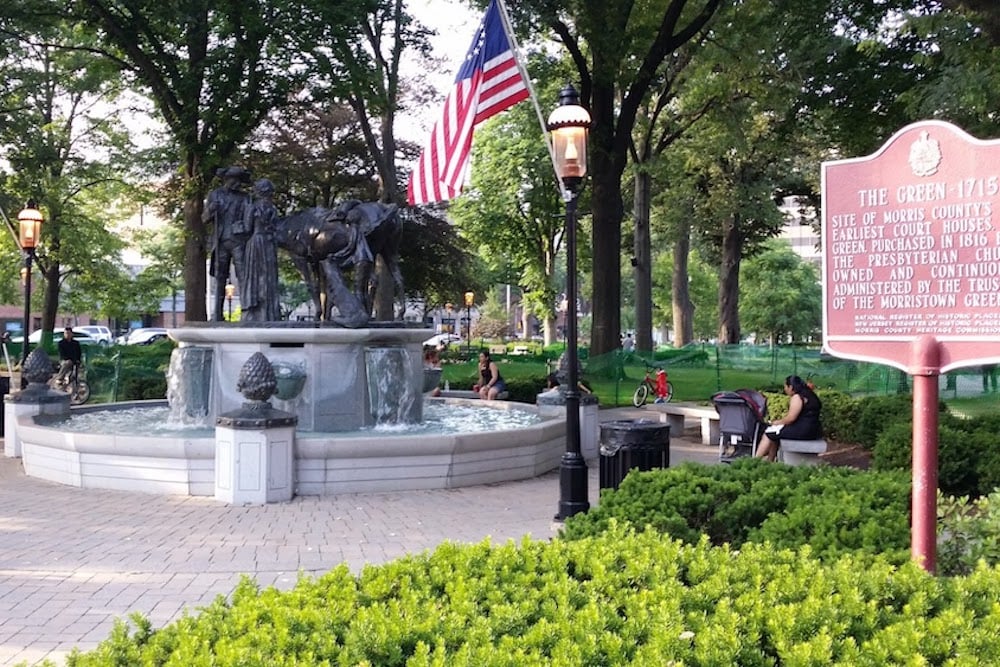 "History" is probably what jumps to mind when thinking about Morristown— the 2.8 square mile town has been dubbed "the military capital of the Revolution" because George Washington set up his headquarters here twice during the Revolutionary War. But this town has plenty for those who aren't history buffs, like a lively downtown area within walking distance to all residences, tons of recreational activities, parks, affordability and much more.
Established: 1865
Population: 18,000
Website: townofmorristown.org.
Morristown Green
Referred to simply as "the Green," this grassy area is located in Morristown's downtown. It was a market square and a military base during the colonial era, and now is the site of many Revolutionary War and Civil War monuments, as well as a bustling business district; there are 141 restaurants, 20 bars and 9 coffee shops and counting in its downtown area today. Many events are also hosted on the Green, including the Christmas Festival and Festival on the Green, an annual festival held in the fall with activities, food and live entertainment.

Arts and Culture
Morristown has an arts scene just as impressive as its historical background. It's home to the Morris Museum, the second-largest museum in New Jersey that features exhibits about wildlife, rocks and minerals and Native American culture, as well as the Mayo Performing Arts Center, a former movie theater that now puts on live plays, modern dance performances, pop music concerts and more.

A+ for Diversity
The racially-mixed, urban Morristown shares a school district with affluent, suburban neighbor Morris Township. This Morris School District has been in effect since 1971, when the court opted to merge the two communities in order to foster racial and economic balance.
What's in a Name?
Morristown was named after Lewis Morris, the first Governor of the colony. There is also a park name after him in town, Lewis Morris Park, which has hiking and biking trails, fields, picnic areas and a lake for summertime fun.
Dining Out
Morristown has one of the best food scenes in northern New Jersey; the eateries vary in cuisines and price points, and the food itself is top-notch. Among locals' and critics' favorite restaurants are; Committed Pig, known for their delish burgers and pork rolls; Famished Frog, which has craft beers plus pizzas, salads and more bar fare; old-fashioned Italian spot Guerriero's Ristorante; Jockey Hollow Bar and Kitchen, an upscale eatery with four distinct dining spaces and excellent seafood and pasta; and South & Pine, an American bistro offering up unique dishes prepared by a chef who was Bobby Flay's protégé, no big deal.

Morristown National Historic Park
This park commemorates the Revolutionary War and consists of four important sites of the Continental Army's encampment: Jockey Hollow, the Ford Mansion, Fort Nonsense and the New Jersey Brigade Encampment site in nearby Bernardsville. This park was also the first in the United States to be deemed a National Historic Park in 1933.
Home, Sweet Home
Thinking about buying or selling a home here? The median home value in Morristown is $441,400, up 4.2 percent over the past year. Home values are expected to increase 3.5 percent within the next year, according to Zillow.

Famous Faces
Many notable people and celebrities have once called this township home. From left to right, Peter Dinklage, better known as Tyrion Lannister from Game of Thrones, grew up in Morristown; acclaimed interior decorator and socialite Sister Parish, who was known as the first interior designer to work on the Kennedy White House, was born here, as was; Steve Forbes, editor-in-chief of Forbes magazine and two-time Republican nominee in the presidential primaries; NBC sportscaster Kathryn Tappen; and author and political commentator Fran Lebowitz.
Did You Know? Samuel F.B. Morse and his partner Alfred Vail perfected the first telegraph in Morristown in 1838 at Speedwell Ironworks. The site still stands and the museum is now deemed a National Historical Landmark and is on the National Register of Historic Places.